Mountain bikes are designed for riding off-road, however, there are certain situations where you need a bike with certain characteristics. Sometimes only a fat bike will do. You will probably have seen the odd fat bike on the trails, but what is a fat bike?
The most obvious feature of fat bikes, or fatties, are their huge tyres that range from 3.7" to 5.05". These tyres allow you to ride with very low pressures which increases the surface area. This in turn gives you lots of grit, but it also acts as the bike's suspension. 
The original purpose of a fat bike was to ride over soft surfaces such as snow, sand and soft mud. This is something that is either impossible or extremely difficult to do on a regular mountain bike. This means that they are ideal for people that want to ride all year in all conditions. But, they are also becoming more popular with  more casual riders, as they are pretty versatile, in terms of where they can be ridden.
Advantages And Disadvantages Of A Fat Bike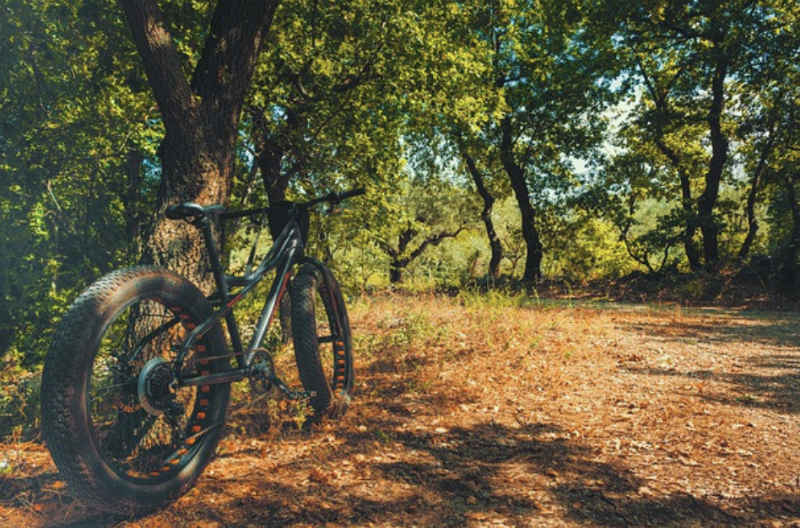 Can cope with changes in terrain better than other bikes
Much easier to ride on snow than a normal mountain bike
Allow you to exercise with a bike all year round
Comfortable to ride over rocky terrain, thanks to the squishy tyres
Safe for beginners, as you ride at a slower speed
Easy to maintain, as they are pretty simple bikes
The extra weight makes it difficult to ride fast and they are a bit less portable than a regular bike, as they don't fit in all bike racks
They are not cheap (but bikes are not cheap anyway)
They don't fit in all ski lift bike carriers
Fat bikes are great, but you need to take in to account the disadvantages before you buy one. Generally the advantages are plentiful, but just one disadvantage could make it the wrong bike for you.
What Is A Fat Bike Like To Ride?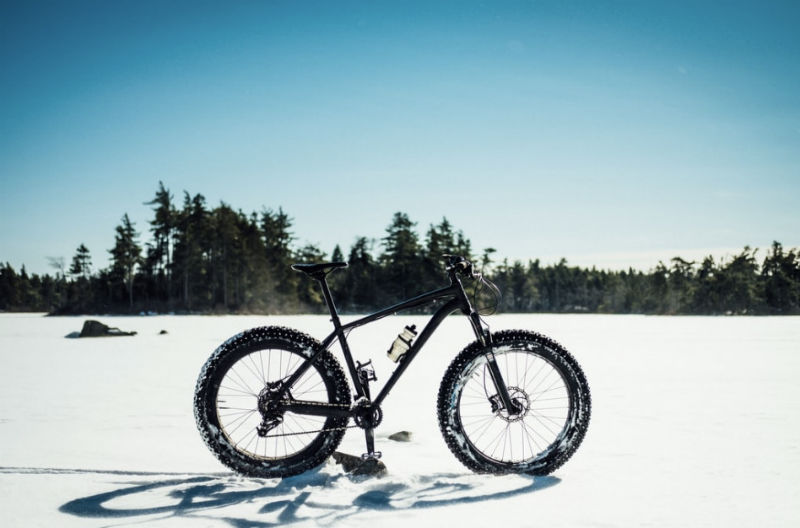 Riding with a tyre pressure of 5psi makes fat bikes nice to ride over rough terrain. If you want to bomb along a smooth trail or tarmac, a fat bike should not be a consideration for you.
The weight of fat bikes makes them quite difficult to pedal. There are more fat bikes with carbon frames coming out, but these come at much higher costs than traditional frames. But, those massive tyres are a big contributor to the bike's weight. The low tyre pressure and the suspension combination make fat bikes less efficient when pedalling.
You will notice that a fat bike will feel a bit odd the first time you get on one. This is partly due to the distance between the pedal attachment points on the bike's crank arms is much longer than you will be used to. The reason for this, is so there is enough clearance for wide tyres and winter footwear.
How a fat bike rides, all depends on the terrain you are riding on. If you are riding on snow, sand, soft mud and rocks, a fat bike will feel so much easier to ride than a regular mountain bike.
Those big tyres absorb shock from the bumps and can go over snow and sand rather than cutting through and sinking into it. However, if you are riding on smooth surfaces, then a fat tire bike will be harder to ride because you have to pedal harder to get any speed.
But all this sounds quite negative, but I can assure you that they are great fun to ride. I love how easy they are to drift in the snow and the way they allow you to ride over pretty much anything. I know a guy that guides people around the downhill trails in Avoriaz, France with a fat bike all summer.
If your budget can stretch to it, and fitness isn't your main priority, I would recommend an electric fat bike, like the one I rode in the snow in Avoriaz. With an electric fat bike, your pedalling is assisted with an electric motor.
It really depends on the type of rider you are. You also need to consider the terrain you regularly ride on. If you want to be able to ride year-round, off road and on rough trails, snow, and sand, then fat bikes are definitely worth buying.
Fat bikes are easier to ride on rough terrain, they are sturdy, and they are super fun to shred the rough stuff. But if you ride the streets or on well-groomed trails in nice weather, then fat bikes are not worth it.
Therefore, even if you are interested in a fat bike because it is a bit different and a bit of fun, you have to be honest with yourself and figure out what kind of rider you are.
You don't have to jump on the fat bike bandwagon just because it's trending. If you're not going to ride in all weather and on all terrains, it's probably not worth the price tag.