Mountain Bike Jackets: The best one for you
If you are not put off by a bit of bad weather, or you spend enough time riding for the need to be prepared for every eventuality. Proper mountain bike jackets provide riders with the necessary protection for riding on bad weather days. But there are a few things to consider before you buy one.
You need to make sure that it is comfortable, going to perform well and be durable enough for your rides. I have put together a list of some of the best ones, whether you are riding on a wet weekend in Wales or tackling an alpine descent.
Choosing Mountain Bike Jackets
Choosing mountain bike jackets, depends on the type of riding you do. If you ride in bad weather often, a lightweight jacket is not for you. You will need a durable heavy-duty jacket, in order to protect you from the elements. A lightweight jacket is great to chuck in your bag for when the weather changes unexpectedly.
Mountain bike jackets should not restrict your movement too much, and allow you to comfortably position yourself over the handle bars. Therefore, lightweight jackets are best for this, as their ergonomics allow for easy movement around the bike. They are also breathable. However, you don't get the full protection from rain.
Heavy duty jackets, give you lots of protection and keep you nice and warm. But, they are bulkier and may restrict movement. They also have the potential to make you a bit sweaty due to less breathability.
Even if you use a backpack, you will need some decent pockets in your mountain bike jacket. You need to make sure that the pockets are waterproof, can be sealed and be easily accessible.
You don't want to get caught out with the wrong mountain bike jacket. You need to choose one with fabrics that offer the right amount of ventilation and insulation. Look at jackets with windproof properties to keep that chill off. You also should be aware of their moisture wicking and breathability.
I'm a firm believer of "you get what you pay for", and this extends to mountain bike jackets. If you can afford to go for a more expensive option, you should. However, if you are on a budget you can forfeit certain features. For example, waterproof mountain bike jackets are more expensive than water resistant ones. Therefore, if you ride in milder conditions a water resistant jacket may be sufficient.
The two most common fabrics you will find in mountain bike jackets are 'coated fabrics' and 'membranes'.
Cheaper mountain bike jackets are likely to use coated fabrics. This means they have a polyurethane coating on the inside. There are different levels of this coating available. Jackets with a thick coating are very waterproof and durable, but not that breathable. You will notice that they have mesh liners inside. This is to help wick away your sweat.
Some jackets are coated, but have pores to help with breathability. These mountain bike jackets don't need mesh inside them. This makes them more supple and easier to move while wearing them. This techy fabric tends to make these mountain bike jackets more expensive.
Membranes are either inside or integrated in to the fabric. They have pores that are big enough to allow the fabric to be breathable, but small enough to stop water getting in. These mountain bike jackets are the most breathable, but there are still compromises. This is because the toss up between durability and performance versus lightweight and breathability is still there to a point.
What type of Rider are you?
If you like to go for an easy pedal around canal paths or easy trails, you will be fine with a mountain bike jacket with coated fabric. As long as you don't mind getting a bit warm, due to the lack of breathability.
If you ride a lot, you are likely to go out in all weathers. Unfortunately, there won't be one perfect jacket for every eventuality. However, the best compromise will be a high end jacket. A jacket with membrane fabric, will be able to regulate your temperature better, while keeping you dry. If possible, buy a lightweight shell too and you should be able to cover all bases.
Features of Mountain Bike Jackets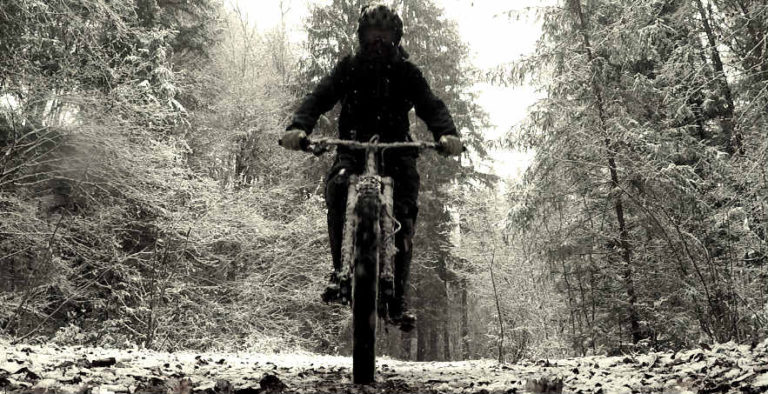 Hoods – You will be fine without a hood for most types of riding. However, if you are riding at high altitudes or areas prone to really bad weather, you may want one. Some mountain bike jackets have removable hoods, which is a pretty useful feature.
Ventilation – Vents on mountain bike jackets are not that essential, unless you have a cheaper jacket. These can help release some of that body heat. But, for higher end mountain bike jackets, vents are not as important, due to their better breathability.
Adjustability – Being able to adjust your jacket is great to get the perfect fit, however, there are some compromises. If there is a lot of adjustability, you get more layers of material and taped seams. This will impact on the breathability of the jacket.
The Best Mountain Bike Jackets Available Now
DhB MTB Trail Hooded Soft Shell Jacket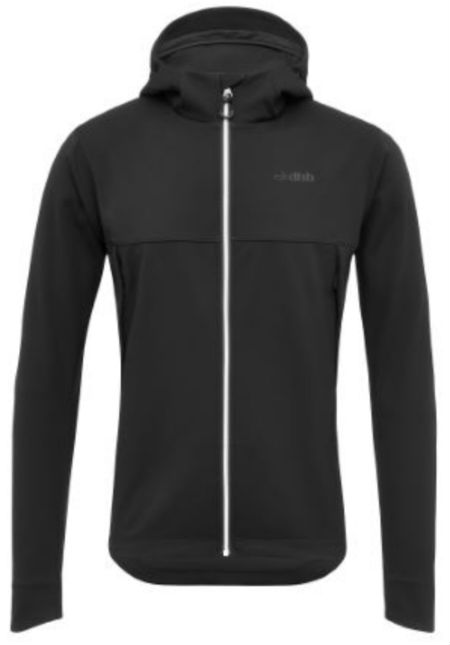 This is one of dhb's thermal mountain bike jackets, and will keep you warm on those winter rides. It is insulating, water resistant and windproof.
It is a membrane jacket that will protect you from the wind, while being breathable. Inside, this jacket has a lightweight thermal grid fleece that is soft to skin, keeping you snug, but not too snug. The outside has a DWR treatment, which makes it water resistant, as does the YKK Aquaguard front zip.
I like the hood on this jacket, as it is large enough to fit over your helmet, and has a stiff peak to help keep the rain out of your face.
The fit of this jacket is ideal for enduro or trail riding. This is because it is loose enough to allow you to move around the bike freely, but tight enough for it to not flap around or catch on trees etc. It is another very comfortable jacket thanks to the fleece lining and the stretch of the fabric.
The hem is adjustable and hangs slightly lower at the back for added protection. The cuffs are not adjustable, but they are tailored for a comfortable fit, with internal gaiters to keep in the warmth.
This jacket has two large hand pockets that have glove friendly zip pullers. The lining of the pockets are mesh, this means when you are not carrying anything in them, you can open them and use them as vents.
Features:
Material: 81% Polyester, 19% Polyurethane
Thermal softshell jacket for riding in cold winter conditions
Breathable, windproof membrane with fleecy inside; breathability rating 10,000g/m/24hr
DWR treated outer fabric and membrane for protection against light rain shower; waterproof rating 10,000mm
Stretch fabric to allow for freedom of movement
Adjustable hood with a stiffened hood peak
Waterproof YKK Aquaguard™ front zipper to seal out the elements
Two spacious hand pockets with glove-friendly zip pullers that can also be used for ventillation
Shaped cuffs for coverage and internal cuff gaiters to trap in warmth
Adjustable hem
Reflective logos and trims for added visibility in low light conditions
Verdict: This is one of those mountain bike jackets ideal for cold days, with a chance of rain. Probably not ideal for torrential downpours, but it will keep you snug and dry in most situations.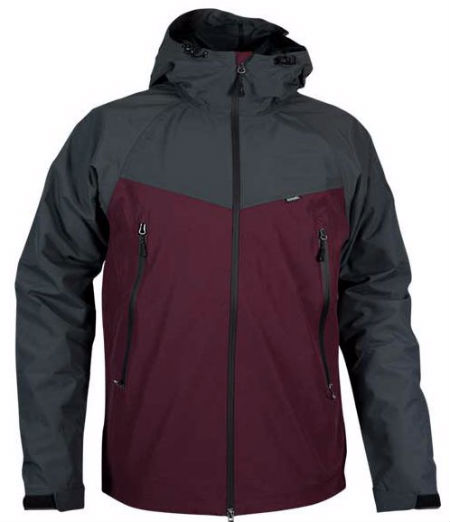 The Matrix jacket is becoming very popular. It is designed for riding in the wettest of conditions. It is fully waterproof and tailored to fit your body properly while riding to give you optimum coverage without compromising your movement.
I also really like how this mountain bike jacket looks, but it is also very breathable. This is essential when you are putting the effort in on the pedals. This is helped by the two external pockets, as they also double as vents to let some cool air in if you need it.
The Matrix mountain bike jacket is also practical. It has an inside chest pocket for your phone with cable routing for your earphones. There is also two other internal pockets for your keys and snacks. All of the pockets are waterproof too, so you don't need to worry about your belongings getting soggy.
The hood is large and shaped to fit over your helmet, it is also adjustable to ensure that it stays in place.
Material: 100% Polyester
Fully waterproof
Riding specific cut
Open face helmet sized adjustable hood
10,000 DPI.MVP breathable and waterproof fabric
Verdict: A fantastic, great looking jacket that is designed for the soggiest of rides. It is ideal for those moments when you are changing an inner tube during a downpour and when you are smashing the singletrack.
Endura MT500 Mountain Bike Jacket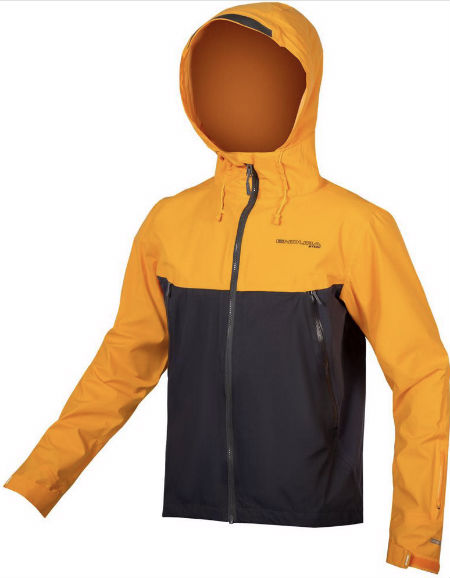 I am a big fan of Endura clothing. Their stuff has a subtle, but noice look to it, but above all is very durable and great value for money. The MT500 jacket is no different, it may seem a bit pricey, but you get what you pay for. It is designed for the soggiest of days on the bike, as it is made from the ExoShell60 3 layer waterproof fabric. This is very breathable, so you shouldn't get too sweaty when working hard on the pedals. The inside layer is super thin and wicks moisture away from your body to ensure comfort.
If you do get a bit toasty, you can let some cool air in through the vents under your arms. The front external pockets also double up as vents too. Other great touches I like, are the silicone prints on the shoulders to protect them from chaffing from your backpack.
To ensure you have maximum mobility, the MT500 mountain bike jacket has strategically placed stretchy panels to allow the jacket to move with your body. Additionally, it has reflective detailing to help with visibility on low light.
Verdict: The Endura MT500 is a well made and durable mountain bike jacket. It will keep you dry on the worst weather days on the bike or while changing an inner tube on the side of the trail.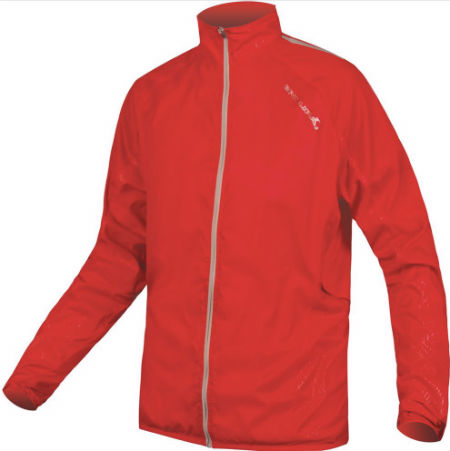 Another great offering from Endura, but this time on the lower end of the budget. The Pakajak II is designed to be pulled out when the weather takes an unexpected turn. I folds in to a bag no bigger than your hand. So it easily fits in your backpack or saddle bag.
The Pakajak II is made from a shower proof and windproof Ripstop fabric. Its zip is protected with a storm flap and the cuffs and neck is elasticated to stop water seeping in.
Material: 100% Polyester
Ultra lightweight and windproof Ripstop fabric
Laser cut, bonded stormflap
Reflective trims on sleeves, shoulder and rear
Underarm mesh vents for enhanced breathability
Elasticated cuffs, rear neck and hem
Tiny pack size, stuff sack included
Verdict: A convenient, well made jacket that folds down to the size of your palm. It can be pulled out to keep you dry during sudden downpours.
Which of These Mountain Bike Jackets do You Like?
These are mountain bike jackets are all great, but which one takes your fancy? Please let me know your thoughts and questions in the comments section below. Also don't forget to sign up to the newsletter for your FREE eBook for mountain biking in the winter.