Fox Racing: Great MTB Clothing Born from Dirt
Fox Racing is a brand from California. They are synonymous in the world of mountain biking and motocross. Fox Racing is part of the mountain bike furniture now, as they have been around since 1947. They make top-notch products for all disciplines of mountain biking. They are well-known for making excellent suspension components for mountain bikes, but they also have an excellent range of clothing.
Fox Racing make the full range of clothing for both men and women, and here is an overview of their best products.
Fox Racing Jerseys
Flexair
The Fox Racing Flexair range is born from motocross. It is made to keep you as comfortable as possible, while being able to move naturally. The fabrics used in the Flexair range are also designed to keep you cool and dry.
This is achieved by what Fox Racing call TruDri and TruMotion. The TruDri feature, wicks moisture, keeps you dry and comfortable and dries very quickly. The TruMotion part, is the tech that gives you full range of motion and enhanced comfort.
The Fox Racing Flexair jersey is super light, and feel extremely comfortable. It is very soft to the touch and when you put it on, it feels very light and airy. This does give you the feeling that it wouldn't hold up well on a significant fall though.
It is not uncommon for a jersey to have pulled fibres or holes when you hit the ground. However, it proved (during a little off I had) to hold up better than you would think.
The Flexair jersey has a mesh back panel, this is excellent on a hot day. However, if you ride in a muddy conditions a lot, this isn't ideal.
As far as fit goes, it is close-fitting but doesn't feel restrictive in any way due to its stretchyness. If you wear body armour, it would fit under a Flexair jersey easily. However, if you find yourself in between sizes and you chose the larger option, it still won't feel too baggy.
The techy fabric works really well to wick away moisture and it really does dry out quickly. There is a mesh panel that runs from the cuff, up the arm and down the side. This gives you great ventilation, to stop you overheating.
Features:
Material: 93% Polyester, 7% Elastane
Award-winning lightweight, breathable DH focused design
Bonded neckline for superior fit and comfort
Ultralight Flexair fabric for increased breathability
Ride Attack Position (RAP) for a precise fit on the bike
Bonded wrist closure with elastic panels for a glove-friendly fit
Verdict: The Fox Racing Flexair jersey is a bit more expensive than some other jerseys on the market. However, you can feel the quality of it straight away. It is also durable without compromising comfort. Some people may find the design a little too bold and shouty. But, it does look good on photos!
[table id=33 /]
Demo
The Fox Racing Demo jersey is a performance downhill jersey, perfect for riding in hot, dry and humid conditions. This jersey has the TruDri polyester fabric, but it is also extremely well ventilated. The ventilation comes from lots of mesh panels, around the neck, along the side and along the sleeves.
When you first put in on, the fit seems a little tight around the arms, but this isn't a concern when you are on the bike. The idea for this type of fit is to make sure your sleeves don't flap around when you are charging, and so they don't snag on tree branches etc. The back panel is slightly longer to give you a bit of coverage, but it is not excessive, so you won't feel the need to tuck it in.
Features:
TruDri polyester main body fabric with mesh panel
Superior moisture-wicking action
Keeps skin dry when you sweat
Rapid dry time
Precision fit athletic collar design
Drop tail
ID/lift pass stash pocket
Long and short sleeve options
Verdict: The feel of this jersey is best described as refined and purposeful. This jersey is not just for show, even with the bold designs available. However, if you wear body armour or elbow pads, you would probably want to go for the short sleeve version.
[table id=34 /]
Indicator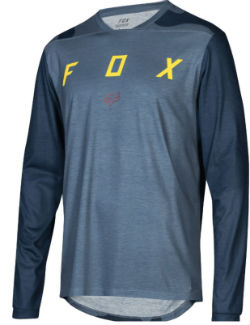 The Fox Racing Indicator jersey is one of my favorite ones to wear. Like most of the Fox range, it has the TruDri technology to keep you comfortable. It isn't as stretchy as the other jerseys, but it does feel like a nice comfortable cotton t-shirt, without the drawbacks.
The long sleeve version is quite tight-fitting around the arms, so you may struggle to put elbow pads under it. In fact, it would be good to go up a size to what you would normally have. Luckily, the Indicator comes in long, short and 3/4 length sleeve options.
Verdict: A very comfortable and well priced jersey from Fox Racing
[table id=35 /]
Ranger
The Fox Racing Ranger is made from the techy TruDri fabric (there is a theme here isn't there?). It does a good job of keeping you cool and dries out really quickly. This is noticeable when you stop for a break and take your backpack off. Or more like when you put it back on, and you don't get the horrible sweaty back feeling.
Material: 100% Polyester
100% poly-jersey construction
Jacquard mesh pattern
TruDri fabric offers excellent breathability & moisture wicking
Verdict: A great value jersey that looks like a t-shirt. It is ideal for when you are riding on warm days, or when you know you are going to be working hard.

Fox Racing Shorts
Flexair Shorts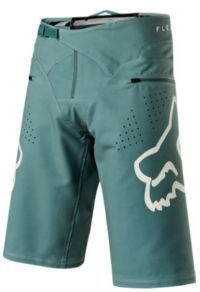 The Fox Racing Flexair shorts are made from their TruMotion material, which is what they make their motocross pants out of. This means that they are very durable. They are held up by a ratchet buckle, and a grip made from silicone, running around the waistline. They have two front zipped pockets, that are big enough for whatever you want to carry on your ride.
Comfort is pretty high on the Flexair shorts bag of tricks too. This is because of the stretchy material and the brilliantly located laser cut ventilation holes.
Features:
Material: 92% Polyester, 8% Elastane
TruMotion 4-way stretch fabric for unrestricted movement on the bike
Strategically placed laser cut perforations for enhanced airflow
Laser cut low profile zipper pockets
Adjustable front ratchet closure
Inseam: 14.5″
Verdict: Fantastic lightweight and stretchy downhill shorts, that feel like trail shorts. They are very durable and worth the extra cost if you can justify it.
[table id=36 /]
Demo Shorts
The Fox Racing Demo shorts are tough shorts primarily aimed at the downhill rider. Therefore, they are very durable and inspired by Fox's motocross range. The seat panel is made from thick polyester which is strong enough to cope with most bum skids.
These shorts have two good sized zipped pockets to keep your stuff safe. One even has a goggle wipe on a lanyard tucked in to it.
The fit is designed to accommodate your protective gear and to give you that all important unrestricted movement. They have a ratchet buckle with double elastic Velcro waist adjusters to stop them slipping down.
Features:
Main Material: 93% Polyester, 7% Elastane
Mesh: 100% Polyester
Ride Attack Position (RAP) for a precise fit on the bike
Durable 600D main body
Stretch mesh movement/venting zones
Proven Fox ratchet adjustment closure system
Welded zipper stash pocket
Silicone grip waistband
Sublimated fade resistant graphics
Verdict: A great pair of tough DH shorts that are comfortable. However, they are quite long, so if you are vertically challenged, they may feel a too long.
[table id=37 /]
Indicator Shorts
The Fox Racing Indicator shorts are one of the best-selling shorts. This is because they are really good value for money, as they have the TruMotion tech you find in the more expensive products. This makes them very comfortable and well fitting. They have external waist adjusters to keep them in place.
The Fox Racing Indicator shorts are reasonably thin, so they are ideally suited for warm days. They have a lightweight cotton-like feel to them. This gives them a feel as if they are not there at all.
Features:
TruMotion 4-way stretch fabric for unrestricted movement
Rider Attack Position (RAP) for a precise fit on the bike
External side adjustment system for a perfect fit
External waist adjusters
Verdict: Super comfortable and light shorts. Surprisingly durable, but best for warm days. You might want to buy a pair of liner shorts to go under them, to protect your sensitive little bum.
[table id=38 /]
Technical T-Shirts
I really like wearing technical t-shirts when I'm riding, especially in the fantastic summers we have had in the French alps over the past few years.
Fox Racing make a huge range of technical t-shirts. They come in various different styles, with long and short sleeves. What I really like about them is that they look good on the trail, and in the pub afterwards. This is because they look and feel like a cotton t-shirt and not a technical fabric. They are TruDri (obviously) meaning you can sip your post-ride pint in relative comfort.
[table id=39 /]
What do you think?
Do you ride with Fox Racing clothing? Do you agree? Let me know your thoughts in the comments section below.