Best 2020 Mountain Bikes: What you need to know
I have been keeping an eye on the 2020 mountain bikes and we have some great options shredding the trails this year. In this post, I go through some of my favourites and tell you what to expect from them. Here are the best 2020 mountain bikes, I have based my choices around the bike's capability and its value for money.
2020 Mountain Bike Trends
Mountain bikes are improved on every year. Improvements in technology and manufacturing techniques lead to some interesting developments. So what can we expect from the mountain bikes 2020 will bring us?
We are seeing longer bikes that are lower with slacker head angles and steeper seat post angles. This trend seems to be getting more extreme every year at the moment. The thought behind this, is to make mountain bikes more stable when it comes to steep and technical descents, while being more efficient to pedal on climbs.
The update in geometry is blurring the lines between the frame types. Trail bikes are getting closer to enduro bikes and cross country bikes are getting closer to trail bikes in terms of their geometry figures. This means all bikes are becoming more capable and give you more confidence on more technical terrain.
You will be hard pushed to find a 26″ wheeled bike these days. It is really hard to get decent tyres for them too. This is because manufacturers are sticking with the 27.5″ and 29″ wheels. Some manufacturers are producing bikes that can take either wheel size and some build bikes specifically for each size.
29″ wheels roll over rocks, roots etc easier than 27.5″ wheels. However, they don't feel as nimble and take some getting used to when it comes to changing direction quickly. So if straight line speed is at the top your list go for a 29er (as long as it fits you). If you want a more playful and nimble bike, go for 27.5″ wheels.
There are some great options for hardtail mountain bikes for 2020. It used to be a case that you had to spend over £600/$600 to get a decent hardtail that wasn't going to fall apart after a couple of days on the trails. But, there are a few hardtails that come in at around £500/$500 now that are perfect as a first proper mountain bike. They are also really versatile, as they are designed to be used as commuters and light off road riding.
However, there are some excellent hardtails that are more expensive, but have excellent capability that will have you grinning like an idiot all day.
Here are my top picks for the 2020 hardtail mountain bikes.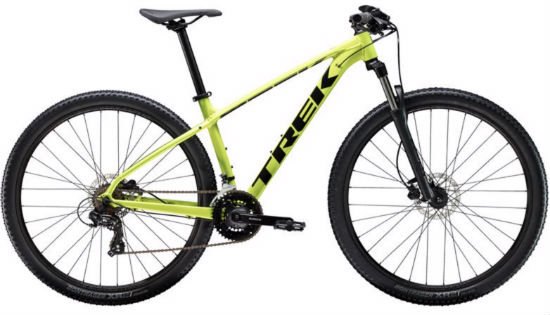 The 2020 Trek Marlin is an entry level mountain bike. This is a a bike with proper mountain bike geometry. It rides very much like the X-Caliber cross country bike, meaning that it is super easy to pedal. This bike is for those that want a cheap bike to hone their skills on while building confidence. This isn't the type of bike that you would start doing big jumps with or taking on extreme trails, but it is a super fun mountain bike for those of you that want to get in to the sport without breaking the bank.
The Trek Marlin has been updated for 2020 with up to date geometry and the Alpha Silver Aluminium frame material. It comes with the option of 27.5″ and 29″ wheels to suit your personal preference. There is also a women's specific version that replaces the Trek Skye.
One of the things I like about the Trek Marlin, is that it comes with hydraulic disc brakes. This is a feature that normally comes on more expensive bikes. It is definitely a feature worth having, as it gives you more control and stopping power.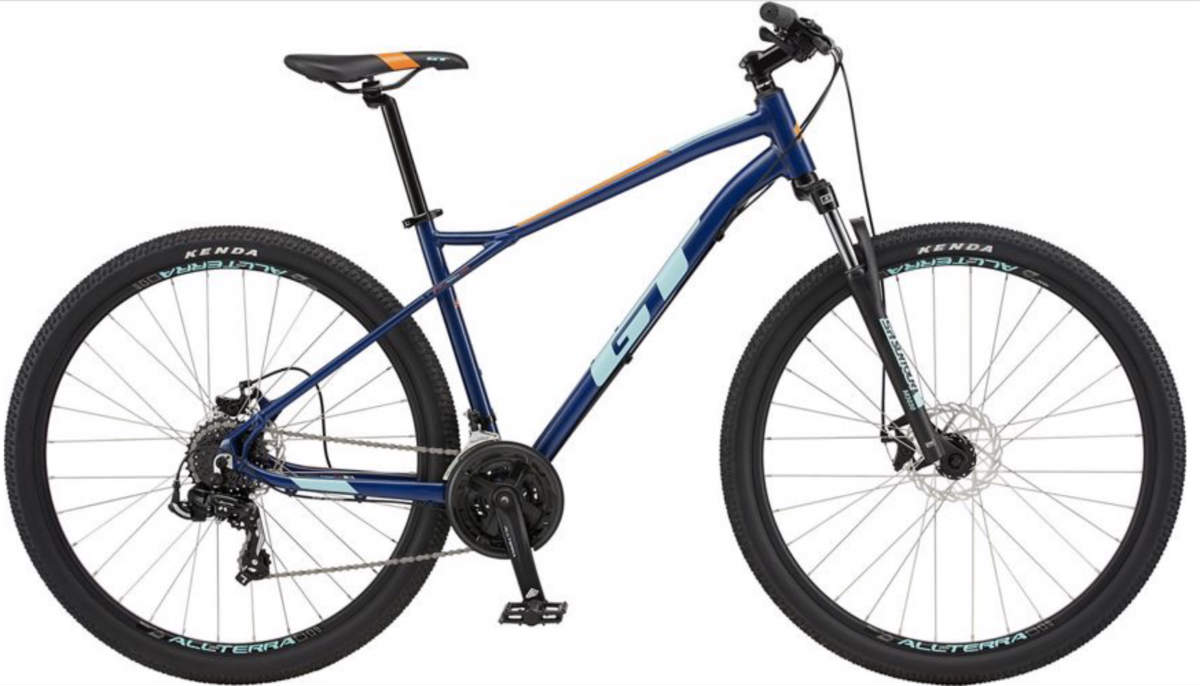 The GT Aggressor is a nice bike for the price. It will suit those that want a bike that want to be able to commute, ride light off-road trails and have fun on. As long as you don't ride anything too crazy, the GT Aggressor is a good value, entry level hardtail bike.
Normally I would suggest that you save up and spend more on a bike than £400/$400 on a mountain bike. But, the most important thing is actually getting out on a bike. And if that is all you are able or prepared to spend, that is totally fine. However, It may as well be a proper mountain bike, rather than one from a toy shop or supermarket (which will fall apart).
Therefore, I recommend the GT Aggressor. At this price, you really need to be realistic about a bike's capabilities, but that doesn't mean you can't have fun. It is very common for people to start their mountain bike career on a bike in this price range. A first bike of any kind is the most important bike you will ever own, this is because a horrible bike will put you off for life and you won't fall in love with this amazing sport.
The GT Aggressor is an entry level mountain bike and is designed to be very versatile, making it great value for money. You will have loads of fun on it and it is also suitable for getting around on, therefore the GT Aggressor is a great introduction to mountain biking.
There are three different versions of the GT Aggressor:
The Comp and the Expert are a little more expensive than the Sport, but their components are better and more durable. As with many mountain bikes these days you get a choice of 27.5″ and 29″ wheels.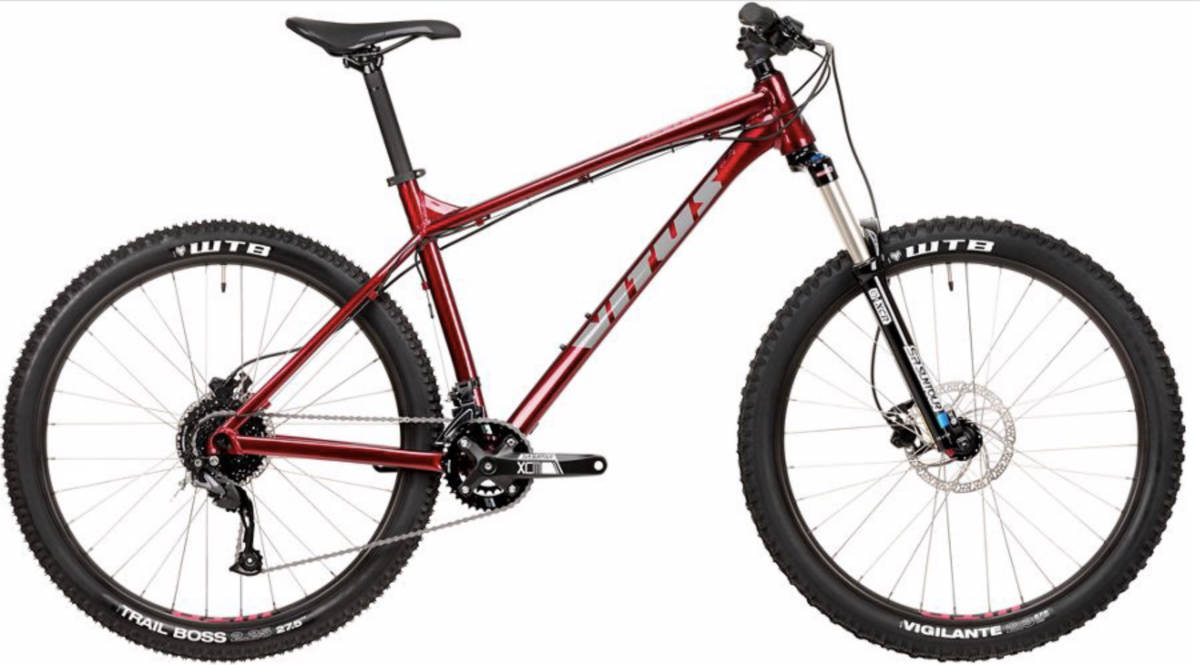 The 2020 Vitus Nucleus is the perfect bike for someone that wants to get in to the sport. It has a great specification and will be a serious amount of fun to ride. This is the most important thing, as your first proper mountain bike needs to be fun and reliable, if it isn't you can be put off very easily.
The Vitus Nucleus is a multi award winning bike. It has won MBR's sub £500 category four times. The price has gone up slightly, but this is still a great value for money hardtail mountain bike for 2020.
You get to choose between the 27.5″ and 29″ wheels to suit your personal preference and there are three different versions to choose from:
VR
VRW (women's specific)
VRS
All specifications are pretty good for what you are paying. This is not a flashy high end bike, but its components and capability puts more expensive bikes to shame.
The Nucleus comes with a Suntour fork, which is pretty good for a bike in this price bracket. The fork is air sprung, which is lighter than a fork with a traditional metal coil spring. It gives you some good adjustability to get the optimum feel for your  personal preference. The 27.5″ version has 120mm of travel and the 29er 100mm.
The 2020 Vitus Nucleus is a very capable bike, this is not only thanks to its fork, but its stiff aluminium frame and its geometry. Its geometry is in keeping with the modern trend of being low and slack. This means that it is super fun and confidence inducing.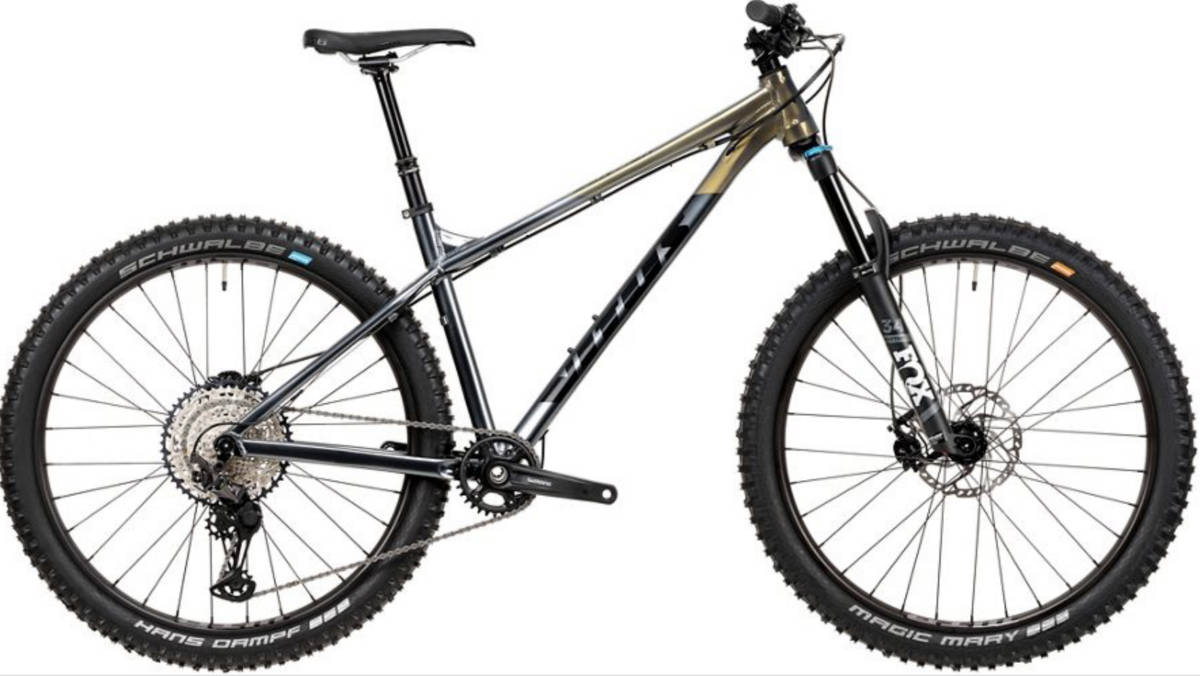 If you are looking for a very capable hardtail mountain bike in this price bracket, you should really consider the Vitus Sentier. It is light weight, fun and you will feel naturally at home on it straight away. It is pretty good value for money in terms of its capability and how much fun you will have on it. The only other thing that would improve this bike, is to install a dropper seat post. Doing this will give the Vitus Sentier longevity with its ownership.
The Vitus Sentier offers a serious amount bang for your buck. If you can stretch to this price bracket the Sentier will keep you entertained for a long time.
There are a few versions of the 2020 Vitus Sentier:
Sentier
Sentier VR
Sentier 27 Womens
Sentier VRS
VRX
E-Sentier (with electric assistance)
Whichever version you choose, you will get a bike with a pretty good component list, especially on the VRS and VRX versions. The Rockshox Revelation and Fox Float 34 forks give the Sentier a smooth ride in comparison with its competitors. You will feel the benefit of this on longer days, as your arms won't be as fatigued as they could be on other bikes. These forks will also give you excellent grip and control on the front end.
The other component that helps with control and grip is the wide wheels. These wheels can take 2.6″ tyres which gives you a few advantages. The first advantage, is that they hold a large volume of air, this absorbs some of the bumps, which you will be thankful for on a hardtail bike. The second advantage, is the increased grip for the larger contact point that you get with the ground.
The front tyre is a Schwalbe Magic Mary, this has a very sticky compound and the rear tyre is a fast rolling Schwalbe Nobby Nic. This combination gives you lots of confidence and allows you to go faster. Riders that tend to ride technical trails, may want to get a tougher tyre on the back. I also recommend going tubeless.
All versions of the Sentier come with Shimano disc brakes. These are all pretty good and the stopping power gives you lots more control when descending steep terrain.
The Sentier's geometry is similar to the Nucleus, but has more aggressive figures. This means that it is lower and has a slacker head angle, making it even more capable on technical terrain. However, the geometry isn't too extreme to make it feel awkward on flat corners.
The trail bikes we are seeing now are getting more capable too. The geometry is blurring the lines between trail and enduro bikes. Trail bikes these days don't limit you to riding trail centres, they allow you to explore the countryside and take on more technical and steeper terrain with confidence. This is also aided by the excellent components they come with. With a bit of homework, you can find a bike that will have you pushing your limits and having a serious amount of fun without spending a ridiculous amount of money. You can of course spend as much as you want to.
If you want a quality full suspension mountain bike, the 2020 Vitus Mythique is definitely worth considering. When you compare the specifications with similar bikes from other manufacturers, you will notice that you get a lot for your money. This is a fun and capable ideal for progressing your skills.
I know, this is the third Vitus mountain bike on this list, but you cannot deny the value for money that you get from them. The Vitus Mythique is a brand new bike to the range that will increase Vitus's presence in the mountain bike market hugely.
You have the choice of four different specifications of the Vitus Mythique all with options of 27.5″ and 29″ wheels, except the women's version:
Mythique VR
Mythique VRW (women's specific)
Mythique VRS
Mythique VRX
The women's version of the VR has very similar components, but has narrower handlebars and a shorter stem. All of these specifications offer fantastic value for money for a full suspension trail bike. The Mythique uses a Horst four bar linkage system for the rear suspension. This is a tried and tested method incorporated by many mountain bike manufactures, including Santa Cruz. This is commonly used for a number of reasons. It remains active under braking, the bobbing effect from pedalling is minimal (this is important for pedalling efficiency) and a constant progressive curve that gives great support from the middle of the stroke to the end of its travel.
You get 130mm of travel with the VR and 140mm with the VRS and VRX. The geometry of the Mythique is up there with the most progressive of mountain bikes that are not far of an enduro bike from a couple of years ago.
I chose the 2020 Vitus Mythique for this list because Vitus designed it with the brief for it to be the most accessible, capable and performance driven trail bike on the market. And from looking at the prices and specifications I believe that they have achieved that goal.
The VR has the X-Fusion RC32 fork and 02 shock, Shimano Deore M6000 drivetrain and Shimano MT-401 brakes. While the VRS has the Sweep fork, SRAM's 12-speed SX Eagle transmission and Shimano MT-401 brakes, and a Brand-X dropper post.
At the top of the range the VRX has the very capable Marzocchi Bomber Z2 and RockShox Monarch R rear shock. It shares the same SRAM SX Eagle drivetrain as the VRS but gets upgraded Shimano MT-501 brakes.
All versions of the Mythique have tubeless-ready Schwalbe Magic Mary/Hans Dampf tyres and WTB ST i30 rims. I recommend using the tried and tested Tyre Yogurt with this setup.
With all this, the Mythique is the type of bike that will get you riding more technical trails quicker, rather than having to save up extra cash for a more expensive bike. This bike is head and shoulders above the type of cheap full suspension bike that you will find in supermarkets and toy shops. This is a proper full suspension mountain bike built for proper riding.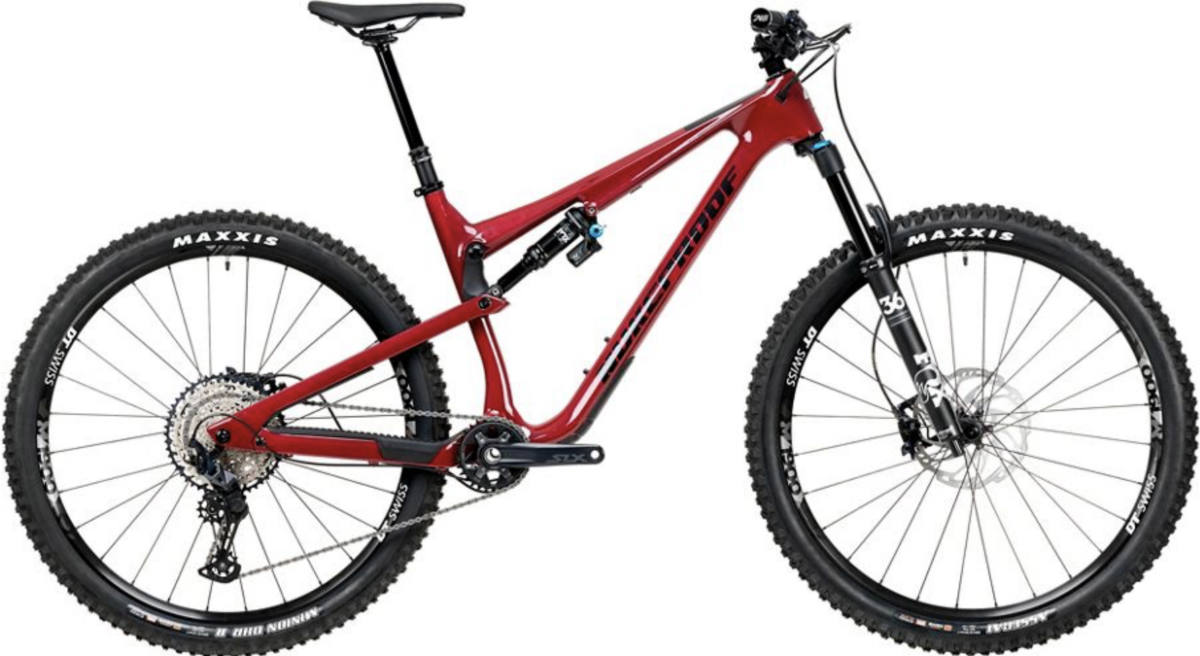 The 2020 Nukeproof Reactor is an aggressive trail bike. It is primarily designed for riding at trail centres, but without limiting you to this type of riding. Therefore, you can take your new Reactor on steep technical trails too, where it will also excel.
The 2020 Nukeproof Reactor fills the gap in the range since they did away with the Mega TR (TR for trail). It comes with either 27.5″ of 29″ wheels. You also get a choice of either an all alloy frame or an all carbon frame. This is a first for Nukeproof, as previously their carbon bikes came with an alloy rear triangle.
The Reactor has gone through a massive amount of development, by Nukeproof's in house team and the Chain Reaction – Mavic team riders and you get a choice of six different variants:
Comp Alloy
Expert Alloy
Elite
Carbon Pro
Carbon Factory
Carbon RS
The specifications available will not disappoint you whichever one you buy. You get 150mm of travel on the Reactor, unless you go for the higher end RS, which gives you 160mm. The rear gives you 140mm of travel. The suspension is adjustable to ensure that you get the perfect setup for your weight and riding style. If you opt for the versions with Rockshox suspension, you can download the RockShox Trailhead app. Adding the serial numbers of your fork and shock to the app gives you some recommended base settings that you can play around with to get it just right for you.
The Reactor strikes up a good balance between a fun poppy feeling bike that can take on big hits, with pedalling efficiency. All versions come with a 12 speed drivetrain that will make your climbs much easier, saving your energy for the fun downhill charge.
Looking at the all important geometry figures, we can see that it has a reasonably slack head angle for downhill stability and a long reach for that roomy feel. The dimensions and angles of the Reactor gives it a nimble feeling and great stability on technical terrain. This means it is a very fun and capable trail bike.
While I am talking about geometry, one of the great things about the reactor, is that the geometry is adjustable. You can quickly change the riding characteristics with the flip chip. It has two settings, "rail" and "trail". The "rail" setting makes the bike sit lower for days when you are riding smoother terrain and "trail" raises the bike  for days when you are likely to be riding technical trails where you need more clearance.
Enduro bikes are the ones that can go anywhere. They couple pedalling efficiency with long suspension travel to take the big hits associated with very rough terrain and jumps.  Enduro bikes are generally more rugged than trail bikes to withstand the extra punishment that they go through. Check out my picks of 2020 Enduro bikes.
Click here to see What is an Enduro Mountain bike?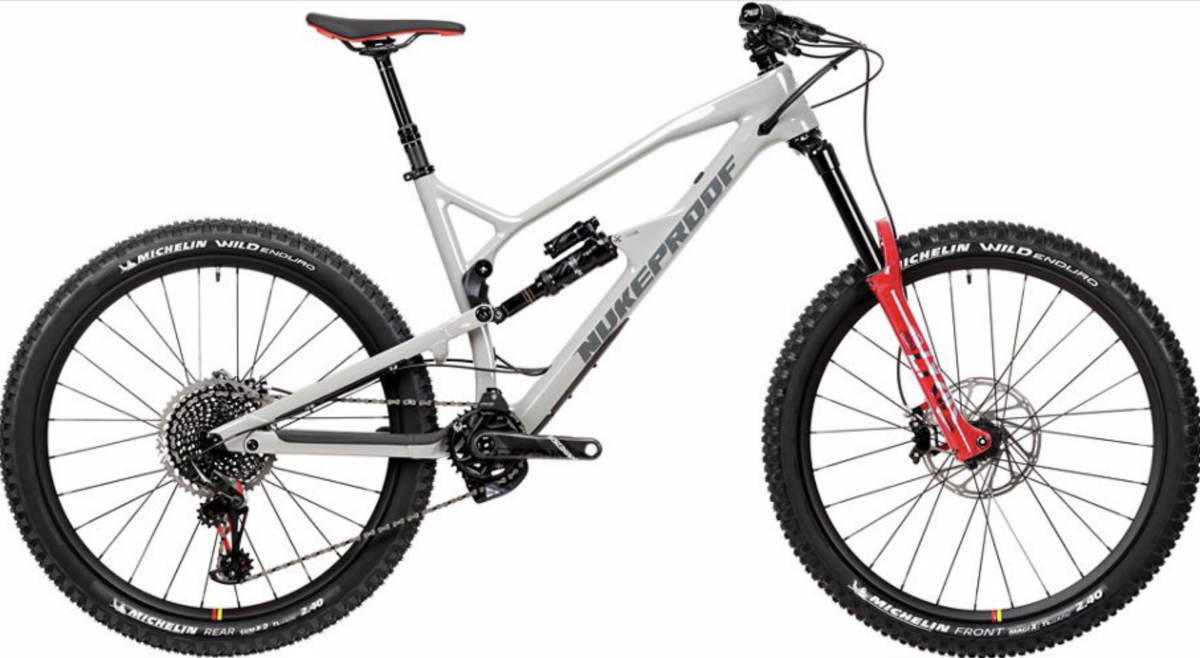 If you ride technical terrain that requires lots of travel, the Nukepoof Mega will tick all the boxes for you. The Nukeproof Mega was originally designed for the Megavalanche race in Alpe D' Huez. If you are not familiar with this, it is an incredibly hardcore race that has a mass start on the Glacier and finishes at the bottom of the mountain, after 2600 meters of descending. They are extremely reliable and fun to ride. They climb like a mountain goat and allow you to charge the downhills with poise and speed. This bike is for big days out on challenging terrain.
I currently have a 2019 Nukeproof Mega 275 Al Pro, and I love it (click here to see what I thought about it after a summer of riding). It is way more capable than I am. I live in Morzine in the French alps, so I use it for smashing the downhill trails and going for all day rides on rocky, rooty and steep terrain.
There are seven different version to choose from and you get  the choice of 27.5″ and 29″ wheels. For 2020 there has been some updates to the geometry of some of the options and there has been an additional M/L size added to the range, which is perfect if you are in between sizes. However, I didn't find much different between the medium and large bikes in the way they feel.
The components have been updated for 2020 too. They all have 12 speed drivetrains from either SRAM or Shimano and they have improved rubber for more grip.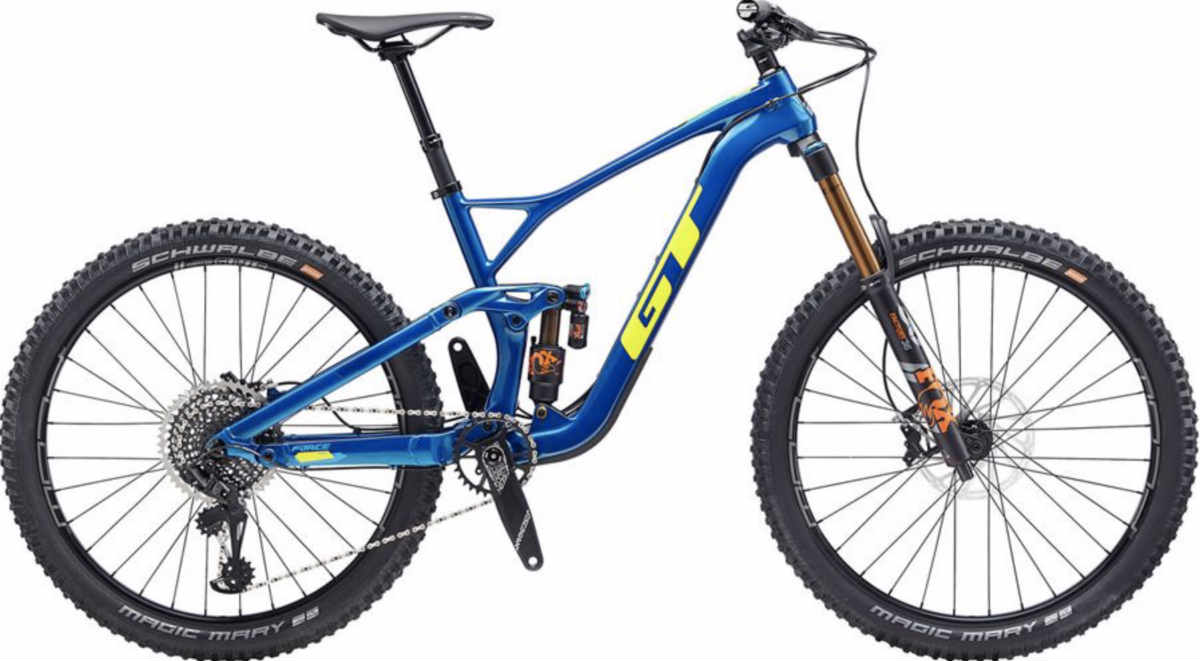 The 2020 GT Force is designed for riders that like to go fast on descents. So basically, it is an all mountain/enduro bike that can be ridden anywhere. If you ride technical terrain and like a bike that is rewarding at speed, the GT Force is worth your consideration. As mountain bikes go, this is actually very good value for money. The 2020 GT Force is a very capable enduro mountain bike that is way below the price tag of more exotic bikes built to do the same job.
The 2020 GT Force is another successful bike on the Enduro World Series tour. Slightly more expensive than the Nukeproof Mega. It does a similar job though, but has a different feel to it. This bike is more burly and rewards riders that are not afraid to ride it hard on rough downhill trails. This bike doesn't have the nimble poppy characteristics of the Mega, so which you choose is down to personal preference.
To help you decide between the Nukeproof Mega and the GT Force, check out the video below. The video features the 2019 bikes, but it is still a good way to compare the 2020 bikes.
What do you think of my picks of the best mountain bikes 2020 has to offer so far?
This is not an exhaustive list and I am adding to it as more information is released. What bikes would you like to see featured here? Please let me know in the comments section below.