Mountain Biking For Fitness: Get Bike Fit
As with any sport, mountain biking is so much more fun when you have a reasonable level of fitness. However, this level of fitness is different for everyone. Some may just be starting an active and healthy lifestyle, some may just want to lose some weight, while others could be training for their first enduro race. Whatever level of fitness you are at, the simple thing is, you just have to keep going. For those of you that started mountain biking for fitness, you have chosen a great way to do it. It is one of the most fun ways to get fit. But, to make it more fun, there are a few things you can do off the bike to help with your mountain bike fitness.
Now I don't claim to be the fittest bloke in the world, but I ride a lot and exercise regularly. I love to use my mountain bike for fitness. Obviously, I ride on the trails, but I also ride on the road. Some of my friends have bought road bikes to get fit with. But, a mountain bike is heavier and less efficient at riding on the roads than a road bike. This makes it more difficult, but isn't that the point of exercising? Additionally, I can have more fun, as I ride up the mountain on the road, but come back down on the trails.
I have looked in to lots of different ways of improving my mountain bike fitness off the bike too. I have used or own variations of all the items in this list, so I can personally vouch for their effectiveness.
Obviously leg strength is important for peddaling however, but so is having a strong core. On a mountain bike, a strong core keeps your lower spine in sync with your pelvis, which reduces the likelihood of injury. A strong core also provides a good platform for your glutes, quads and hip flexors to push the pedals from. This means less energy is wasted, making your pedalling more efficient.
Mountain biking takes your body and your bike over terrain that calls for constant position changes and adaptations that cause stress on your spine. Therefore, stability in your core is essential.
There are various body weight exercises that we can do, such as planks, crunches etc, but there are a few pieces of exercise equipment you can use at home to build up that strength.
The inflatable Swiss ball is a surprisingly versatile piece of mountain bike fitness equipment, as there are lots of exercises you can do with it. Some look pretty easy, but when done properly, they are quite difficult, but very effective.
Before we get in to some exercises, you need to know what size ball to use. This is to reduce the risk of injury and to get the most out of your workout. Have a look at the table below to choose your perfect size of Swiss ball.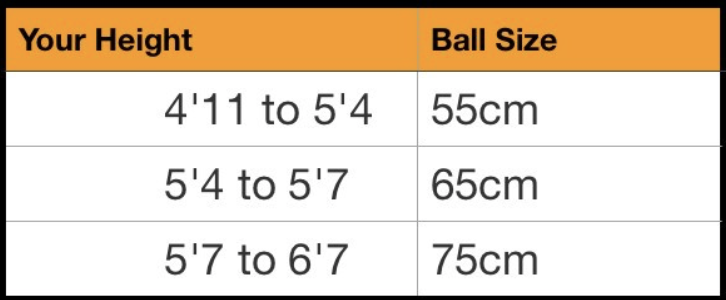 Swiss ball exercises add a bit of instability to your mountain bike fitness training. This helps you to cope with the unpredictable nature of riding your bike over rough terrain. There are lots of exercises you can do with this underestimated piece of equipment.
Placing the ball under your feet while doing a push up, plank, pike or knee tucks, will add a whole new dynamic to each move. Using it while doing exercises such as crunches or back extensions, gives you wobbly platform that you have to try to stay stable on. This helps to build those muscles you use to make rapid changes on the bike.
A great example of a gym ball is available from Trideer. This one comes with the all important pump and an exercise book. It comes in a range of colours and sizes to choose from too.
Medicine balls are excellent for working the core, as they add extra resistance to your exercise. They come in different weights, so you can go up a size when you start to feel the benefits. Medicine balls can be used to increase the difficulty of crunches, Russian twists, wood chops, toe touches and squats. But when placed under the hands or feet, they can also be used as a platform to increase the difficulty of exercises such as press-ups, planks and mountain climbers.
One of my favorite pieces of home exercise equipment is the Bosu. It is an inflatable dome placed on the floor in order to do many exercises. Like the Swiss ball, the Bosu gives you that little bit of instability adding an extra challenge to your workout.
Any standard exercise such as bicep curls, squats or shoulder presses can be performed while standing on the Bosu. You would be surprised on how much you need to correct yourself. Start off standing on the domed part, but as you progress, turn it upside down and stand on the flat part for extra wobble.
This wobble is also good for all the various plank positions. By placing the Bosu upside down I like to use it as a platform for press-ups too. This is a good chest workout, but putting my feet on the Swiss ball makes it more challenging and effective for the core.
If you have a spare set of handle bars, you can perform squat exercises, while simulating your riding position (I've seen Danny Macaskill do this, so it must be good).
You can use Kettle bells at all stages of your mountain bike fitness. They are used by complete beginners and elite athletes alike. You can do whole body movement exercises with these bad boys, which are great for burning fat and muscle building. One of the benefits of using these, is that just like medicine balls, you can easily increase the weight as you get stronger.
Exercises such as the Turkish get up, windmills and plank renegade row, workout multiple parts of the body at the same time. While lateral swings, side raises, kettle bell crunches and Russian twists are all ideal for building that core.
Strong arms, shoulders, chest and back are all very useful when riding, especially when you are fighting fatigue. If working out from home is your goal, a set of dumbbells is a must. There are lots of dumbbells on the market, some require you to change the weight on the bar yourself and some are different weights. But, they are a very versatile piece of exercise equipment.
If you have a TRX system, you will have a very versatile home gym. You suspended the straps from the ceiling, a beam or door to give you lots of options for body weight exercises. You can extend and shorten them to target different areas of your body. For example, extending the straps to just above the floor, you can put your feet in the loops and while in a plank position, you can perform tucks or pikes to work your abs. Having the loops high, there are all manner of ways to train your upper body, from supine pull ups to one arm rows.
Tips For Mountain Biking For Fitness
Reducing the amount of sugar and processed food really helps with your stamina. Also, reducing the amount of caffeine and alcohol you consume will have a massive difference. I Recently cut out booze altogether for a couple of months. I was made aware of the benefits of not drinking when regularly riding with my roadie friends (on my mountain bike) while not being too far behind.
If you can get four good rides in per week, you will see a huge difference in your fitness. This is much better than having one or two big rides at the weekend.
To recover properly, you need to rest properly. Give yourself a full day off exercise per week, this will help with your recovery.
There is no point half arsing it. Commit to a routine, create a plan, set some goals and get on with it.
Doing the same ride every time you go out, will make you plateau. If you are using your bike to commute, take the long way home from time to time. Start to push yourself to do longer rides and you will progress.
Mountain biking is always more fun with friends. If you ride with people better and fitter than you, you will push yourself more. This will improve your fitness and riding skills.
Using Strava, a GPS watch or fitness tracker is a great way to monitor your progress. The competitive element will also kick in when you start to try to better your mates times and distances. 
Now you can smash your mountain bike fitness training
You can find a lot more ways to get "bike fit", such as indoor trainers and spinning bikes etc. But this stuff will train parts of you that indoor trainers can't. Don't forget, you can use many of these items together, such as the dumbbells and the Swiss ball or Bosu. Ultimately, using any of them regularly will help you have a great day on your bike.