Here is my guide to help you choose the best mountain biking GPS watch. Tracking your ride with one of these is a great thing to do. We can see how we improve as riders, keep tabs on our distance traveled or how fast we did that downhill run in the
alps.
 But more importantly, rub our mates nose in it after beating their time. It is possible to track all this with our smart phones, but a GPS watch is a far more accurate way of doing so.
Connectivity
The best mountain biking GPS watch will connect to heart rate monitors, cadence sensors and power meters. As a result you get extra data from your ride. Consequently, most brands use Bluetooth, allowing connectivity with your phone, utilising apps to sync your data. Garmin use a similar system to Bluetooth, called ANT+. Therefore, most of their devices are now compatible with Bluetooth accessories now. Therefore, if you have some of these accessories, it is worth finding out what method of connectivity they use before buying the watch. There are lots of these watches that have WiFi connectivity too. Therefore you can  sync your data without needing to connect it to your phone or computer.
Navigation
These watches have GPS built in, hence you don't need to connect your phone to it to receive the GPS. Additionally, many of them have the Russian version of GLONASS built in too. As a result of this , you get extra accuracy, as they use either system as it is needed.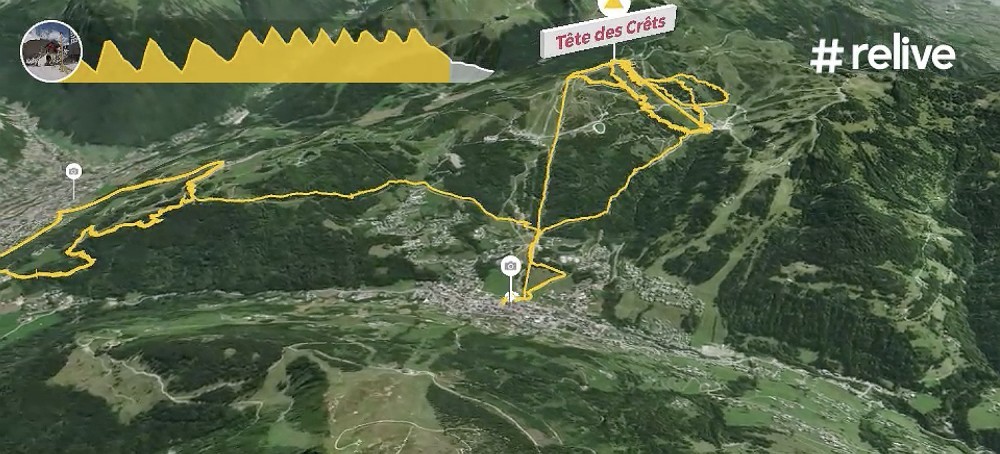 Battery life
It would be pretty pointless having a watch that keeps going dead. Most of them have a battery life that will last weeks, however this all depends on what you have connected to it. You also need to check the "in activity" battery life. This is when the GPS is working during your ride, and it can deplete the battery quite quickly.
What it is made of
The screen isn't much use if it is scratched, so the best mountain biking GPS smartwatch will have a toughened mineral glass screen. For the most part, straps are made from silicone, making  them very comfortable. But you can change the straps for leather or metal versions, for when you are not in your biking gear.
Controls
Watches with touch screens are great, however they can be a bit awkward for those riders with larger fingers. They are not always that reliable when they are wet either. But one of the main frustrations is, that some models don't work while you are wearing gloves. Models with buttons on the side have their advantages, but make sure that you can 'lock' the buttons. This is because you can easily press them by accident, pausing your ride.
Versatility
You can use many of the watches for different activities, due to their built in sensors. The most note worthy sensors are, altimeters, barometers, accelerometers, heart rate monitors, compasses and gyroscopes. Consequently, these make the watches useful for hiking, climbing, skiing, snowboarding etc. They are also waterproof for when you want to go for that triathlon you have always wanted to complete.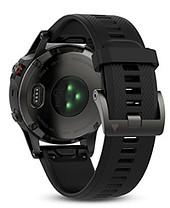 Heart rate monitors built in to the strap work by shining LED lights through your skin. As a result, the watch detects the blood pulsing through your veins (how clever is that?!). Therefore, you need to make sure that the strap is in proper contact with your skin, to get accurate results.
Garmin Fenix 5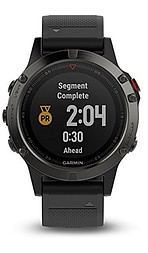 Ideal for:
Those who want a versatile watch for a number of activities.
Features:
This one has a stainless steel bezel and forged steel back
Built-in GPS + GLONASS EXO antenna
Anti-glare coated lens back to maintain the best integrity in demanding environment
Suitable for multiple activities with preloaded profiles for running, cycling, swimming, trail running and more. Supports Strava Live Segments
Performance Widget shows your training status, training load, VO2 Max, recovery adviser and more.
Built-in navigation sensors include: GPS and GLONASS satellite positioning, 3-axis compass with gyroscope, barometric altimeter
Smart Notifications, Connect IQ App support
Interchangeable straps (no tools required) for further customisation
Battery life: up to 2 weeks in smartwatch mode (depending on settings), up to 24 hours in GPS mode or up to 60 hours in UltraTrac battery saver mode
What we like:
Large easy to read face.
Water proof
Looks great
Comfortable
Good battery life
What we don't like:
Pricey, but you get what you pay for
Some people have reported that the bezel scratches easily, but protectors are available
The Verdict:
This one is considered by many to be the best mountain biking GPS smartwatch. The Garmin Fenix 5 is fantastic and is perfect for mountain biking as well as many other sports. It is loaded with features and is customisable, hence the high price.
Suunto Ambit 3 Vertical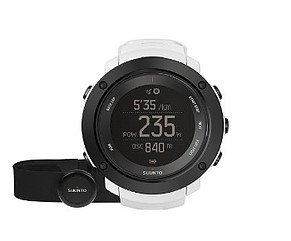 Ideal for:
Those who want an alternative to the Garmin, but still wants lots of features
Features:
Compatible for many sports, including mountain biking
Route navigation and Track Back,
Accurate heart rate monitoring and Calories burned
Bike Power Support
Sleep and quick recovery tracking
Training programme
Interval workout planner
Quick GPS/GLONASS-Tracking
Barometric altimeter,
Bluetooth (from 4.0)
Coordinate system
Route planner with topographical map
Altitimeter
Easy to upload to social media
Track performance against other Suunto users
What we like:
Comfortable
Good battery life
Conectivity to accessories
What we don't like:
Data not too accurate when swimming
Needs separate chest strap for heart rate monitor (included) Not really a problem, just not as convenient as others.
The Verdict:
A great alternative to the Garmin and at around half the price.
Garmin Vivoactive 3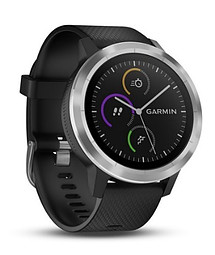 Ideal for
: Those who want a GPS smart watch for multiple activities, but don't want to spend too much.
Features:
Wrist strap heart rate monitor
High-resolution colour touchscreen display
Preloaded with multiple sports apps including yoga, cardio, strength training, running, swimming and many more
Download workouts
Create custom workouts
Monitors, VO2 max and fitness age estimate
All-day stress tracking and relaxation-based breathing timer
Smart notifications including the ability to send prewritten responses to text messages, LiveTrack, Connect IQ watch faces and apps and more
What we like:
What we don't like
:
Battery only lasts 4 to 5 days
The verdict:
This watch is more than just a fitness tracker. But it is not quite the all singing all dancing Fenix 5.
Fitbit Blaze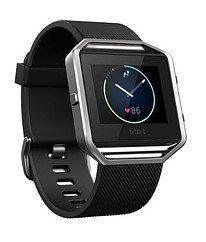 Ideal for:
Those who want a "basic" fitness watch that looks nice.
Features:
Tracks steps, distance traveled , calories burned, floors climbed and active minutes
Multi-sport tracking including running, cardio, cross-training and cycling
Wrist strap heart rate monitor
Record workouts to your personallised dashboard
Five day battery life
Map your routes and see stats like pace and duration on display
What we like:
Simple to use
Looks good
Customisable
Not bulky
Vibrates when your phone rings or you get a message
What we don't like:
Some bugs with the GPS have been reported
The verdict: 
This watch is not as feature rich as the other watches reviewed, however it does look great. Above all, this is a nice bit of kit to track how fit you are (or not). You may also want to consider the Fitbit Charge.
Click here for details.
Do you have the best mountain biking GPS smartwatch?
Have you used any of these products? Or similarly, do you know of a great alternative that you believe to be the best mountain biking GPS smartwatch? If so let me know what you thought of them in the comments below. Also, don't forget to sign up for the MTB-Threads newsletter!