Best Place to go Mountain Biking: French Alps
If you are looking for the best place to go mountain biking, I urge you to seriously look at the French alps. Under all the snow that skiers and snowboarders love so much, there is a completely different way to explore the mountains. Come Spring, thousands of mountain bike trails are revealed once the snow has melted. Man-made and natural trails are everywhere, and they can take you to some of the most stunning views you will ever see and give you a healthy dose of adrenaline in the process.
Don't think that these mountains are just for expert mountain bikers. Yes, there are trails with near vertical descents and river gap jumps, but there is always something for the novice or intermediate rider. You just need to be armed with the correct gear and knowledge to enjoy the peaks on two wheels (just don't do a black run on your first day!).
So where is the best place to go mountain biking in the French Alps?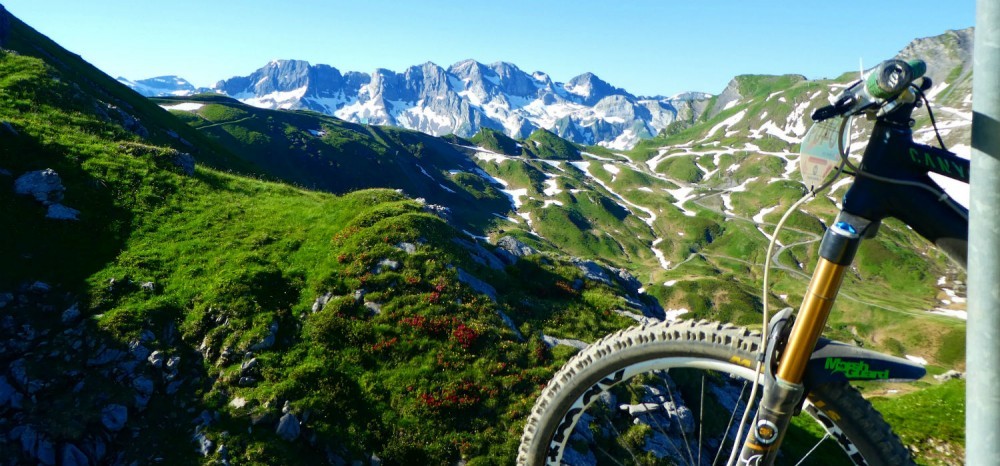 OK I have a bit of a soft spot for the PDS, as I live there. But there are many good reasons for this. The Portes du Soleil is a huge area that straddles the Swiss-French border. It is made up of 12 resorts connected by trails and the ski lift system. Morzine is my pick to stay during a visit. This is because it is very easy to access the whole PDS. It is also only about an hour and a half drive from Geneva airport.
The trails themselves are very mixed across the region, because the PDS covers so much terrain. You can find fast and flowy or rocky and rooty trails everywhere.
Morzine is probably most famous for its down hill runs, but enduro riders should not be put off. If you fancy a pedal, there are loads of routes to choose from. There are some short ones that only take a couple of hours, or you can go on multi-day bike packing adventures.
Using the lift system means you can get to different areas of the mountain very quickly. A good way to explore the whole PDS is to enter the Pass' Portes du Soleil. This is an event that takes place at the start of the summer, where you ride through every resort. You can expect a lot of fire roads and single track on this ride, but also spectacular views. The view from Morgins of the Dents du Midi is probably the best in the PDS. It is about 80km long (with the lifts), but you can add extra loops if you want to. There is nothing too technical on this ride, making it accessible to anyone who can ride a bike.
What ever level of rider you are, you can always benefit from a bit of coaching. RideAbility is a mountain bike school based in Morzine. It might seem a bit strange booking a lesson on how to ride a bike, but it is well worth it. The coaches will find areas you need to work on and make you a better rider within a couple of hours. They don't just teach though. Just as a ski instructor will guide you to secret spots on the mountain, a mountain bike instructor can do that too. Guided rides are a fantastic way of riding trails you wouldn't normally find.
For more details have a look at the Bike Fax book for Morzine and the Portes du Soleil. It is a great guide to get you up to speed before you arrive. It has detailed maps and descriptions of the trails and helps you plan for your trip.

Located in the Southern French alps, Les Deux Alpes is relatively new to mountain biking. During the summer, it has ten lifts equipped to carry bikes. This is pretty useful, as L2A is a high altitude resort, with the highest point at 3600m. There is not as much terrain as the Portes du Soleil, but there is plenty to keep you occupied. L2A has 3 short downhill trails on the Pied Moutet side of the valley. These are ideal for those new to mountain biking, or riding in the alps. I would always suggest starting on a green, no matter what your level of riding is, just to calibrate yourself to the alpine style of riding. There are some mellow blue runs that you should head to next. There is nothing scary about the blue runs from La Fee, but the one from the top of the Jandri Express is pretty technical for a blue. It is also a long way to the bottom, so only tackle this if you are sure you are ready.
If like me, you like a mix of up and down and maybe fancy a break from scaring yourself witless on the downhill trails, L2A has 5 official enduro trails and 2 cross-country trails. The one you really need to head to is the Jandri Enduro trail. This has the highest start point of all the mountain bike trails in the valley. The views are pretty spectacular too, as it starts at the bottom of the glacier. The trail is gravelly and rocky as it is above the tree line, and it takes you 4.5km back to the lift mid station. Here you can have another go or join the downhill trails back to town for a beer in Smokey Joe's.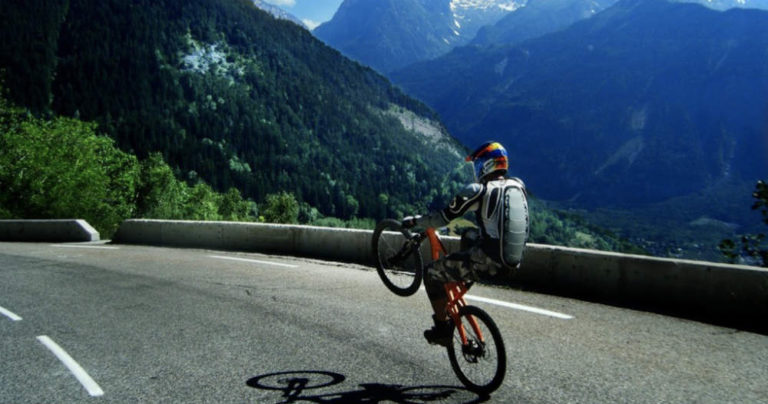 Alpes D'Huez is less than an hour drive from Les Deux Alpes, you can actually see it from the top of the glacier. But, when Alp D'Huez is mentioned to a mountain biker, they may instantly think of the Mega Avalanche. For the uninitiated, this is a crazy MTB race with a mass start at the top of the glacier. If you are not aware of this, I suggest you do a quick YouTube search to see the carnage unfold. Although you wouldn't catch me in the race itself , but you would find me on the of the many enduro trails that make up the course. Alpes D'Huez has a great mix of flowy runs and single track cutting though forests moorland and of course the glacier. You can expect the trails here are more natural and technical, rather than the man-made berms and jumps you will find in Les Deux Alpes. But if you are in the area, why not try both?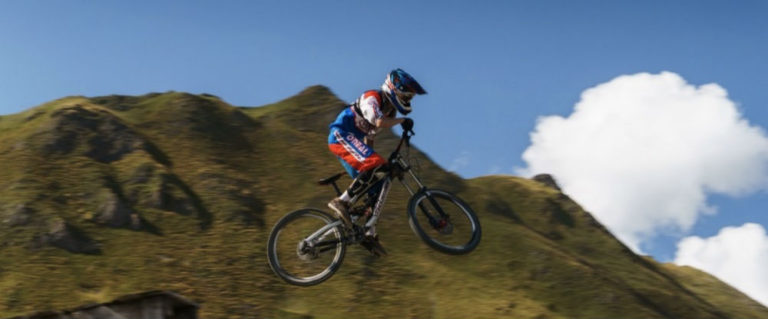 The Espace Killy is located in the Tarentaise valley and is popular with skiers visiting Val D'Isere and Tignes. Most of the trails are above 2000m, therefore you can experience some quite spectacular views during a ride. The altitude means there is not much vegetation, so the trails dry out and drain pretty quickly after bad weather. There is more of a bike park feel to the Espace Killy, with fast flowing trails featuring big berms and jumps. Some of the trails have sections of high exposure, this makes for epic views, but may prove a bit daunting for novice riders.
Spending a day with Startline MTB, may be the perfect way to get the most out of a mountain bike visit to the Espace Killy. These guys offer instruction and guiding, (a very similar service to RideAbility in Morzine). Their MTB instructor, Rab spends his winters as a ski and snowboard instructor, but during the Summer months he teaches riders of all levels from first timers to experts. Startline will also take you to neighboring resorts, and even over the Italian border to La Thuile and Pila.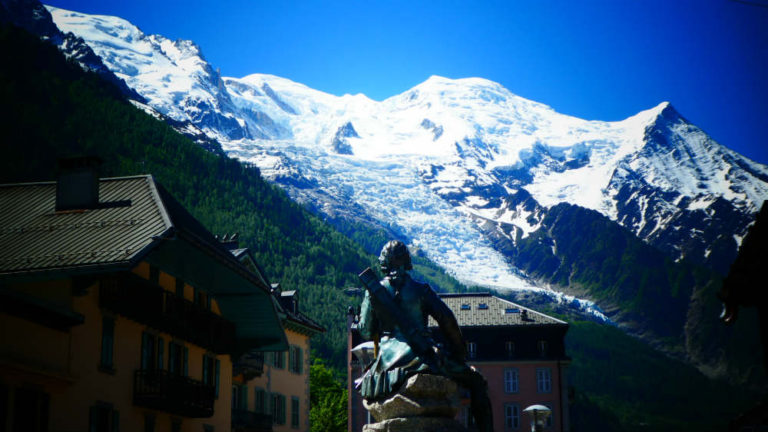 The high mountains of Chamonix also offer some great mountain biking during there summer months. The trails here are very mixed, and although there are lots of enduro trails, Chamonix is a bit more suited to downhill riders. Chamonix is a good destination for all abilities, from relatively easy picturesque rides all over the valley, to gnarly downhills and mega ascents.
The Haute Route is an epic ride from Chamonix to Zermatt in Switzerland. Originally made by alpinists, but there is a route adapted for mountain bikes. You start in the shadow of Mont Blanc and reach the unmistakeable view of the Matterhorn. This is a technical ride on alpine trails at high altitude with amazing scenery. It will take you 8 days to complete, based on 4 to 6 hours of riding per day. Therefore you will need to be super fit, be prepared to take on big climbs and carry your bike. The downhill sections can be very technical, but the views are incredible. This is one where you will need to book a guide. They will be able to transport all your belongings to the finish point and organise accommodation on your journey.
The Chamonix Bike Book details all the best trails for you to try. It highlights everything from the gentle picturesque pedals to the best downhill runs for your ability. It is definitely worth a read before your trip to Chamonix.
The French alps offer an amazing summer holiday, whether you are a mountain biker or not. It makes a great change from sitting on a beach or by a pool all day.
For other mountain bike destinations in the French alps you might want to look at this book. Alps Mountain Biking is a fantastic resource for planning your next trip. It is written by a British guy living in Samoens, who really knows his stuff. The book covers the Western alps including some of the destinations I have covered here, but in much more detail. The photography in this book is pretty special too, inspiring you to get on your bike.
SaveSave
Are there any other places you would like to know about?
Before you go, check out my other destination guides.