Mountain Bike Jerseys For Women
Here are some of the best mountain bike jerseys for women. Go through each of the brands and find one that you like. These will keep you comfortable and looking good on the trails.
Before you go through this list, you may want to check out my guide to choosing an MTB jersey. It can be quite difficult for women to find good MTB clothing, so I have put together a list of some of the best mountain bike jerseys for women.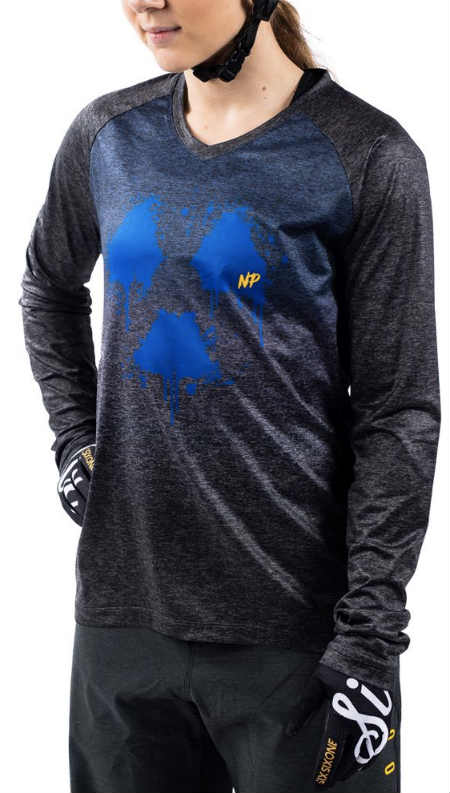 Nukeproof have released a great collection of mountain bike jerseys for women. Their clothing range is comfortable, looks great and is as well made as their bikes.
The Blackline jerseys will keep you feeling fresh for a while, thanks to their technical fabric. It has the all important moisture wicking properties, meaning that it will dry out pretty quickly. These jerseys also have an antibacterial finish to keep those minging smells at bay. For extra airflow, the arm pits have mesh panels too,
Nukeproof make these jerseys out of recycled coffee, but don't worry you won't end up smelling like the bin at Starbucks. The other advantage of this fabric, is that it has natural UV protection. Making them ideal for riding on sunny days.
For stashing, snacks, a multitool or lift pass, each jersey has a side pocket with a secure zip. If you like to ride listening to some bangin' tunes, the pocket also has an audio port for your earphones.
Verdict: You can't really go wrong with any of these jerseys. It is just a decision of what style, sleeve length and cut of the neck. Personally I think they look great and are pretty good value for money. Their style will last a few seasons too.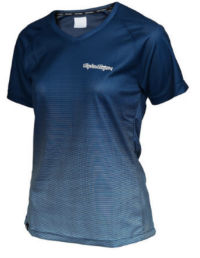 Troy Lee Design's products come from motor cross. A lot of their jerseys have bold colours and graphics, and are well made. The Skyline Dissolve is definitely one to look in to if you don't want to blend in. It is a short sleeve jersey and comes in two colours. The fabric this jersey is made of is 95% polyester and 5% Lycra. This means it is super soft and comfortable. Comfort also comes from its highly breathable properties.
Verdict: The Skyline Dissolve looks great and its bright colours will look great on those gap jump photos! You will be comfortable all day while looking good.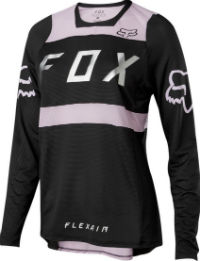 Fox RacingFox Racing is a Californian brand. Since 1947, they are synonymous in the world of mountain biking and motocross. They make top-notch products for all disciplines of mountain biking. They are well-known for making excellent suspension components for mountain bikes, but they also have an excellent range of clothing.
Fox clothing in hugely popular for good reasons. The technology that they put in to the fabric in their jerseys carries throughout the range. From their higher end Flexair products, to their technical t-shirts, Fox's TruDri fabric is fast drying and wicks moisture away from your skin. These jerseys will keep you cool when you need it the most.
Verdict: Superb quality and deceptively hard wearing, these high performing jersey are comfortable and look good too.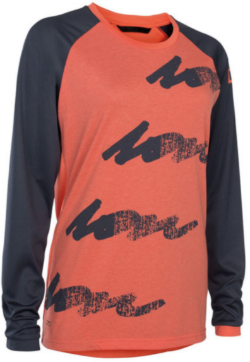 Ion's mountain bike jerseys for women, come in three different lines. They have the Traze line, which are light weight and highly breathable. The Scrub line is light weight, but highly durable and the seek line is very functional with a surf inspired look.
The Button Tee short sleeve Traze jersey,has a nice stretchy fabric which has vertical channels through the fabric. This is Ion's system for wicking away moisture and enhancing comfort. The fabric used by Ion in the production of this jersey has an antibacterial treatment, to stop you smelling too much. It has a slim fit and mesh panels for ventilation. Its details are reflective to improve visibility in low light.
Ion's Scrub long sleeve Amp jersey is made up of a mix of fabrics. The front is a DriRelease mesh fabric that looks like a cotton t-shirt material, but it gives you lots of ventilation. It also dries four times faster than normal cotton. The sleeves and the back are made from a pique mesh, which is light weight and breathable. Another good thing about this jersey is that it has an integrated google wipe and lift pass pocket.
The Seek does come in long and short sleeve versions. They are quite simple in design and have a more relaxed fit than the jerseys in the Traze line. The material is that cotton feel DriRelease stuff again. Ion use this a lot, because it is so good. I have a couple of their DriRelease jerseys, and I love them.
Verdict: The Traze jerseys are great for enduro riders, especially if you are riding on warm days.  Scrub jerseys are ideal for bike park days, while the Seek is good for everything from pedalling around the woods, to sitting in the pub.
Here are some of the best mountain bike jerseys for women
I will be updating this page with new products as they become available. Let me know what you think in the comments below!