Nukeproof : Why is their stuff so good?
A few years ago my wife, Carolyn bought a Nukeproof Mega 275 AM. This bike has lasted extremely well, considering it has had some hard riding over the years. We are based in Morzine, in the French Alps so we have the whole Portes Du Soleil at our disposal, therefore her bike has done some serious miles. It has obviously needed parts replaced over the years, but it has lived up to its Nukeproof name. In fact I am so impressed with it, I bought the 2019 Nukeproof Mega 275 AL Pro and now Carolyn has bought a 2018 Nukeproof Mega 275 Factory.
This led me in to a bit of investigation in to the brand. Does the Nukeproof build quality carry on through all of their products? Did Carolyn get lucky with her purchase? Does she ride hard enough? Or is she secretly rebuilding it in every night without me knowing?
First, I will give you a little history lesson:
Where it started
Nukeproof were founded in 1990 in Michigan, with the aim to make cool and reliable products for the emerging mountain bike market. They were one of the first mountain bike companies to use Titanium and Carbon fibre in their products, such as frames, handlebars and hubs.
In the early 2000s, along with many other mountain bike companies, Nukeproof were struggling in a declining market, but help was at hand. Micheal Cowan, a downhill racer started buying the trade marks in 2004, in order to bring the brand back to life. He also built a development team and a team of experienced riders.
This team moved to Belfast, Ireland and started to develop Titanium springs and carbon handlebars, before moving in to building mountain bike frames.
Racing
Nukeproof frames were designed to race, with long and slack geometry perfect for riders to take on the Mega-Avalanche in Alp D'Huez in the French Alps.
In 2010, Nukeproof built their first downhill bike, the Scalp. This was the bike that Sam Hill win three DH world championships on.
The Nukeproof race team help develop and test new products and bikes before they are made available for the public. Which possibly explains why their bikes are so good.
Nukeproof Blackline Clothing Range
It's not just bikes that Nukeproof make well. In 2018, they launched their Blackline clothing range. Their clothing is towards the higher end of what is available on the market. The clever thing about the materials Nukeproof use in the Blackline, is that it is made from recycled coffee. This doesn't mean that you will smell like the bin at Starbucks, in fact it will naturally help reduce your smells. The fabrics have natural moisture wicking and odour resistant properties and dry 200% quicker than cotton.
Some mountain bike clothing can be a bit bold and shouty, but the Nukeproof Blackline has subtle and cool designs.
Nukeproof Blackline jerseys are specifically designed for the trail. They have a loose, but not baggy cut, giving the rider unrestricted movement. The back of the jerseys hang a little lower to make sure you are covered up. They do a great job of keeping you cool too. This is because the back panel is completely made out of a stretchy mesh material, as are the armpits. These jerseys also protect you from the sun, which is good news if you are as pasty as me.
The Nukeproof Blackline jerseys have a small pocket on the side that is ideal for snacks, phone or lift pass. It also has a hole for your earphones too, if you like to ride with choooons!
The Nukeproof Blackline jerseys look great and are very good value for money. They are very comfortable and made to last.
Nukeproof Blackline Clothing Range
The Nukeproof Blackline shorts are also excellent and compliment the jerseys well. They are made to be extremely comfortable and nonrestrictive with nice stretchy fabric. This material has been treated to repel water with a DWR coating, so you shouldn't be troubled when splashing through muddy puddles.
The fly is secured with double popper buttons, while the pockets are zipped. You can adjust the waist with the internal Velcro straps to make sure they fit you perfectly. Inside the shorts, there are additional soft silicone panels that hold on to your inner shorts, providing you with even more security. To help with wicking moisture away and comfort, the waist band has a mesh lining too.
The Nukeproof Blackline shorts have two front zipped pockets, and one has a lanyard for attaching your keys to. and one rear pocket. The shorts are made to last with triple stitching and rubberised graphics, to keep them looking fresh for years to come.
I really like these shorts, their subtle and design cool design, won't make you feel a bit silly in the pub after your ride either. They are very well-made and are excellent value for money. However, the only criticism is that the back pocket is a bit too small to be practical.
Nukeproof Kashmir Clothing Range
The Nukeproof Kashmir clothing range is designed around enduro and downhill racing. However, this part of Nukproof's clothing range has a slightly tighter fit than other downhill clothing you will find. This is to reduce wind resistance and flapping when you are sending it.
The Kashmir jerseys are made with super lightweight and breathable fabrics, meaning they will dry quickly. They also have odour resisting properties, so you don't need to feel self conscious.
The Kashmir jerseys are super comfortable, as they are quite stretchy, to give you total freedom of movement. They are also very well ventilated, thanks to the mesh detailing on the back.
These jerseys are cool, but have bolder graphics than the Blackline. This is no bad thing, it is just a matter of preference.
Nukeproof Kashmir Long Sleeve Jersey
The Kashmir shorts have a lot of the same features as the Blackline. However, the difference is that they are much more stretchy, helping you move around the bike easier. They are also more ventilated, with laser cut ventilation holes. These shorts have three zipped pockets, one of which is waterproof, which is ideal for your mobile phone (as long as it isn't a big one).
The Nukeproof Kashmir shorts are super comfortable and practical. They are more expensive than the Blackline, however they offer more features. Like the jerseys, they have a more bold design
Nukeproof Nirvana Clothing Range
The Nukeproof Nirvana range is more high end than the Blackline and Kashmir ranges. These clothes are designed for trail and enduro riding.
The Nirvana jerseys are made to be worn for a long time, during big enduro rides. Therefore, they are made with stretchy material, with seam welded neck, cuffs and hem. This is to give you superior comfort against your skin.
The stretchy material is very breathable and quick drying, and comfort is helped with a fully mesh back, and strategically placed laser cut ventilation holes. The shoulders have silicone grippers to hold your backpack or hydration pack in place while riding bumpy trails. An added extra touch to protect your jersey is the Codura arms. This is an anti-abrasive material, to prevent you snagging them on trees and bushes.
These are well thought out jerseys, packed with features. If you go out for long rides, these are the ones for you.
The Nukeproof Nirvana shorts are very stretchy too, and are made with the Codura material. Their fully bonded seams, mean that they are totally flat and do not rub against your skin. The seams on the inside leg are triple stitched to make them last for a long time. The additional feature you will find on these shorts, is a very useful detachable goggle/sunglasses bag. This is perfect for long climbs and you want to finally let your face breath.
Fit is taken care of with the internal waist adjusters that you find on the other Nukeproof shorts.
Couple these shorts with the Nirvana jersey, you would have a seriously comfortable and technical outfit for day long rides.
The Nukeproof Scout is a great hard tail bike that is designed to be a very versatile bike. It is all about getting as much fun as possible on single track.There are two different versions the 275 (27.5″ wheel) and the 290 (29″ wheel).
These bikes are low and long, with a slack head angle.
**Note: The head angle affects the angle of your front forks. This determines how your bike turns and performs.**
Steep head angle: This makes your bike feel agile, but twitchy at high speeds.
Slack head angle: This makes your bike more stable at speed, but makes turning feel a bit lazy at low speeds.
Lower bikes:
Measured from the bottom bracket, low bikes have a lower centre of gravity and corner better. However, too low and you will catch your pedals on rocks and roots.
Therefore, this bike is super fun and best when you are nailing it. The Nukeproof Scout will allow you to push a bit harder than conventional hard tail bikes. It has high quality components and is built like a tank. Despite the slack head angle, turning this bike is still fun and is surprisingly responsive. The 140mm travel on the Rockshox Revelation forks soaks up most of what trail centres can throw at it. Which brings me on to the specification for the money! It is in the higher price bracket for a hard tail, however it is a great buy with Shimano, Rockshox and the excellent in-house produced components. It even comes with really good tyres, the Maxxis Minions DHF, which are tough and super grippy downhill tyres.
When buying a Nukeproof Scout you need to decide between the 27.5″ and the 29″ wheel sizes, the Comp, Sport and the Race versions.
An range of aggressive, fun bikes that are no nonsense, excellent value for money and very capable.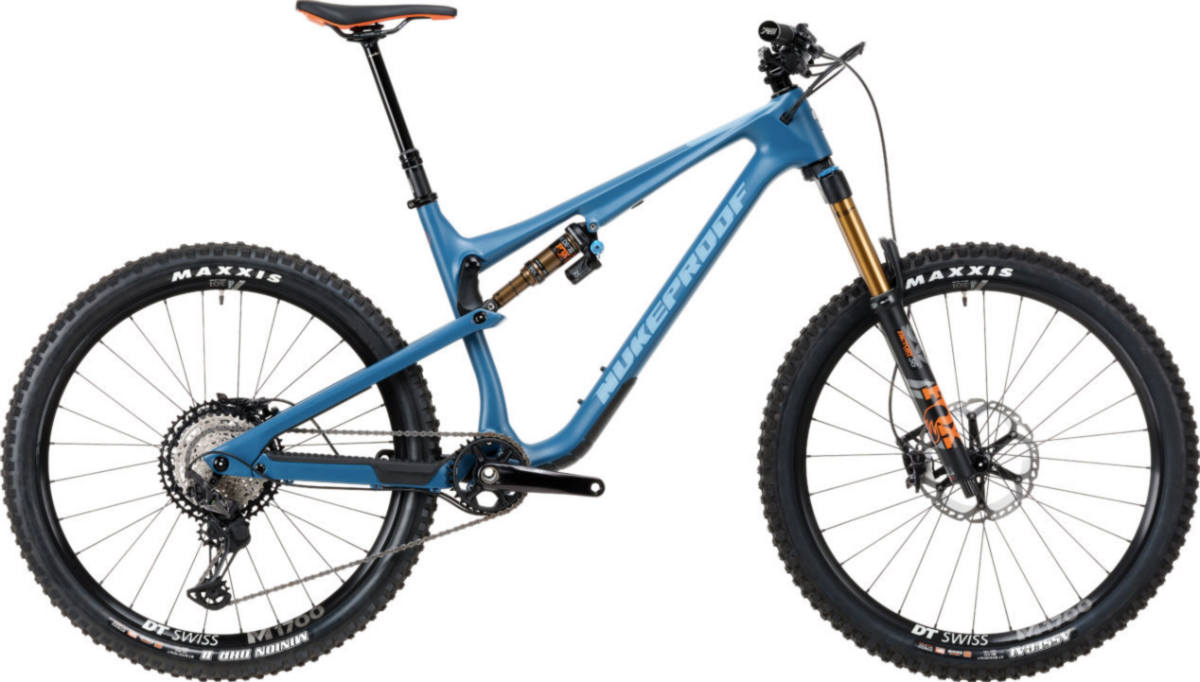 The Nukeproof Reactor is an aggressive trail bike. There are lots of different options to suit different budgets and riding styles. You can have both carbon or alloy frames and there is also a choice between 27.5″ and 29″ wheels.
The geometry is bang up to date with the modern trends. Low and slack, for for confidence inducing descents, with a short chainstay, for nimble handling. The geometry can be altered with a flip chip to be better for technical terrain or for a more playful feel.
This bike is most at home smashing through the woods and wizzing along singletrack, however, you would also have lots of fun in the bike park too.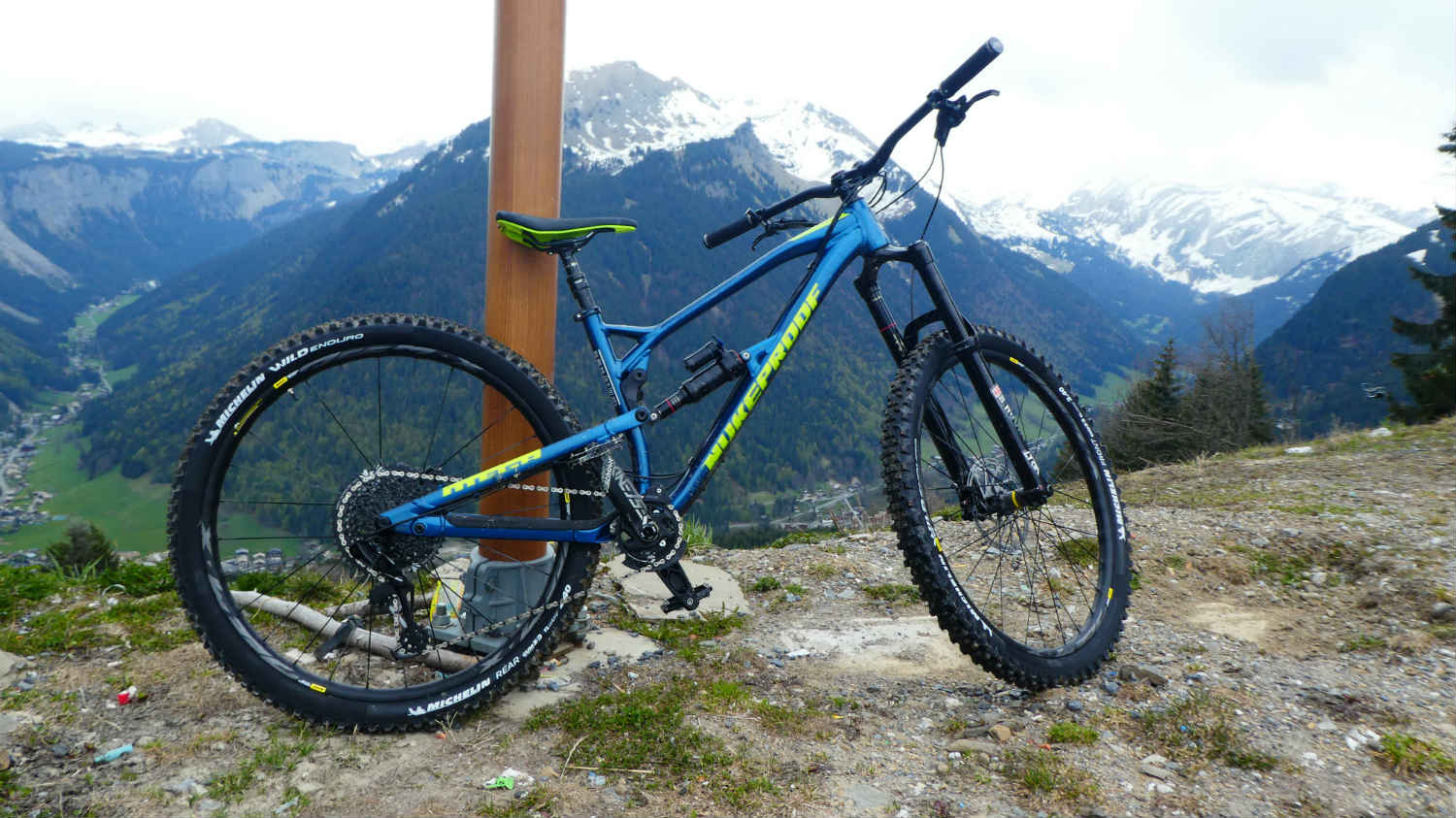 The Nukeproof Mega is a fantastic bike. In previous years, the Mega has been a fairly industrial looking bike, but now it is sleek and good-looking. However, it is more important how it rides, and it does not disappoint. I have ridden a few versions of this bike and it has never failed to deliver. Light, nimble and tough, it is a very capable bike even out here in the French alps. But that shouldn't be a surprise, considering its provenance, with Sam Hill winning the Enduro World Series on it in 2017. Therefore, it is tested to the highest level.
Frame choices
There are a few versions with both carbon fibre and aluminium frames, but the geometry is the same on all of them, and so is their riding style. They are designed to be ridden all day, on technical trails.
All Nukeproof bikes now have the boost hub spacing. This means that they have wider hubs, allowing the frames to be made stiffer, which in turn, makes it more responsive and more capable when riding the rough stuff.
Just like the Scout, it comes with either a 27.5″ wheel (275) or a 29″ wheel (290). Both come in different guises, the Wor, Pro, Comp and the RS (RS version only available on 275, with high end components from SRAM and Rockshox).
Suspension
Bumps are soaked up by 165mm rear travel and the 170mm on the front (160mm on the 290).
The Nukeproof Mega has Rockshox suspension, while the Factory model has a Fox Float on the rear and Fox 36 forks, which are excellent. But those of you that prefer Rockshox, you should look in to buying the RS. Which is equipped with the Lyric RCT3 and a Super Deluxe RC3.
Groupset
You get the same components across both 275 and 290 versions. The Comp has the Shimano Eagle NX 1×12 speed to help you get up those hills, while the Deore brakes stop you coming down them too quickly. But, the Pro is has SRAM GX Eagle 1×12 speed and XT brakes. However, for the ultimate climbing machine, the RS has the SRAM X01 Eagle 1×12 speed. It is pretty good at stopping too, with its Code brakes.
Wheels
As I said before, the Nukeproof Mega has boost spacing, making the bike feel very capable and responsive. The Comp uses Nukepoof's own brand Neutron wheels, the Pro has Mavic XA Elite, the factory has DT Swiss E1700 Spline wheels and the RS gets high performing DT Swiss XM1501 Spline wheels.
When buying a new bike, I prefer not to upgrade components straight away, and that includes tyres. Brilliantly, the Nukeproof Mega bikes all come with Michelin Wild Enduro tubeless ready tyres. Which are excellent, as they are tough and very grippy, especially in the corners.
=>Click here for my guide on how to choose tyres<=
The Nukeproof Mega is one of the best Enduro bikes you can buy. Its excellent frames and components have been race tested in the harshest environments. They are confidence inspiring, very capable and fun to ride. The budget for designing and building these bikes has gone in to their quality components, therefore it is a no frills' kind of bike. But that means the money has gone where you really want it. This makes them very good value for money, especially as they do last for a long time. These are the reasons why I bought one!
What are your experiences with Nukeproof products? Personally I think their ethos of hard wearing, quality products that don't break the bank is a good one. It certainly shows across the range. Let me know what you think in the comments below.