Mountain Bike Travel Bags: 5 of the best ones you can buy
Taking your pide and joy away on a plane can be quite stressful. When travelling with your bike, you put a lot of trust in the baggage handlers and the bag you put it in. I have heard many horror stories from people arriving to the French alps, finding cracked frames, bend derailleurs and other unspeakable damage, because they didn't use proper mountain bike travel bags. Here are my picks of the best ones to have peace of mind when travelling with your bike.
Why use Mountain Bike Travel Bags?
Some people manage with an old cardboard box that their bike came in. In many cases this method works, as long as your travelling goes smoothly. I once saw a guy arrive in Morzine and his cardboard box had been left out in the rain while his flight was delayed. Luckily he was able to buy the missing parts from a bike shop. If you are travelling abroad or to another part of the country, a decent bike bag or case is well worth using. Your bike will be well protected and give you peace of mind.
Decent mountain bike travel bags should be easy to pack, provide protection and be easy to travel with.
When it comes to choosing your bike travel bag, you have a choice between hard and soft. Hard cases give the most protection against impacts, but they also weigh more. This means that you may need to pay more for carriage when taking your bike on a plane. Hard cases also don't fold up, so they are more difficult to store when you are not using them.
However, soft bike travel bags have improved a lot in recent years. Some nearly have the same level of protection as their hard shell counterparts. They are usually lighter too, and fold for easier storage.
Hard bike cases are rigid and made of a tough plastic. This is why they are great at protecting bikes. Most soft bike travel bags are made from a durable nylon and protect your bike with a lot of padding. Some soft bike travel bags have a rigid internal frame that helps to protect your bike from crushing forces. You can get hybrid bike cases with a fabric exterior lined with foam and plastic sheets.
You really need to take note of the size and weight of a bike travel case. This is because it relates to the weight of your bike. Also, if you are planning on using it to fly your bike, the weight could affect how much airlines will charge you to carry it.
Click here to see tips for flying with your bike
You need to factor in the weight of the case, the bike, and other items you're considering throwing in there before selecting a case. As hard bike cases are heavier, you will not be able to pack it with loads of other items, such as body armour or clothing. Soft bike bags are lighter, which means you can pack a heavier bike. This is why it is probably the best choice for. mountain bikes, especially downhill bikes. However, it won't be protected quite as much.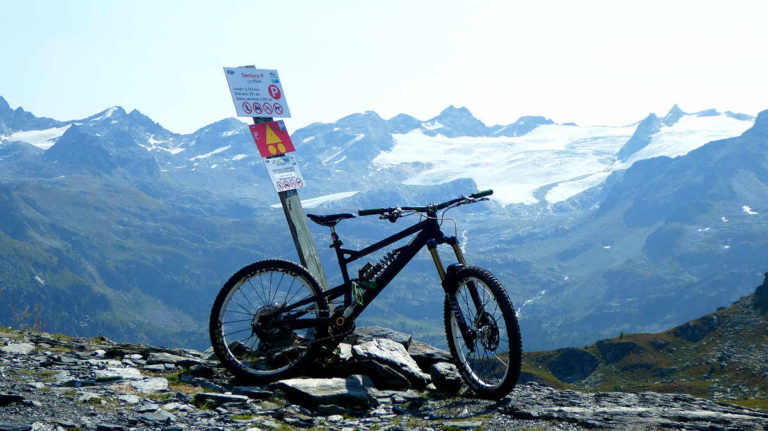 Tips for Packing Your Bike Bag
Before you choose your mountain bike travel bag or case, you need a good idea of how much you are willing to disassemble and reassemble your bike. This is because it may determine the type of bike bag or case you go for. You may opt for a large bag, which would mean less dismantling and not much in the way of "forcing" your bike in to it. However, you run the risk of being charged for an oversized bag. Smaller bike travel bags and cases will require a bit more work with the Allen key, as you may have to remove both wheels, bar and stem, rear derailleur, pedals, seat post and possibly the fork.
If you have a light bike and bag, you should be able to stuff some clothing in with your bike. This will give your bike a bit more protection. Some riders, buy foam pipe insulation and fit it around their frames etc for extra padding. This is really cheap stuff that you can get from builder's merchants and DIY shops.
You also need to make sure that you can fit all the necessary tools you will need to rebuild your bike when you get to your destination.
My choice of Soft Mountain Bike Travel Bags
From my experience and speaking to lots of riders that turn up to Morzine with their bikes, you can't go wrong with EVOC.
The soft mountain bike travel bags from EVOC bike bags are extremely popular. Actually, they have options for road bikes, mountain bikes, fat bikes and BMX.
These offer loads of protection and are really easy to store, as they collapse down and can fit under a bed.
Evoc Bike Travel Bag Range
The Evoc Bike Travel Bag range is the best selling soft travel bag, and there is good reason for it.
Evoc have designed these mountain bike travel bags to make it especially easy to pack your bike, thanks to the removable plastic inserts. These are a great idea, and make the bag stand up, so loading and packing is really quick. Once you remove the inserts, the bag easily collapses, allowing easy storage.
Inside, there are a number of straps to keep your bike in place during transit. The standard size bag is big enough to fit everything from a road bike to a downhill bike inside. However, there is a large version for your Fat Bike too.
The Evoc Bike Travel bag's large wheels and great centre of gravity at the heavy end, make it really easy to pull around. Have a look at the video below, for a close look at the bag's features.
There are a few different Evoc bike travel bags to choose from: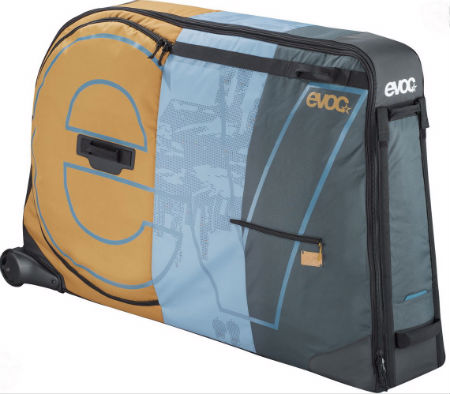 The standard version in the range is excellent. With 285 litres of space inside, it has enough room for you to transport most bikes and some gear. All you need to do is remove the handle bars, pedals and wheels. As mentioned above, the bag has space for the wheels. These are on either side of the bag and have stabilisers, holding the wheels in place, protecting your spokes and rotors. The bag also has plastic discs to prevent your axels poking through the side of it.
To make sure your bike doesn't move around, Evoc have created a mount that securely attaches your forks to a stiff block made of foam. This block goes through two buckles, fastening it in place, and is helped by the multiple straps that go round your bike frame.
The Pro version of this mountain bike travel bag has all the features of the standard one, but with some improvements. Notably, Evoc have made  the bottom of the bag from hard plastic, rather than soft material. This makes it more sturdy and secure. Evoc have fitted this version of the bag with a tough metal handle, which is obviously stronger, and give it a more quality feel. Roadies would probably prefer the Pro, as it has an adapter included to make their road bikes fit inside it better. You can move the Pro around easier, because of its detachable front castor wheel. This is very useful, even on rough ground. However, it doesn't seem that strong compared to the rest of the bag.
EVOC added extra length to the bag to keep pace with the longer, lower, slacker trend in mountain biking. Another nod to modern mountain bikes are wheel pockets that can swallow 29-inch wheels wrapped in 2.6-inch tires. It is also 310 Litres, so significantly larger than the standard version.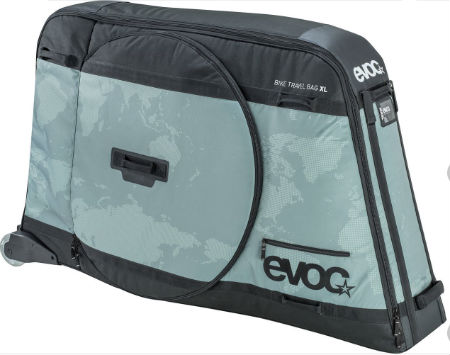 As the name suggests the XL is the big version, designed around Fat bikes and bikes with plus sized wheels. It has all the features you would find on the standard version of this bag, but everything is bigger. Its dimensions are 143 x 42 x 84cm (inside 134 x 39 x 79cm), 320L. This means you should have enough room for some clothing and your helmet too.
These Evoc mountain bike travel bags are very well made and will last a long time. Some bike bags don't have room for the wheels, meaning you need an extra wheel bag. But these have a compartment for the wheels in the rear section, suitable for wheels up to 29″.
My Choices For Hardshell Mountain Bike Travel Cases
If a hard case would fill you with more confidence during your travels, have a look at the B & W Bike Box. The B & W Bike box is a tough wheeled hard case, designed to give your bike maximum protection. Its toughness comes from its ABS shell and aluminium frame. The inside is padded with foam and four straps to hold you bike in place. This box also has enough room for you to carry your wheels.
The B & W Bike Box is really easy to pull around the airport too, due to the handle on the top and a spring loaded one on the side. The very free spinning wheels at all four corners have reinforced axels to make them more durable. However, if you manage to break wheels, you can easily screw on some new ones.
This tough and secure box will protect your bike from careless baggage handlers. It may take you a couple of tries to pack the box properly, but once you get the knack, it is easy. The B & W Bike Box is also very good value for money.
Thule RoundTrip Transition Hard Bike Case
As good as the B&W Bike Box is, the Thule Roundtrip Transition Hard Bike Case is definitely a cut above. It offers the most protection and is a very comprehensive bike travel case, this is reflected in the price.
This bike box has a very strong casing, made from a tough ABS material. This will give your bike loads of protection from the most clumsy of baggage handlers. The bike is securely strapped down to the base of the box, ensuring that it won't move around. There isn't much in the way of storing handlebars and pedals, so you just have to squeeze them in where you can.
This case comes with thru axle adapters for 15mm and 20mm axles, as well as for a quick-release skewer. This locks your bike to the base, along with an adjustable strap to wrap around the base of the down tube near the bottom bracket.
This system makes the case suitable for road, mountain and cyclocross bikes, up to a 46″ (116.8 cm) wheelbase. What I really like about this bike travel case is, that it has an integrated bike work stand. The stand is made from light weight aluminium tubing, allowing you to assemble and disassemble your bike outside of the box with ease.
All in all, the Thule RoundTrip Transition Hard Bike Case is the most rugged bike box I've ever seen. The bike is firmly fastened in to the box meaning it isn' t going to rattle around and get damaged. The work stand is a really nice touch. It allows you build, take apart and carry out maintenance while away really easy.
It is a heavy bike travel box though. It may be a bit too much for riders with heavy bikes. Unfortunately, if you are thinking about using this for a downhill bike, you don't stand a chance of getting it on the plane.
It is more expensive than the B&W, but the level of protection will impress you. However, most mountain bikers may want to go for a lighter box that can be padded up with your clothes and kit. This would make it cheaper in baggage fees. However, If you only want to pack your bike in to it and protection is your main concern, it is certainly worth checking out otherwise, you may want to look at the Thule Roundtrip Pro Semi Rigid bike case. This is collapsable and and only weighs 8.6kg.
Which of these Mountain Bike Travel Bags Would you Buy?
Let me know what you think in the comments section below. Also, if you have any experiences with any of these mountain bike travel bags, please let me know. It is always good to get other people's opinions too.