Taking your pide and joy away on a plane can be quite stressful. When travelling with your bike, you put a lot of trust in the baggage handlers and the bag you put it in. I have heard many horror stories from people arriving to the French alps, finding cracked frames, bend deralliurs and other unspeakable damage, because they didn't use proper mountain bike travel bags.
Why use Mountain Bike Travel Bags?
Some people manage with an old cardboard box that their bike came in. In many cases this method works, as long as your travelling goes smoothly. I once saw a guy arrive in Morzine and his cardboard box had been left out in the rain while his flight was delayed. Luckily he was able to buy the missing parts from a bike shop.
Decent mountain bike travel bags should be easy to pack, provide protection and be easy to travel with. The best soft bags I have found are made by Evoc.
Evoc Bike Travel Bag Range
The Evoc Bike Travel Bag range is the best selling soft travel bag, and there is good reason for it.
Evoc have designed these mountain bike travel bags to make it especially easy to pack your bike, thanks to the removable plastic inserts. These are a great idea, and make the bag stand up, so loading packing is really quick. Once you remove the inserts, the bag easily collapses, allowing easy storage.
Inside, there are a number of straps to keep your bike in place during transit. The standard size bag is big enough to fit everything from a road bike to a downhill bike inside. However, there is a large version for your Fat Bike too.
These mountain bike travel bags are very well made and will last a long time. Some bike bags don't have room for the wheels, meaning you need an extra wheel bag. But these have a compartment for the wheels in the rear section, suitable for wheels up to 29″.
The Evoc Bike Travel bag's large wheels and great centre of gravity at the heavy end, make it really easy to pull around. Have a look at the video below, for a close look at the bag's features.
BIKE TRAVEL BAG from EVOC on Vimeo.
Which one to Choose
There are a few different Evoc bike travel bags to choose from:
Evoc Bike Travel Bag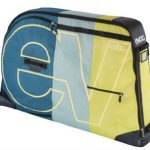 The standard version in the range is excellent. With 280 litres of space inside, it has enough room for you to transport most bikes and some gear. All you need to do is remove the handle bars, pedals and wheels. As mentioned above, the bag has space for the wheels. These are on either side of the bag and have stabilisers, holding the wheels in place, protecting your spokes and rotors. The bag also has plastic discs to prevent your axels poking through the side of it.
To make sure your bike doesn't move around, Evoc have created a mount that securely attaches your forks to a stiff block made of foam. This block goes through two buckles, fastening it in place, and is helped by the multiple straps that go round your bike frame.
Evoc Bike Travel Bag Pro
The Pro version of this mountain bike travel bag has all the features of the standard one, but with some improvements. Notably, Evoc have made  the bottom of the bag from hard plastic, rather than soft material. This makes it more sturdy and secure. Evoc have fitted this version of the bag with a tough metal handle, which is obviously stronger, and give it a more quality feel. Roadies would probably prefer the Pro, as it has an adapter included to make their road bikes fit inside it better. You can move the Pro around easier, because of its detachable front castor wheel. This is very useful, even on rough ground. However, it doesn't seem that strong compared to the rest of the bag.
Evoc Bike Travel Bag Macaskill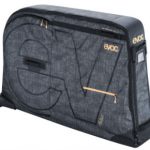 The Macaskill version is pretty much the same as the standard version. The difference is the colour, which is called "heather", but it is more of a charcoal colour. It also has Danny Macaskill's signature embroidered in to it. It looks really nice and is just a matter of preference for you in which one you choose.
Evoc Bike Travel Bag XL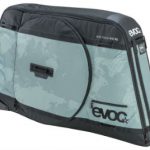 As the name suggests the XL is the big version, designed around Fat bikes and bikes with plus sized wheels. It has all the features you would find on the standard version of this bag, but everything is bigger. Its dimensions are 143cm x 41cm x 28cm and is 320 litres. This means you should have enough room for some clothing and your helmet too.
(Prices stated are sale prices at time of writing)
Find Evoc Bike Travel Bags on Ebay here.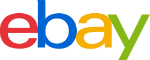 | | | | |
| --- | --- | --- | --- |
| £274.99 | From $336.59 | From €289 | From $499.99 |
B & W Bike Box
If a hard case would fill you with more confidence during your travels, have a look at the B & W Bike Box. The B & W Bike box is a tough wheeled hard case, designed to give your bike maximum protection. Its toughness comes from its ABS shell and aluminium frame. The inside is padded with foam and four straps to hold you bike in place. This box also has enough room for you to carry your wheels.
The B & W Bike Box is really easy to pull around the airport too, due to the handle on the top and a spring loaded one on the side. The very free spinning wheels at all four corners have reinforced axels to make them more durable. However, if you manage to breathe wheels, you can easily screw on some new ones.
This tough and secure box will protect your bike from careless baggage handlers. It may take you a couple of tries to pack the box properly, but once you get the knack, it is easy. The B & W Bike Box is also very good value for money.
To get yours, click on the picture below.
If you have any questions or anything to add to this post, please leave your comments below.