Mountain biking is seriously good fun. It gets you out in the open air, is a great workout and gives you a suitable kick of adrenaline while you are doing it. Once you are bitten by the mountain bike bug, it can get to be an obsession. Over time, you will start to geek out on the bikes, clothing, associated equipment and riding technique. But more about all that later, you have just made the first step by finding this page. Here is my guide on how to get in to mountain biking, or at least what equipment you need as a novice.
How to Get in to Mountain Biking Guide
I'm not going to tell you how much to spend, because you can spend a really silly amount of money on this sport. If you are lucky enough to be able to buy the best of everything, go for it! But for the rest of us, it takes time to build up all your equipment. Also, just because it is expensive, it doesn't mean that it is the best or even the right thing for you.
This guide is by no means an exhaustive list of everything you need, but it will give you enough info to get you going. I am going to give you some examples of items I believe to be good buys for the novice mountain biker. If they take your fancy you will be able to click on the links and order them online and they will be on your doorstep within a matter of days. Alternatively, I recommend that you go to your local bike shop and see what they have for you. This way you can support a local business.
Buying a Bike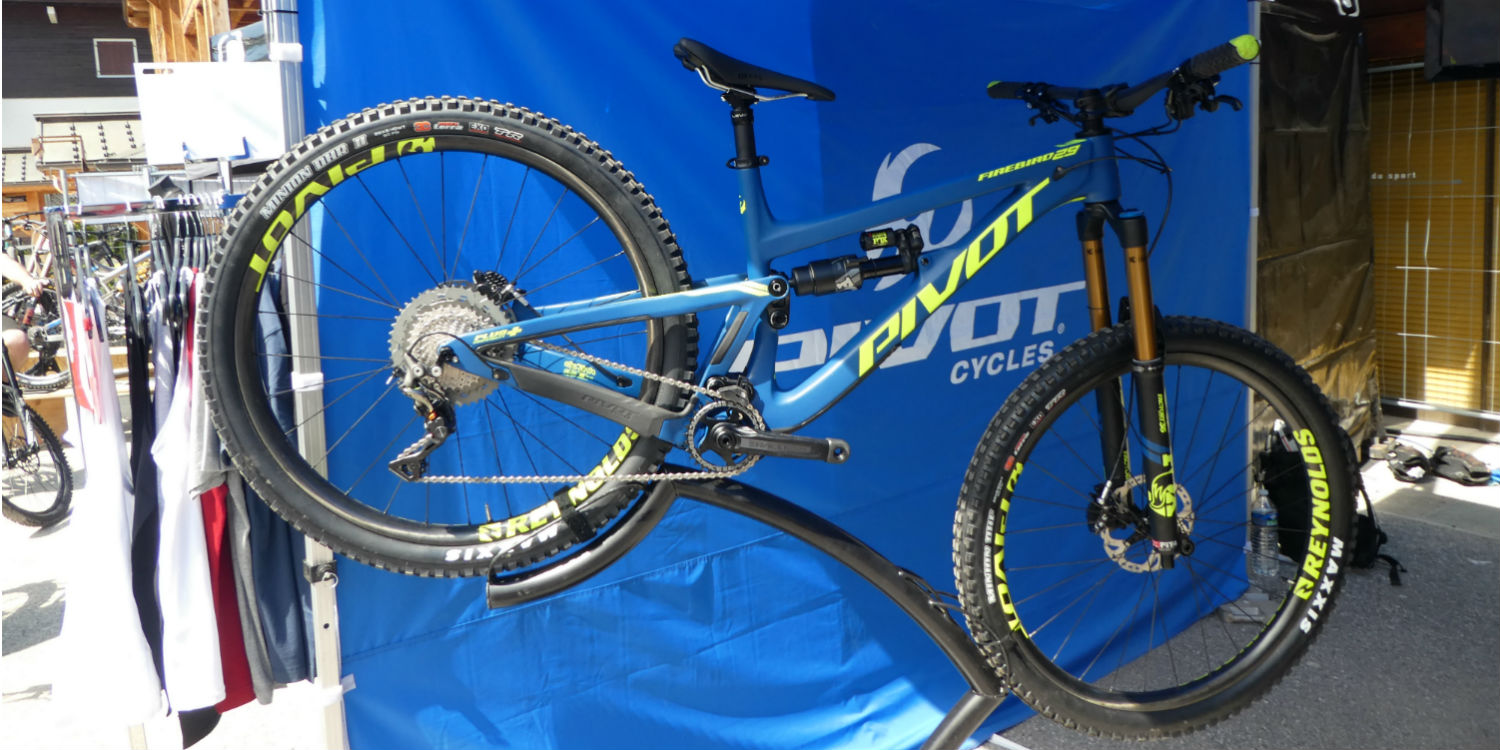 I am going to assume that you have been mountain biking a few times before, either on a friend's bike or one you have hired. Now it is time to buy your first mountain bike, and choosing one is going to be a very difficult. Here are some guidelines that will hopefully help you.
Decide on a price – Proper mountain bikes are not especially cheap, but you need a starting point to make your decision. You will need to look at options and decide whether to buy new or second hand. Be careful of second hand bikes though, as they may have been well-used and/or not looked after. When viewing a second hand bike, try to take someone in the know with you. They will know how to check for wear and tear, such as wheel and frame bearings, worn bushings and suspension components.
Buying new is a safer bet, however the specification may not be as high as the second hand equivalent. The advantage of a new bike is that it will have never been ridden and it will have a warranty. This means that if there is a problem, it will be fixed or replaced by the seller.
What type of riding are you going to do?
– If you are smashing the downhill trails in the alps, you are going to need a suitable bike that will take the punishment. But if you are riding local trail centers, you will need something that isn't too heavy and has enough suspension travel to soak up the bumps. You may opt for a full suspension bike or a hard-tail (a bike with only front suspension) may suit your needs more.
You may find yourself asking "should I buy a full suspension bike that is the same price as the hard tail?". This is all down to the price and the type of riding you are going to do. For trail center riding, unless you are going to do big jumps, I would go for the hard-tail option for your first bike. A good hard tail is better than a bad full suspension bike for the same money.
How much money to spend –
You know when I said "I'm not going to tell you how much money to spend", well in this case I'm going to…sort of. You really need to spend above £500 to get anything worth having. Anything below £500 is going to have poor components and won't last. If you can spend closer to £1000, you are going to have a much better experience. The components and build quality will be much better and you won't need to spend as much money on upgrades as you get improve. This will increase the time you will want to use it for, and ultimately it will save you money (At least that is what you will be able to tell your partner).
Other things to consider
You will need to budget for bike accessories, such as a different choice of tyre, better pedals or handle bar grips. Buying a bike that is a bit above your technical ability is always a good idea too if you can afford it. This is because you will improve quite quickly and you don't want to 'outgrow' your bike too soon.
A good bike to start with is a quality 29-inch wheel hard tail. The Cube Analog is definitely one to check out. It boasts quality components from Shimano and RockShox. The front suspension has a lock-out too, so you can stop it bouncing around on the steep climbs, which can tire you out.
You can read more reviews and order one with free delivery from Chainreaction for £659 here.
Don't be put off buying a bike online that you have to build yourself. Bikes are partly assembled, you just have to attach a few parts. This is actually really good fun to do and teaches you a bit on how to maintain your bike yourself. But the Cube Analog is very easy to put together.
An alternative at the higher end of the price range is the Nukeproof Scout Race. This bike is quite a bit more expensive than the cube, but for good reason. It has more suspension travel and Nukeproof's fantastic build quality. It is a very stiff bike, giving you superb handling and bucket loads of fun. If your finances can stretch to it, this is the one you should get. It is great value for money considering the components, and there is longevity in its lifespan. It is a bike you will grow in to.
This bike is available for £1099.99 at Chainreaction. You can read other reviews on this bike there too.
=>Click here to see the best discounted mountain bikes on sale right now<=
What to wear
I have written a couple of guides on how to choose mountain bike clothing. Feel free to have a look, but I think at this stage of you mountain bike career, you probably want something cheap or good value for money.
Mountain Bike Shorts: What to Buy
Mountain Bike Jerseys: What to Buy
It is really tempting to chuck on an old cotton T-shirt or some old shorts that you used to wear on holiday. That is all fine, but clothing that has been specifically made for mountain biking, really makes a difference to your day. It fits in all the right places allowing proper movement on the bike. The materials' wick moisture away from your skin, meaning you will be comfortable.
There are always good deals to be had when it comes to mountain bike clothing, especially online. Here are some recommended items that are good buys to get you going.
For Men
dhb Long Sleeve Trail Jersey
This is a lightweight, breathable long sleeve jersey. It has a nice simple style, so it won't look dated after a couple of years of riding. It has a nice loose (not baggy) fit to give you all the movement you need. This Jersey even has an anti-odour treatment, to keep you fresh that little longer. Currently it is only £26.25 from Chainreaction as they are having a clear out sale.
Click here for more great mountain bike jerseys for men
Endura Humvee II
When you are starting out, you don't want to fork out loads of money for gear. The Endura Humvee shorts are brilliant. They are excellent value for money, and are comfortable enough for you to wear on the trails or on the way to the pub. Therefore, they are ideal as your first pair of mountain bike shorts, as they don't break the bank and have really useful features. The main feature being the removable padded liner, which keeps your bum as comfortable as possible.
I have chosen the camo colour scheme for the picture, but there are a few subtle colour choices available. They look cool without being all shouty about it.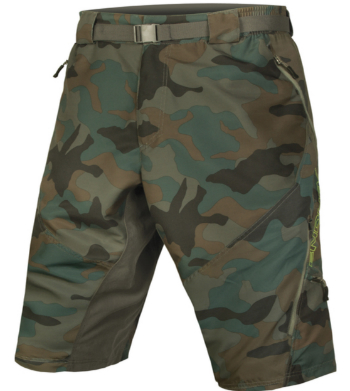 The Endura Humvee II shorts are available from Evans Cycles for £56.99. Get them while you can, as they will sell out quickly.
Have a look at the links below for other options:
Shoes
If you are going the whole hog and want to be totally kitted out, you might want to consider what you have on your feet. At this early stage you will probably just use some old trainers, but there are serious advantages to using proper mountain bike shoes. I'm not saying that at they are essential for the novice mountain biker, but you may want to have a look at some options for the near future. Follow the link below for a list of some excellent options to choose from.
Flat Pedal Mountain Bike Shoes
For Women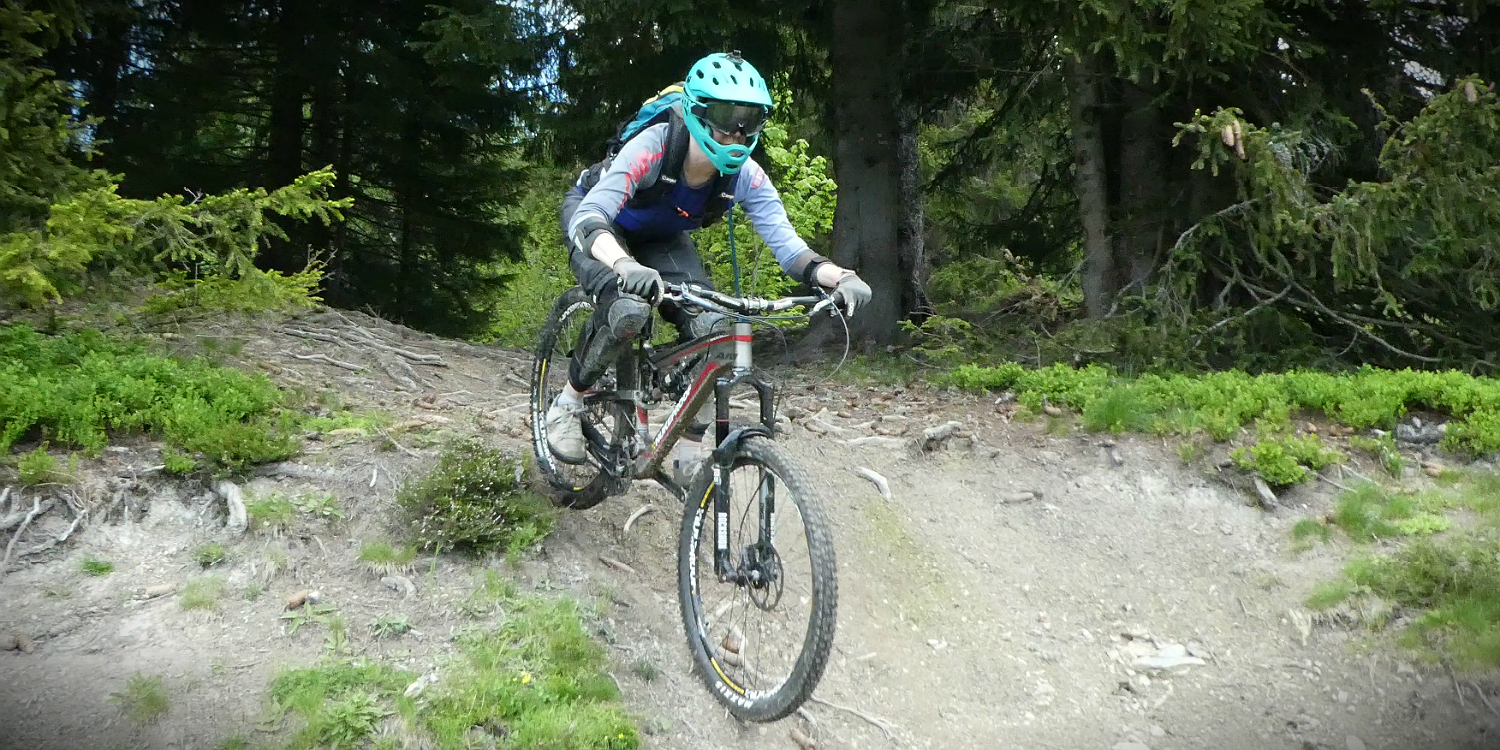 All the items are unisex, however there are some really great women's specific mountain bike clothing. They look great and have all the technical features that you will find in men's clothing. Click on the links below, for the best clothing available right now.
Mountain bike jerseys for women
Best Mountain bike clothing for women
Protection
There are times when you and your new bike will go their separate ways during a ride. Therefore, you will need some form of protection. The thing about wearing protection isn't just about when you fall off though. It can really help your confidence when out on a ride. So here are a few items that I recommend.
At the very least you NEED a helmet. Most of my friends and I use the Bell Super 3R, here is my review of it, but it may be a bit overkill for what you need.
I recommend something like the Giro Fixture helmet. This isn't a high end helmet, but it is well ventilated and built for comfort. It is also priced very well at just £39.99 from Evans Cycles.
Knee Pads
Knee pads are also a good idea. Most of the time I use full knee and shin protection, due to the type of terrain I ride and the
fact I am a complete wuss. But, when I have been sliding down a gravel trail on my knees, with nothing more than a bit of grit going under my pads, they have been the best thing I ever bought. However, if I am going for a ride, where I am less likely to come off, I will just use knee pads.
Click here for some great examples of knee pads
Elbow Pads
I like to wear elbow protection. I wouldn't say this is essential, but when you fall as often as I do, you are grateful for it. If you decide to follow suit, make sure you get some decent ones, as cheap ones have a habit of sliding down to your forearms when it is bumpy. I wear the POC VPD Air protection, they are a bit pricey, so you may want to wait until you are riding more technical trails. But these fit really well and rarely slip.
Click here for the best elbow pads available right now
Gloves are a must buy, as they give you grip on your handle bars and protection when you hit the ground. There is a huge
choice of gloves, and they all vary in price. The things you need to think about are:
Thickness and breathability – Not only for keeping your hands warm on cold days, or cool on warm days. But gloves that are too thick reduce the feel you get through the bars
Grip – Gloves have all sorts of pads and panels on them for grip on the bars and brake leavers
Size – If you get this wrong, they can bunch up and give you blisters if they are too big. Too small, they won't last very long
Materials – If you want to spend a bit more money, you can get waterproof ones. But you can also get lightweight gloves with mesh panels to keep your hands cool
For a great selection of gloves, click on this link to see what Chainreaction have to offer you.
So that is how to get in to mountain biking
Well that is how to get all the stuff you will need anyway. Expensive isn't it? But don't blow all your money straight away, I advise you to buy everything in stages. You will be able to get by with an old pair of shorts etc to start off with, but please make sure you buy a helmet and gloves at least.
If you have any questions, please put them in the comments section below. Or if you think I have missed something vitally important out, let me know!
SaveSave