What Is A Downhill Mountain Bike?
There are a lot of different types of mountain bike and many of the different categories are getting blurred in to each other. However, it is pretty easy to answer the question of "what is a downhill mountain bike?", as their use is pretty defined. As the name suggests, a downhill mountain bike is built to get you down rough terrain as fast as possible. They are aggressive, packed full of technology and seriously tough. This is so they can take the punishment downhill trails throw at them.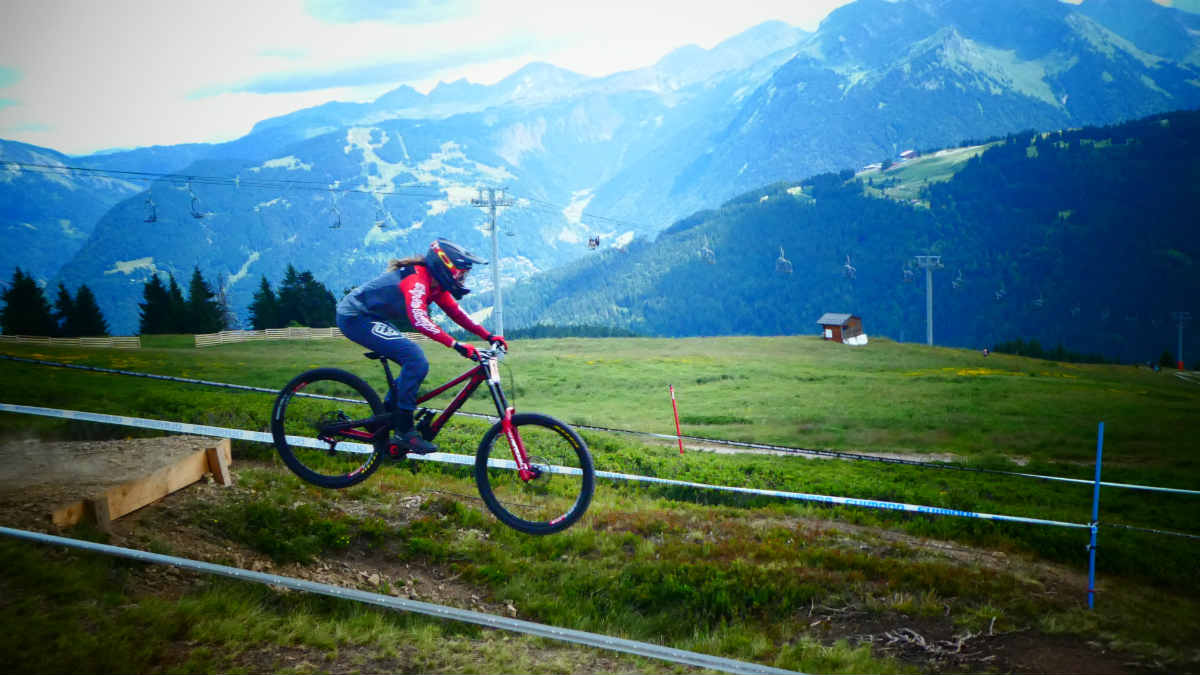 Who Should Buy A Downhill Mountain Bike?
First, I am going to tell you who shouldn't buy a downhill mountain bike. If you don't have access to an uplift, forget buying a downhill mountain bike. You will be better off buying a good trail or enduro mountain bike. This is because downhillers are not built for pedalling up hill. They are very heavy and are geared to give you acceleration, so you can go even faster on your descents.
Beginner mountain bikers should also avoid buying a downhill mountain bike. This is because it is easy to get in to some bad habits if you haven't learned the basics of riding on a hardtail or trail bike. A downhill mountain bike is something your should get later on when you get to point when you have the ability to charge downhill trails.
Therefore, the people that should buy a downhill mountain bike, are those that have some skills, access to an uplift and ride where trail and enduro bikes don't quite cut it.
Characteristics Of A Downhill Mountain Bike?
Downhill mountain bikes come with around 200mm of suspension travel with high end suspension components to soak up the impacts from riding rough terrain and big jumps. Downhill mountain bikes have big powerful brakes that don't just give you excellent stopping power, but they are easy to modulate too, to give you lots of control on those descents. Now I am going to go in to a bit more detail of all the parts of a downhill mountain bike.

As with any bike the frame is super important. The frame of a downhill mountain bike is developed and tested by pro riders competing in the Downhill World Cup. Therefore, the bike you buy will have a very similar frame (if not, the exact design) of the top race bikes.
These days, you will notice that most downhill frames use carbon. Some frames will be 100% carbon, while others will have an alloy rear triangle. Carbon is used because it is super strong and lightweight. However, the weight of a downhill bike isn't as important as a bike that needs to be pedalled uphill occasionally. If you come across a downhill bike with an allow frame, don't be put off. This is because alloy frames are very strong and use technology that has been tried and tested for years. They will also be a bit cheaper than a carbon frame.
You will want to look in to a bike's geometry. Bikes that are longer with slack head angles are more stable at speed. However, it is worth noting that bikes that are too long and slack are not very manoeuvrable at slower speeds.
A good starting point is a head angle of between 62 and 64 degrees and a 350mm bottom bracket height. Look for a wheelbase longer than 1,250mm too. All bikes will have a geometry sheet available online. But you need to check the geometry for the size of bike you require. Your bike should give you the feeling of sitting "in" the bike rather than on it.
The majority of downhill mountain bikes have double crown forks that are clamped in two places. This is to ensure that they are stiff enough to take massive impacts.
Downhill forks usually have 200mm of travel and the stanchions are usually 40mm thick. The are super tough, but have a very plush feel, to absorb those big hits before they are transferred in to your hands.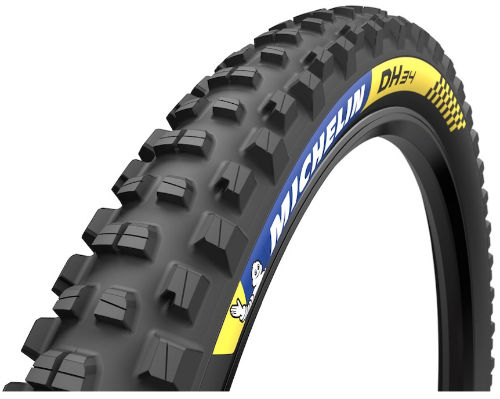 The chances of you finding a downhill mountain bike with 26″ wheels are pretty slim these days. Most bikes come with either 25.5″ or 29″ wheels. The 27.5″ wheel size makes it easier for a bike to change direction, while a 29er will be faster in a straight line, as it rolls over bumps and obstacles better.
29″ wheels are becoming more popular and suit taller riders better (I'm comparing this to my own height). Personally I prefer 27.5″ wheels for their nimble feeling.
When it comes to the material of downhill wheels, you can choose between carbon and alloy. Carbon wheels are light and tough, but are very expensive. Alloy wheels are tough and a bit cheaper. The other advantage of alloy wheels, is that they can be repaired if they are damaged, where carbon wheels will need to be replaced. 
Downhill tyres are very grippy, but have a high rolling resistance (another reason why they are not good for pedalling). They are also very tough and heavy in order to protect them against punctures. The extra grip comes from an aggressive tread pattern and their extra width. Downhill tyres tend to be between 2.35″ and 2.5″.
As downhill bikes are built to charge down mountains, it is a good idea to be able to stop. Brakes on downhill mountain bikes often have four pistons and use large discs (usually around 200mm)
The gearing of a downhill bike makes it very difficult to ride other than down or along the flat. They are geared for fast acceleration so you can get extra speed to hit those jumps or shave a few second of during a race. Normally, you will find 7 speed cassettes on downhill mountain bikes.
By cockpit, I mean what your handlebars and controls look like. Handlebars are wide with short stems to give you maximum control for steep descents. 
The type of pedals you choose are down to your personal preference. Downhill riders either use flat or clipless pedals. It is quite common for riders that usually ride with clipless to swap to flats when it gets muddy. This is so they can dab a foot down if they need to.
Downhill mountain bikes are not cheap. But there are a number of bikes that offer great value for money. For example, the 2020 Nukeproof Dissent starts at £3,499/$3,499.
What Is A Downhill Mountain Bike? - Answered!
Now you have a good idea of what a downhill mountain bike is. You should also know if it is the right type of bike for you. However, if you need something a bit more versatile you should look in to a trail or an enduro mountain bike.
If you have any questions on this bikes, please leave them in the comments section below.