Five Ten Mountain Bike Shoes: Everything you need to know
Mountain bike shoes make a big difference to your riding experience. They have all sorts of benefits, from more grip on the pedals, better control and shock absorption. Five Ten mountain bike shoes are  very popular with good reason. Five Ten originally started out making shoes for rock climbers, then they moved in to water sports shoes. But they took their legendary stealth rubber sole technology in to the mountain bike world. I will go in to this later, but this stuff is super grippy. Five Ten also make SPD shoes for those that like to be clipped in. Five Ten mountain bike shoes have become an integral part of riding, no matter if you are trail riding, free riding or taking on gruelling downhill tracks.
Five Ten were bought by Adidas in 2011. As part of their business plan Adidas chopped a lot of shoes out of their range. There has been reports of a reduction in quality in some of their products. From researching customer reviews and my own experience, I have seen that there are a few issues with durability, but on a whole the experience is good. In this post I am going to go through all the different Five Ten mountain bike shoes to help you decide which ones that will suit you the best.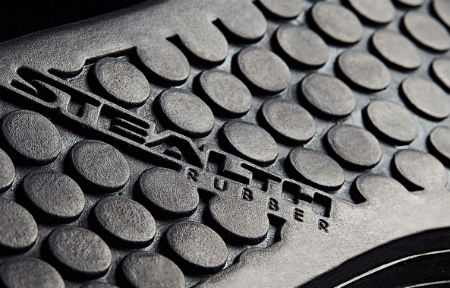 The stealth rubber soles have the perfect compound for gripping the pedals. This stuff give you the feeling of being clipped in, but you have the ability to dab a foot down when you need to. The stealth rubber also gives you lots of grip on the dirt. This is pretty essential for those occasions when you have to push your bike up a steep muddy hill.
The compound is pretty soft, therefore it does loose its grip over time. Over the summer months I ride for two to three days per week and the soles last me a couple of years before they start to deteriorate. But, even then the grip is better than a pair of skate trainers.
The images below are of my Freeriders, that are about 2 and a half years old. As you can see, they have worn right where my fit are placed on the pedals. I think this is understandable considering that these particular shoes have had a lot of use, but I just wanted to give you the full picture. 
Models of Five Ten Mountain Bike Shoes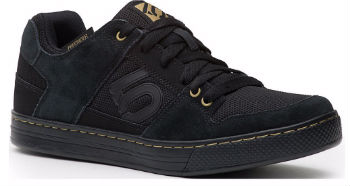 When riding at trail centres, just take a look at people's feet. You will notice that the majority of riders are wearing Five Ten Freeriders. It is billed as Five Ten's "most versatile all-mountain flat shoe". I definitely agree with this statement. There are a few different versions to choose from too. The different versions benefit riders that ride in different conditions and have different features and materials. Some are thinner and more suitable for riding in hot weather, such as the canvas version, while others like the Contact are for people that want more protection for their toes.
The Five Ten Freeriders are my current choice of mountain bike shoes. The first thing I noticed when I put them on was how super comfortable they are. I have a pair for walking around in too, due to the comfort. However, the biggest advantage they give you on the bike is the grip on the pedals. You notice the difference instantly from going from a pair of "non mountain biking shoes".
I ride in the French alps, which isn't really what the Five Ten Freeriders are made for. But they perform very well. The grip on the pedals is fine for climbing, but they really excel on the downhill trails.
Off the bike they feel like a really comfortable pair of trainers, but with added grip. On the occasions when I have to get off the bike and have to negotiate mud, snow, dust, steep hills (up and down), they have never felt inadequate. For those of you that are not riding alpine terrain, the Five Ten Freeriders are more than capable and worth trying.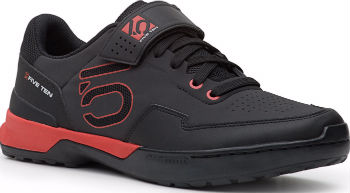 Five Ten don't just make mountain bike shoes for flat pedals. They also have options for you to clip in. This is the Five Ten Kestrel mountain bike shoe. You can choose between lace ups or a boa system, both versions have a stylish enduro look to them. They are slim, stiff and lightweight.
The stiffness of the sole gives you efficient power transfer to the pedals. But it is still soft enough to absorb the majority of vibrations. This is important for all day rides, as it helps to prevent foot pain. The idea of these shoes, is to create the perfect balance of comfort and sportiness. Five Ten do this with the two part sole construction. This is where the contact area between the cleat and the pedal is made of hard rubber. But the heel and the front of the sole is made from softer rubber.
This construction makes the Kestrel very comfy, but it also gives you loads of grip when you need to push or carry your bike up a hill. There is also a good amount of adjustment in the cleat position to suit your personal preference.
The fit of the Kestrel has mixed opinions from the cross section of customers. The majority of customers find that they fit perfectly, while others feel that the fit around the front of the foot isn't tight enough. 
One of the things that is noticeable about this shoe is how low and snug it sits on your foot. Although this makes it very comfortable, it comes with a couple of disadvantages. When you go through a deep puddle or stream, the water gets in over the top. The problem here, is that it holds the water inside. This low slung profile of the shoe also leaves your ankle bone a bit too exposed.
The materials used in the Kestrel are not particularly breathable. So, if you ride in warm climates, you may want to look at a different option. Additionally, this means that they take a while to dry out when wet.
The version with the lacing system is fairly standard, but the the boa version is a big highlight of the Kestrel. This allows you quick entry and exit from the shoe and increases the comfort you will experience.
All in all, the Five Ten Kestrel is a lightweight, rigid, stylish mountain bike shoe. It is a great option for all day rides and for when you need to get off your bike and push. I would like to see a bit more protection for the ankle bones and more ventilation. If you are tempted by these, I would try before you buy to ensure the fit agrees with you.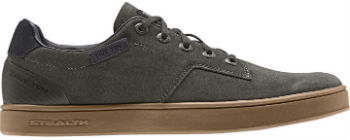 The Five Ten Sleuth is more of an all rounder kind of shoe. By this, I mean that you can wear it walking around the streets and for riding the trails.
The Sleuth has more of a casual look about it, but does have some rider focussed features. Here there is no stealth rubber sole, but it has the dotty marathon sole and an EVA midsole. The sole is grippy, but there are other options on the market that offer more traction. The grip is less aggressive than other shoes Five Ten offer, but the sole has a good enough grip for most riders, on and off the bike.
Most mountain bike shoes have a more purposeful, rugged style, but the Sleuth has more of a street style. However, it gives more confidence than a regular skate shoe. Although this is a mountain bike shoe this is the kind of shoe that you wear when you ride your bike to school or work and wear them all day.
With this in mind, they are made to be comfortable all the time. However, if you ride technical and rocky trails, you are going to notice pressure on your feet after a while. This means the comfort is initially great, but the softness of the sole will fatigue your feet on long technical rides.
As the Sleuth isn't particularly stiff, the power transfer to the pedals isn't particularly efficient. The softness is very good for walking around, but if you are looking for something stiffer, you should go for the Freerider.
The Sleuth is an all rounder shoe. Slip in to them in the morning, ride to work, leave them on all day and hit the bike park at the weekends. They have a casual enough look to be fine for a post ride beer in the pub too.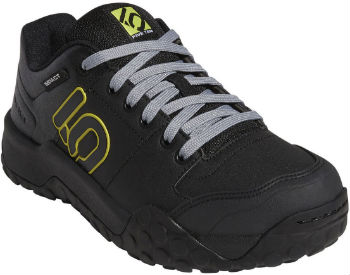 There are a few different options of Five Ten Impacts. The main thing you need to know is that you get the option of high and low tops. The high versions obviously give you more support and protection. But, both types have a level of comfort akin to a comfy pair of basket ball shoes. The level of comfort they give you, will soon have you forgetting that you have a pair of mountain bike shoes on. 
The Five Ten Impacts have the stealth rubber sole, but in this case it is the S1 version. This is the grippiest sole available from Five Ten. It means you don't get any lateral or twisting movement, meaning you are very unlikely to slip a pedal. However, the soles are quite squashy, which doesn't mean that they are particularly efficient when pedalling than some other shoes. They are also quite bulky. But, they are billed as gravity shoes, therefore these are aimed at riders that spend a lot of time riding technical downhill and enduro trails. The clue is in the name, they are built to absorb big hits from jumps and technical terrain, allowing you to ride longer and further.
If you are looking for a pair of lightweight shoes for cross country riding, these are not the ones for you. However, if you are riding aggressive trails, downhilling, hitting jumps and railing berms, these are your go to shoes.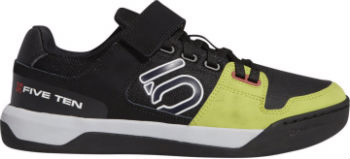 The Five Ten Hellcat is a downhill specific clipless mountain bike shoe. It has a casual style and works well with full platform pedals.
When is comes to comfort, in true Five Ten style, they are super comfy. This comes for the plush padding, especially around the ankle and the tongue. The toe cap is rigid to give you protection from stray rock pinging up and binging in to your toes. But it is also padded to ensure that your toes are nice and comfy too. The only downside, is that they don't have any ventilation. So they will get hot on a warm day.
The Hellcats are lace ups, but they have a velcro strap that allows you to fine tune the fit. It also stops your laces getting tangled with your drivetrain. As these are meant for downhill, weight saving isn't a priority, so the Hellcats are quite heavy. But if downhill is all you are doing, that won't be a problem.
When it comes to power transfer, the area directly under the cleat is pretty stiff. But there is quite a lot of flex from the rest of the sole. This means that it would be best suited to a full platform pedal such as a Crank Brothers Mallet DH Race. However, if you don't have this type of pedal, the Hellcat is more than good enough for the short bursts of pedalling needed on DH tracks.
Off the bike the Five Ten Hellcat provides enough grip for walking around the trails. You will be hard pushed to find a more comfortable and useable clipless mountain bike shoe.
Customer reviews say that there are no issues with durability. It is tough, hardwearing and should last you multiple mountain bike seasons.
In summary, the Five Ten Hellcat is a brilliant downhill oriented clipless mountain bike shoe. It is super comfortable, durable and provides plenty of protection.
What Do You Think Of Five Ten Mountain Bike Shoes?
Personally. I love my Freriders, but I want to know what you think. Have you got any good or bad experiences with them? Please let me know in the comments section below.