Mountain biking North Wales is popular with British riders. Welsh mountain bike trail centres, such as Llandegla, and Coed Y Brenin, offer riders varied and fun trails. These trail centres are relatively easy to access, and they attract mountain bikers from all over Britain. At the end of the mountain bike season in Morzine, we decided to go back to where we first started riding in Llandegla.
What is it all about?
Llandegla is in Denbighshire, North Wales. It is about 20 minutes from Wrexham or Chester. It is a very accessible purpose built mountain bike trail centre, and ideal to hone your mountain bike skills.
Postcode for SATNAV: LL11 3AA
The Oneplanet Adventure Trail Centre is a great place to start and end your day of mountain biking. It has a good shop selling some seriously nice bikes, clothing and accessories. They also have a great range of hire bikes, if you don't have your own, or just want to try something new. Their café is great, with a great selection of food and drinks (especially the cakes!).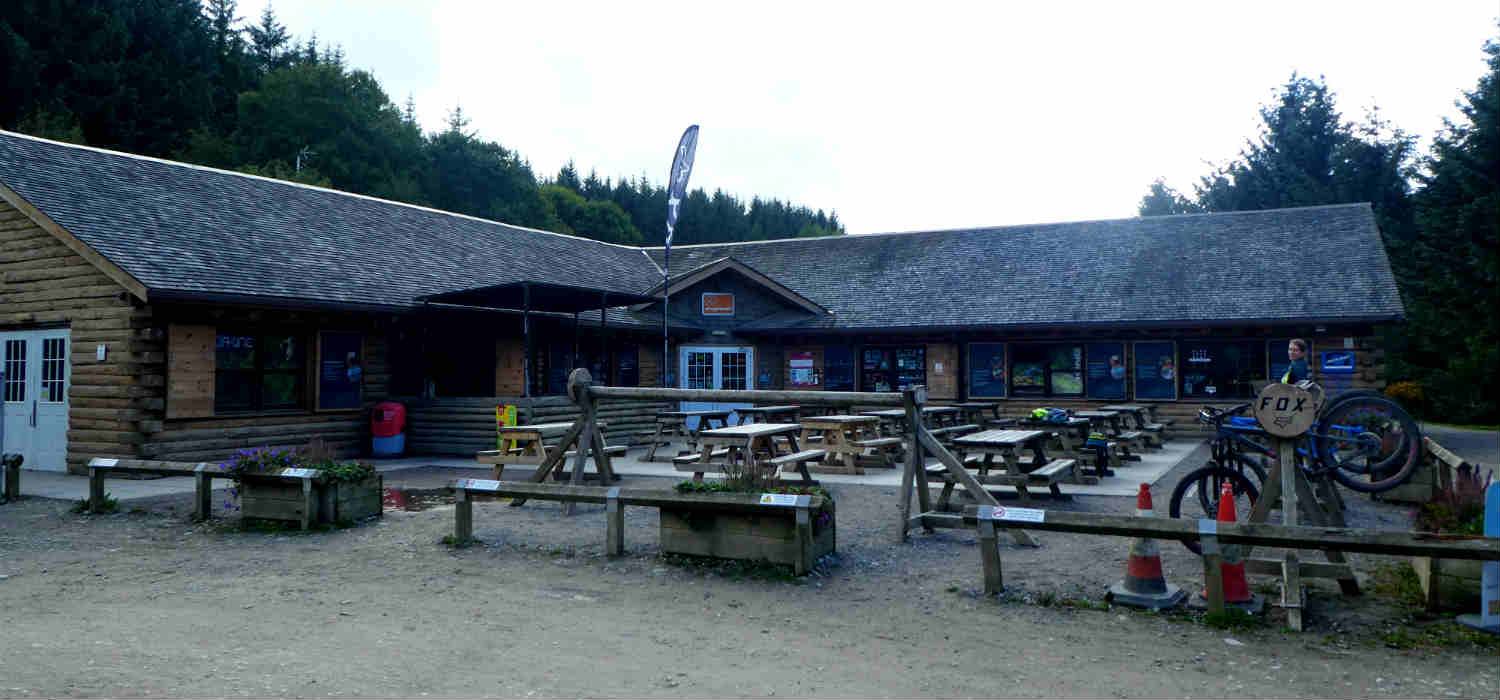 Who is it for?
Mountain biking in Llandegla is suitable for most mountain bikers, as they have trails suitable for beginners to more experienced riders. The trails are graded from an easy green, which is ideal for kids, up to the more challenging black trail.
Oneplanet Adventure offer mountain bike lessons too. They have courses for beginners and experts alike. There are even ladies only lessons (these are great Christmas presents by the way!). All lessons all have video analysis, so you can see your progression throughout the session, which is really useful.
What are the trails like?
The Green Trail
This trail is designed for families with young kids, and is about 5km long. Therefore, it doesn't have any steep climbs or technical terrain. This trail is ideal to take kids to experience off road cycling in its safest form. The surface is mainly hard packed dirt, but there is a bit of gravel too. The route takes you round the reservoir, which is very pleasant, and takes you back to the trail centre. There is nothing scary on this ride.
The Blue Trail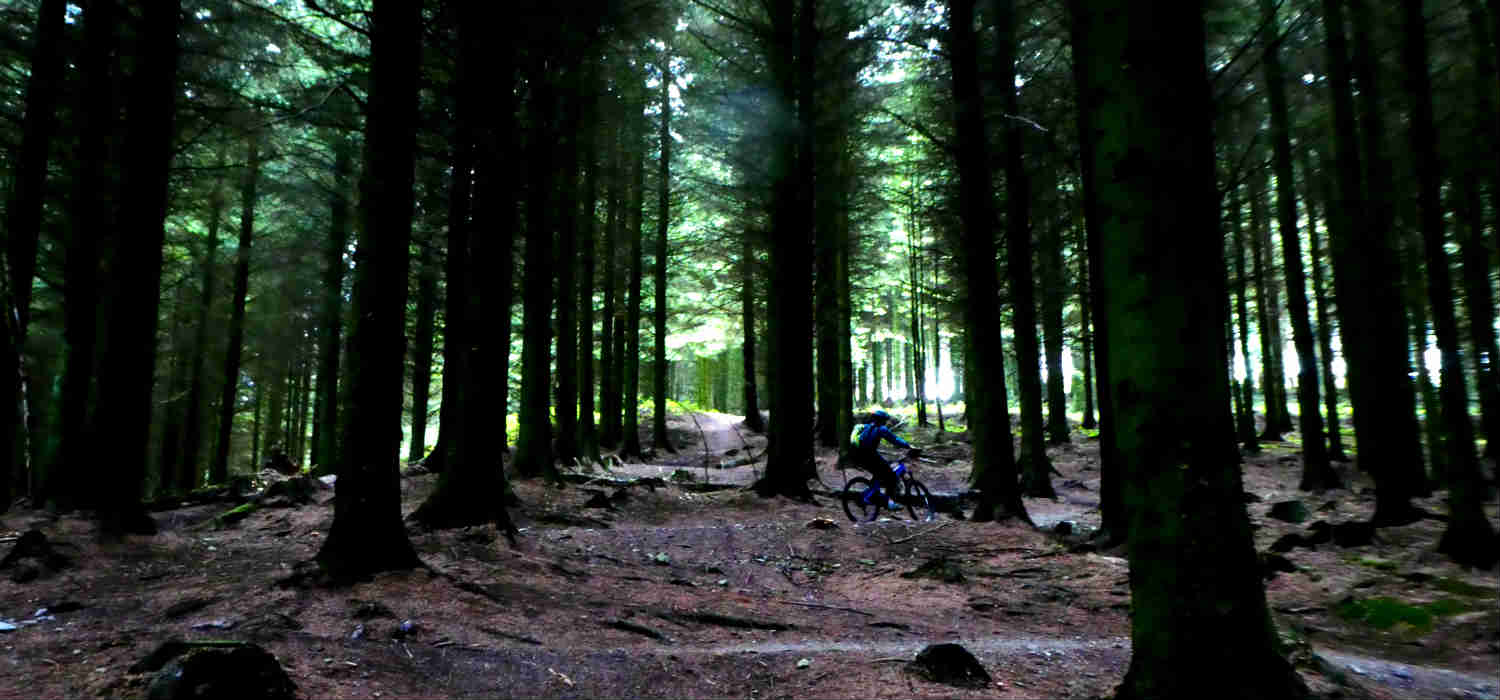 When you head to any other trails, you need to do quite a long uphill pedal at the start. Therefore, you need a reasonable level of fitness. You begin by winding your way through the picturesque forest, which is a really nice place to be. This section gives your legs get a good warm up too. Once at the top of the forest, you are treated to some shallow downhill parts, with a few easy and short climbs.
The blue trail is about 12km long and perfect to try before heading to the red.
The Red
The red starts on the same climb as the blue, through the forest. However, you at the top, you take an alternative route. This route is longer and slightly more technical. There are some nice flowy sections and single track to enjoy.
You can expect small berms, hairpin bends, small table tops and boardwalks. You will need a higher level of fitness to do this trail, as it is longer and involves more climbs.
The Black
The black is made up of sections of the red trail with additional steeper and more technical sections. This route is about 21km and you need to be prepared to do a lot of pedaling. If you are an experienced mountain biker, you won't find this too technical. However, there are some unavoidable sections that are more mentally challenging than physically challenging. One of which is a very high boardwalk. It is about 1 metre wide, but about 3 metres high with a steep down ramp. As long as you keep momentum and keep your head up, it is easy.
Further along from the high board walk, is another one in the forest. It isn't high, but as you approach it, it looks like it could be a large drop. It isn't, you can just roll down the other side, or jump it if you like.
There are a series of boardwalks towards the end of the trail, to get you over any swampy sections. Again, keep momentum and look where you want to go, and you will get over them without a problem.
The Skills Area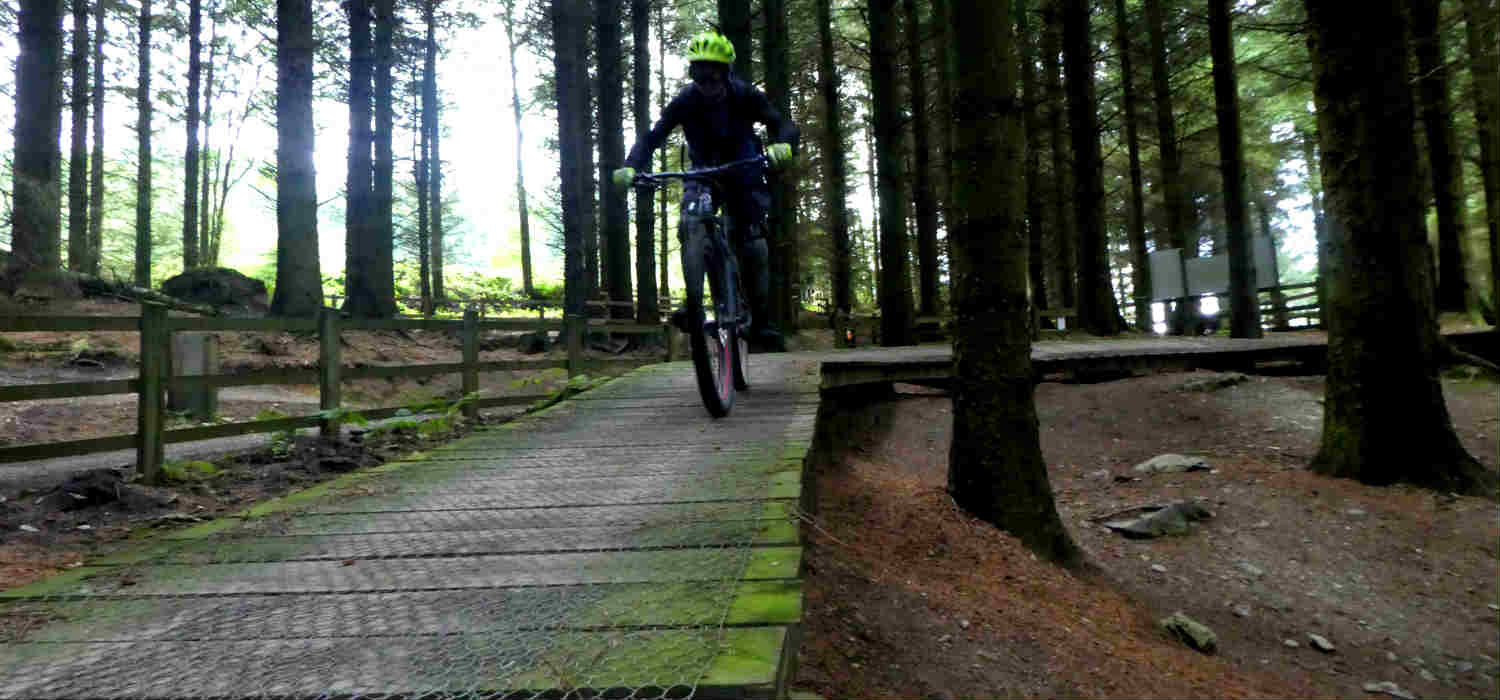 One of the great things about Llandegla is the skills' area. Here, you can practice jumps, drops, berms and boardwalks before heading out on to the trails. There are a few routes to take with varying difficulty, so you can start small and progress as your confidence builds.
Other Information
Llandegla visitor centre opening hours
Monday: CLOSED * Car park and toilets are open all day Monday.
Tuesday to Sunday: 9:00am – 5:30pm
Wednesday: 9:00am – 8:30pm
Hot food is available from 10:00am to 4:30pm
The Car park is open at 9am every day, and locked 30mins after the centre closes. A charge is made for car parking in order to allow ongoing re-investment into the development of the trails. Car park charges are £4.50 for the whole day. Alternatively a season pass is available for 12 months which costs £50.
Recommended?
I definetly recommend Llandegla for mountain biking North Wales. It is a great place to break in to the sport or to get your mountain bike fix from a very accessible trail centre. Llandegla is a great place to get fit too, as there is a good amount of pedaling. However, if you are a hardcore downhiller or are after some really technical stuff, it probably isn't the place for you.