Pass'Portes du Soleil 2019: Roundup
Last weekend we rode the Pass'Portes du Soleil. This is an event that takes mountain bikers through every resort of the Portes du Soleil in France. The Portes du Soleil is a huge area that straddles the French – Swiss border in the alps. The ride itself is said to be 80km, but we all clocked 110km with the extra loops we put in. You are assisted by using the ski lift system and there are handy food stops all the way round. There is even a bike show, but more about that later.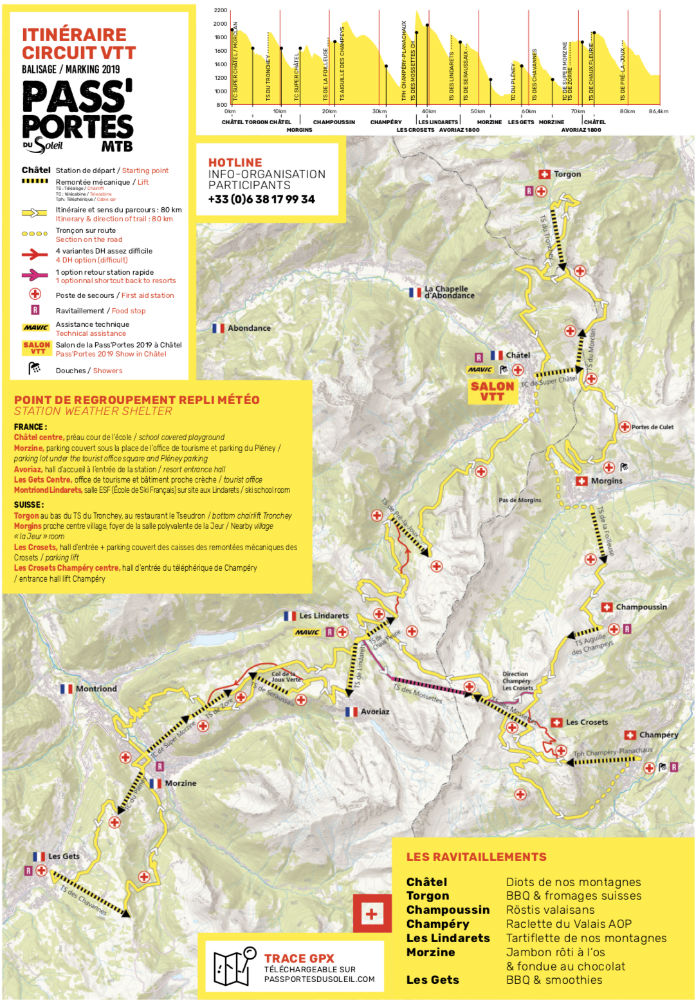 The resorts of the Portes du Soleil are probably better known as ski resorts. This is pretty handy, as they all have ski lifts adapted for mountain bikes. This means you can cover the area much more quickly than pedal power alone. Some of the areas are  only accessible in the summer by bike during the Pass'Portes weekend, as they switch on extra lifts.
The Pass'Portes du Soleil 2019 route was a great one. It went back to the old route. The 2017 and 2018 rout was different, and consisted a lot more fire roads. Although it was still great, a bit more variation would have made it more fun.
We always start the Pass'Portes du Soleil in Morzine, as that is where we live. The 2019 route took us through some of the French resorts, then all the Swiss ones, before dropping back in to France. You can do loops of all the resorts, but if your time and energy is running out, there are a few places where you can cut the route a bit shorter.
As you are riding around, you can't help but be stunned by the epic scenery (if the weather is clear). The view gets more spectacular around every corner, especially when you get in to Switzerland and you get uninterrupted views of the Dents du Midi and Mont Blanc (see picture below).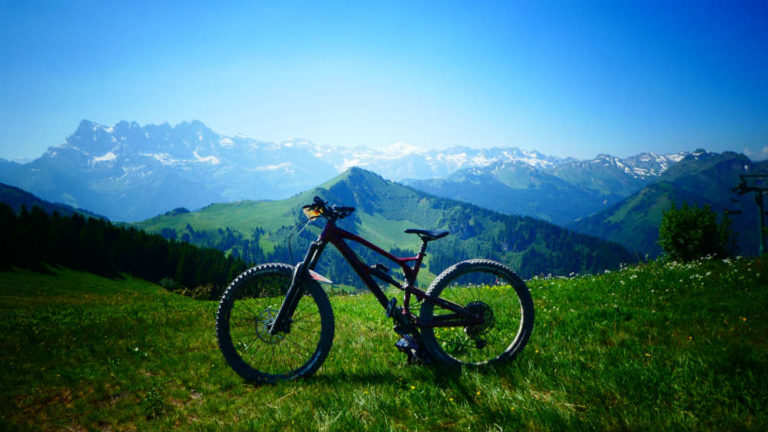 The route of the Pass'Portes du Soleil 2019 gave us a mix of terrain. Rocks, roots, fire road, tarmac, downhill trails, grass and lots of dust! This year France had a mega heatwave. So much so that 150 paragliders managed to use the thermals to land on the summit of Mont Blanc. So, during the ride, we were experiencing temperatures approaching 40 degrees Celsius.
The terrain isn't that technical. There are a few rough parts and there are a few bits of single track  that are narrow and deep. These make pedalling tricky. There are also a couple of patches of snow, even during a heat wave. Overall, the terrain isn't too challenging, unless it has been raining. The mud gets very thick and clogs up your wheels easily.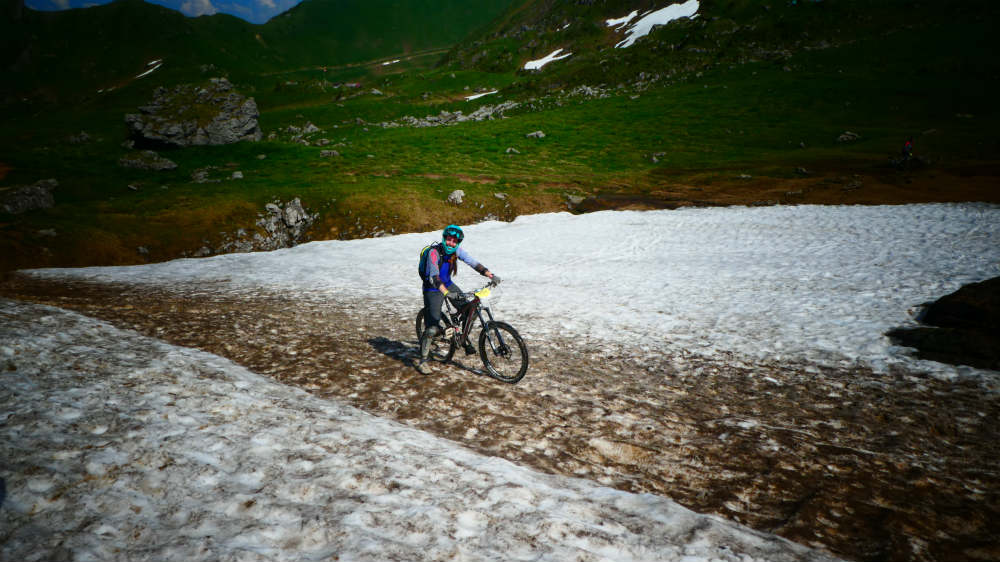 Riding the Pass'Portes du Soleil takes a while. We had riders of varying abilities and experience in our group this year, and it took us just over eight hours. You need some level of fitness to complete it (and enjoy it). Even though most of the up hills are taken care of by the ski lifts, there  is about 1000m of climbing and there is one section where you have push up or carry your bike up a steep mountain side.
There is a route for electric mountain bikes too. Bizarrely, this is only 50km. This probably has something to do with battery life.
There are food stops all the way round, which are included with your ticket. Just flash your wristband for access. You can expect lots of chocolate, cake, beer, soft drinks and local specialities. Rostis, fondue, raclette and tartiflette are all on offer. Melted cheese is an odd choice for a bike ride in a heat wave, but you will be thankful for it. 
Start early – This means that you will miss a lot of the lift queues and bottlenecks. There are a lot of riders.
Take plenty of water – You will need it
Be prepared – Inner tubes, tools, tyre levers are all essential. There is one section known as 'puncture ally' for a reason. Also, make sure your bike is working properly the day before. You don't want a failure when you a nowhere near a bike shop.
Gravel on fire roads – The grave to the edges of the fore roads can get really deep and sucks you in. Try to stay on the worn strips made by 4x4s.
Drainage ditches – There are quite a lot of drainage ditches. The ones on the French side tend to be the size of your wheel. If you get them wrong, you can easily go over the bars.
Les Gets – If you are staying in Morzine or Les Gets, do the Les Gets trails the day before. You will enjoy it more and you won't be pushed for time to complete the whole route.
Pass'Portes du Soleil 2019 Bike Show
Every year a different resort hosts the Pass'Portes du Soleil bike show. This year it was Chatel's turn. The show is attended by lots of different brands, from start ups to large established companies. I had a mooch around and spoke to a few exhibitors to see what they cool stuff they had to show me.
My first port of call was at the Endura Stand. The guy was really helpful and pointed out a few new things. What stood out the most was the Endura Full Face Helmet. Not the most original name, but I was suitably impressed.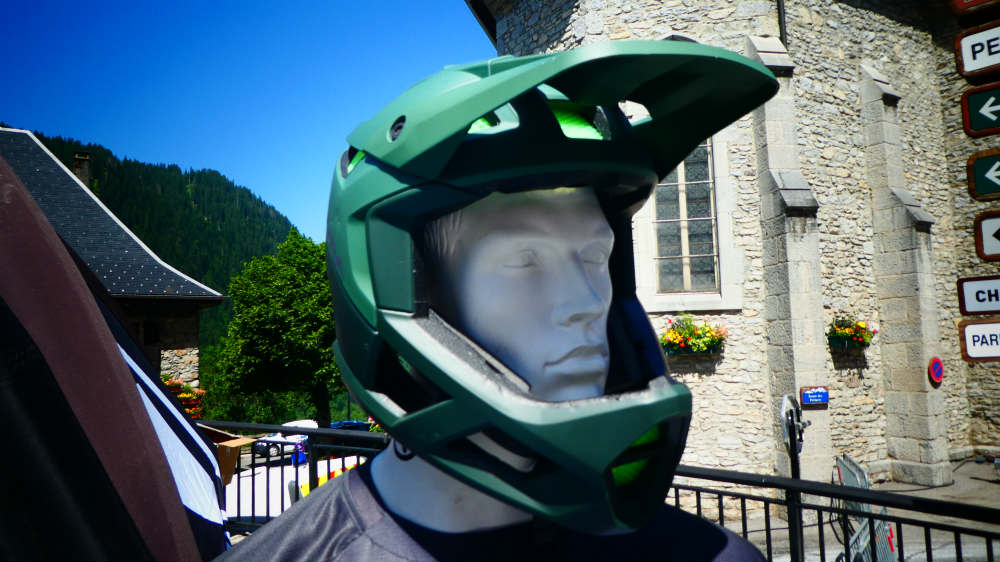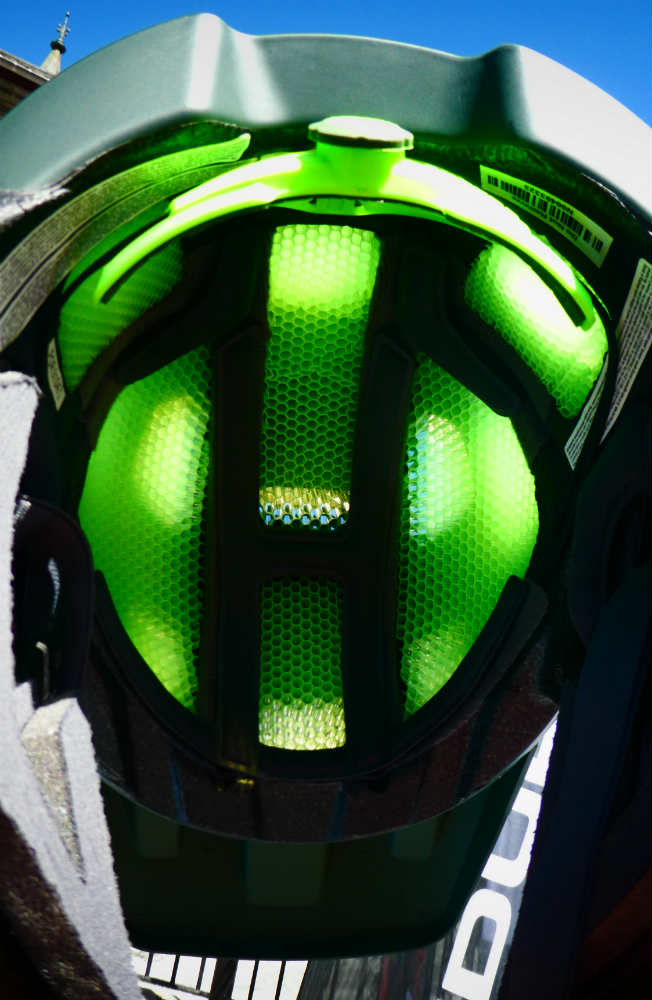 The Endura Full Face Helmet, is ridiculously light. It is a downhill rated helmet that weighs 640g. It uses Koroyd construction. This is a honeycomb construction that looks like lots of straws bunched together. This design gives it its lightness, strength and ventilation.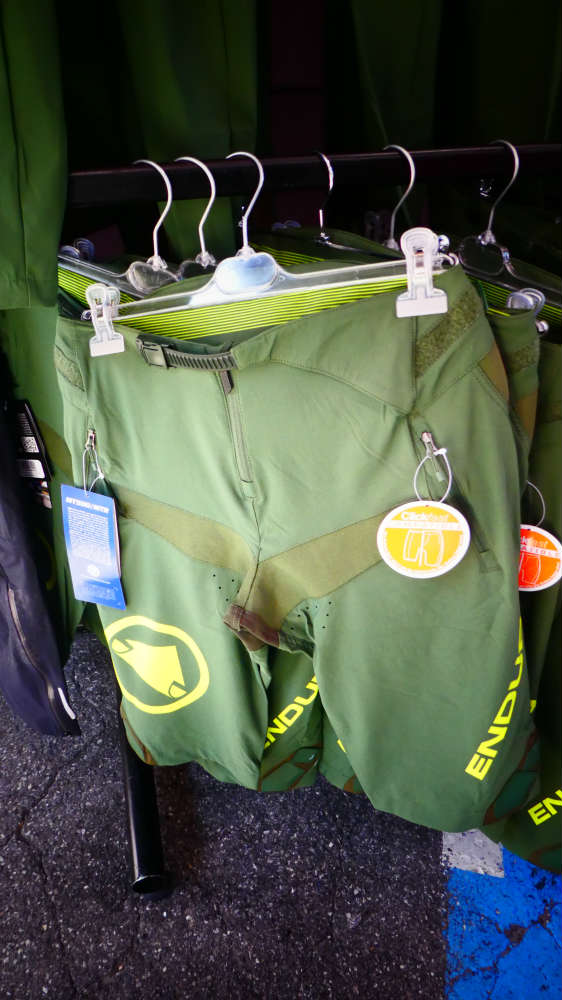 Endura MT500 Shorts and Trousers stood out to me too. They are both made from the same breathable material and have strategically placed ventilation holes and mesh. Both items look great and are not too expensive. In my experience, Endura stuff tends to be well made, durable and great value for money. These are also what the Athertons wear.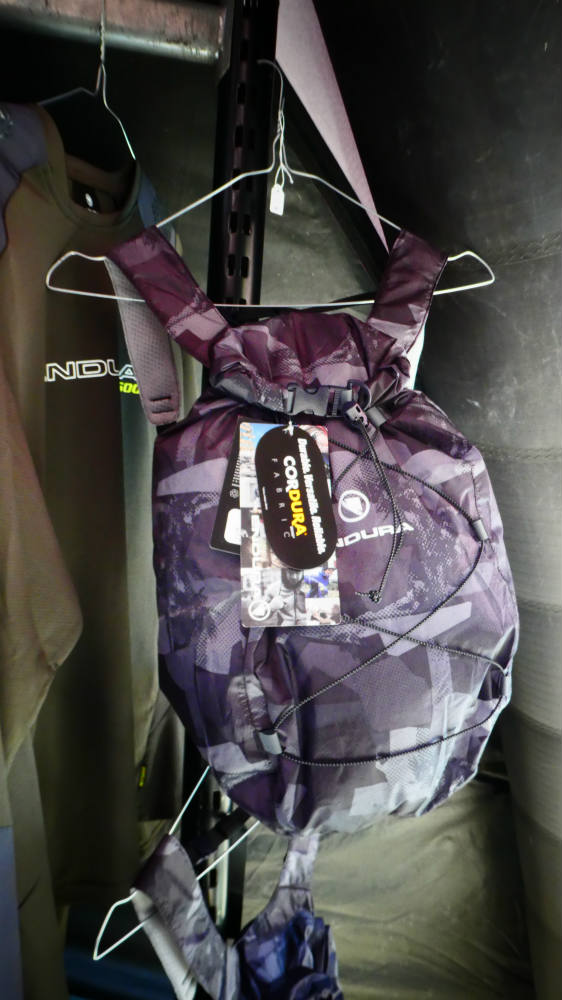 The Cordura backpack was a nice item too. This is a super lightweight bag, that initially feels very flimsy, but is actually very tough. The material is also waterproof and is ideal for carrying a few essentials on the trail. It also stuffs in to itself, making it not much larger than a wallet.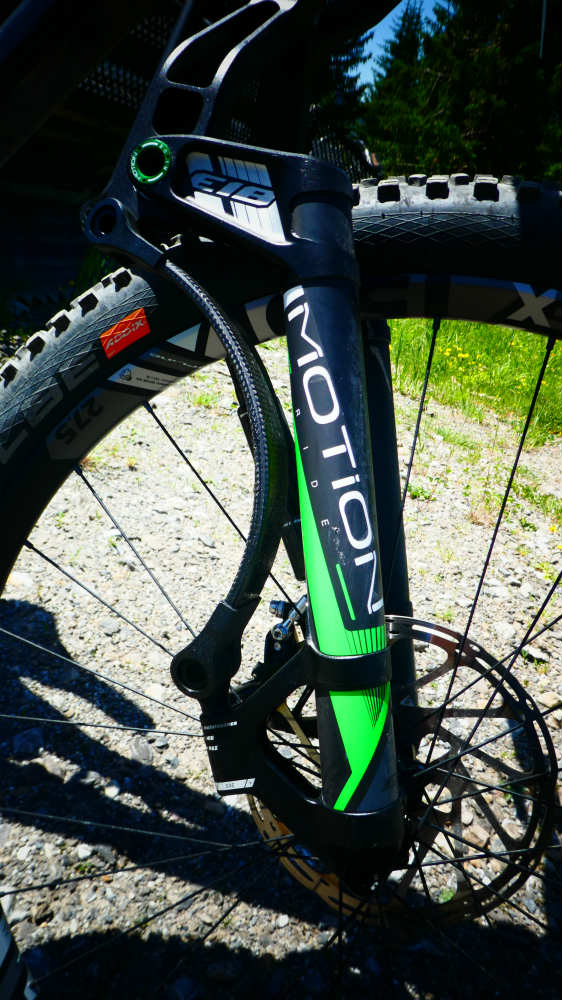 I had seen pictures and read about this suspension system before, but on this occasion I had the opportunity to try it out for myself.
The Motion Ride Fork, does away with the traditional telescopic design, in favour of a composite blade and a damper. These are attached to a frame that is designed to stop "diving". This anti-dive frame is designed to prevent the fork compressing under braking to give you full suspension travel.
I have to say that I liked the feeling of it. It was progressive, comfortable and responsive. Keep an eye open for my full review soon.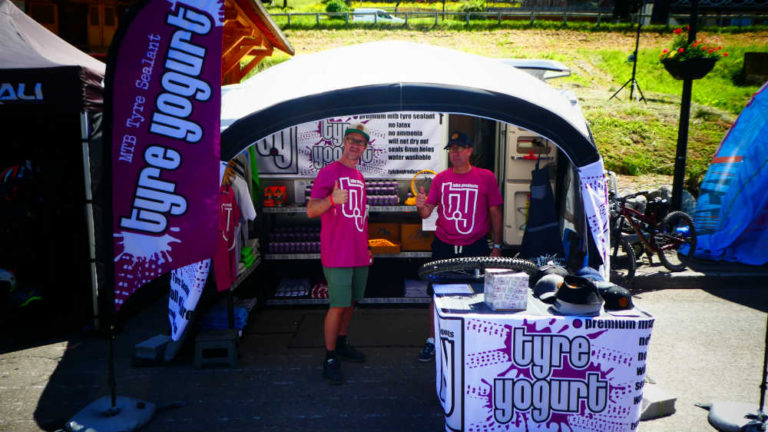 I am a big fan of this stuff! I have been using it for a about a year and not had a flat tyre in that time. Jon and Matt were showing off how good Tyre Yogurt is by allowing people to drill 6mm holes in to a tyre. When I left, they were up to 45 holes and the tyre was still being sealed.
They were also showing off the Rock Stop rim protection, so I thought I would give it a try. So far so good, you can't really tell that it is there. You can expect a full review once I have had some time with it.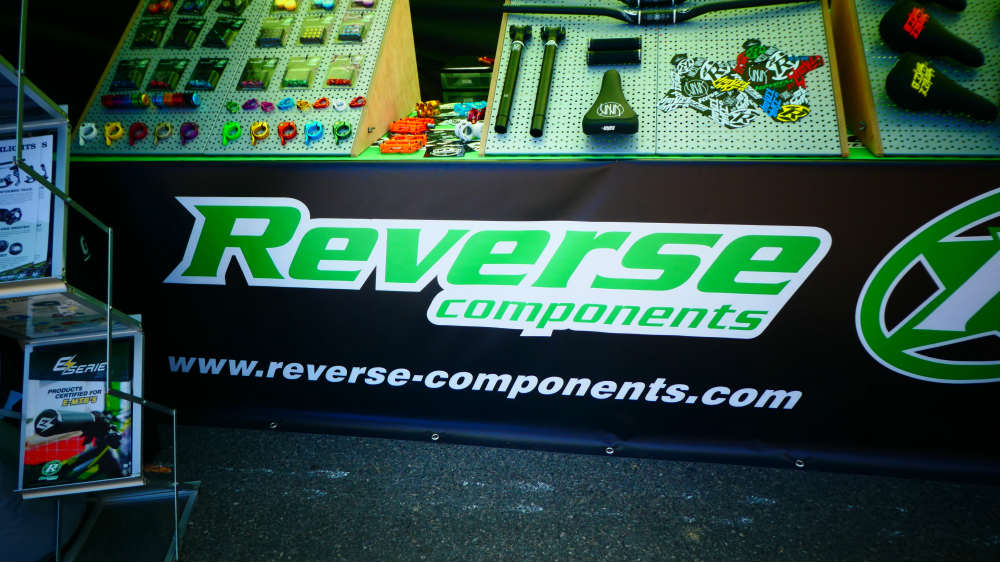 I chatted to Julian from Reverse components for quite a while about their products and the company's ethos and culture. Their huge range of components really impressed me and the thought process behind each of them. The idea is to provide upgraded components for all levels of rider. From parts Nico Vink can use during the Red Bull Rampage, to parts for kid's bikes.
Reverse Components is a German company, and was born from wanting to make better components for the ever changing world of mountain biking. Their primary focus is on durability and reliability.
I really like the passion, enthusiasm and thought that goes in to their products. Stay tuned for more information on this brand.
Are you going to ride the Pass'Portes du Soleil?
The Pass'Portes du Soleil is an excellent day out on mountain bikes. Everyone is having fun and there is a great atmosphere.