Mountain Biking In Morzine 2020
Mountain Biking In Morzine 2020
I have decided to add a bit of personality to this website by writing about my mountain biking life. For those of you that don't know, my name is Tom, and I am a Brit living in Morzine, which is in the Portes Du Soleil. The Portes Du Soleil is the largest ski area in the world, but during the summer, it becomes mountain bike heaven. The ski lift system gives us easy access to some of the worlds best mountain bike trails that link up many of the resorts in the Portes Du Soleil.
2020 was looking good for mountain biking in Morzine and its neighbouring resorts. But, you might have noticed that there has been a small issue of a global pandemic. Unfortunately, the pandemic has caused some major changes to the events.
The Pass'Portes Du Soleil
The Pass'Portes Du Soleil is a huge event in the mountain bike calendar. It is a ride that takes you around all the resorts of the Portes Du Soleil. The distance is about 80km, but we tend to add some extra loops into it to make it more interesting. Check out my  roundup from last year's event.
The Pass'Portes weekend is usually baking hot, but things are made easier for riders. The event is fully supported with lots of food stop-offs all the way around the route. The food is mainly Savoyard (local meat and cheese dishes), which isn't ideal for a massive ride in the mountains, but there are lots of other snacks and drinks (including beer) to keep you going. Luckily, the lift system takes out a lot of the climbs, with only a couple of nasty ones to pedal up.
We usually ride the Pass'Portes Du Soleil in a biggish group, as it is great fun. Morzine is one of the food stops, which is handy, as we can take advantage of the free beer without event wristbands before heading home. We usually stay until the beer has run out.
Unfortunately, the Pass'Portes weekend has been cancelled due to the virus. The reason the organisers are giving is that because the route crosses the border with Switzerland, the quarantine measures won't be adhered to. This is fair enough, and I don't think it would have the same atmosphere with people social distancing at the food stops and the chairlifts. I just don't think it would work very well. Also, there is a good chance that there aren't enough people signed up to it to make it worthwhile.
All this is a real shame, but I think it is for the best. We need to do what we can in the short term to help stop the spread of the virus.
The Mountain Bike World Cup In Les Gets
2019 saw the return of the UCI World Cup to Les Gets. As you can see from the video above, I was trackside for the downhill race, which was awesome! If you ever get the chance to go to one of these, you should go. It is incredible to see riders of this level really attacking the course.

Les Gets was on the 2020 race calendar, but the organisers have announced that they have cancelled it, along with a few other dates. Again, this is unfortunate but understandable. These events attract thousands of people, and that amount of people is definitely going to spread any nasty germs that are flying around. The other thing is that we don't know if there will be any new travel restrictions at the time, which not only affects spectators but the teams too.
We were in lockdown for about eight weeks here in France. But, this was a lot more strict than other countries, like the UK. All sort was banned, apart from jogging and walking. We couldn't go further than 1km from home or more than 100m above it (this is challenging in the mountains). Therefore, we couldn't go out on our bikes without getting a hefty fine.
Once lockdown was lifted, I managed a couple of rides up to Avoriaz on my trusty Nukeproof Mega. But, then I signed up to do a hike from St Gervais in France to Courmayeur in Italy, as part of the Tour Du Mont Blanc. This was a great hike, but my spare time leading up to it saw us doing lots of training hikes to make sure we were hiking fit.
But now it is all about bikes!
I've had a few rides, but my favourite one so far was a blast over to Châtel. The video below shows some of my favourite trails over there, Panoramique and Serpentine. Panoramique is a green trail, but it is seriously good fun and obscenely long. It is the type of trail you ride when you want to feel like a hero.
Serpentine, is a blue that winds its way through the forest from Plain Dranse to the bottom of the Pierre Long chairlift. It is long, fast-flowing and has huge berms. I can't recommend a visit to Châtel when staying in Morzine enough.
I also went to the Santa Cruz demo day last weekend, held on the Super Morzine side of the valley. I got to ride a Megatower, which was a lovely bike, but my timings on the trail were not the best. I accidentally ended up getting in front of a train led by Loris Vergier. Needless to say, the pressure was on as one of the world's best downhill riders and thirty other people were chasing me. I thought I would just play dumb and carried on regardless. It was their fault for faffing around further up the trail anyway.
One of the highlights for me was getting a cheeky photo with Myriam Nicole, who was passing by. Please excuse the helmet hair.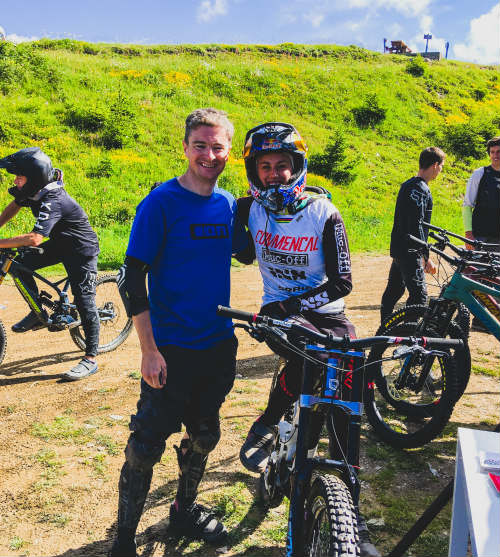 What Is In Store For Summer 2020?
Summer is going to be shorter than expected, as the lifts will be switched off now the World Cup has been cancelled. So. I am going to pack as much riding in as possible. There are some enduro rides that I have yet to tick off, and there are some sections of downhill trails that I need to master. Morzine is close to lots of other mountain bike destinations that are not in the Portes Du Soleil, such as Samöens, Bernex, Saleve and even more over the Italian border. So, I really want to visit these areas to see if they are as good as what people say.
But, this summer I really want to improve on my mountain bike skills and get out of  bad habits. So there will be a lot of hopping and weaving around carparks.
Even though the big events have been cancelled, there is still a lot to do on a mountain bike. Currently there are no travel restrictions for many European countries. So, if you get the opportunity to come to Morzine, take it. You will not be disappointed. Also, give me a shout if you come over. If you have any thoughts or questions about visiting or riding in Morzine, please leave them in the comments section below.