2020 Santa Cruz Megatower: What you need to know
The 2020 Santa Cruz Megatower has been released, but what is it? Santa Cruz say:
"The Megatower is the fusion of big wheels and the biggest-hitting suspension system. It's a modern day brawler, as suited to diehard racers as it is to riders wanting to conquer their hometown trails."
This sounds great, but lets look in to it a in a bit more detail. 
Looking at the specs, it is quite clear what the 2020 Santa Cruz Megatower is made for. It replaces the Hightower LT, which was for riders that wanted a Hightower with more travel. The Megatower is now Santa Cruz's enduro bike that has been designed with what they learned developing the V10, Bronson and Nomad.
Wheelsize: 29″
 Travel: 160mm
Head angle: 65° or 64.7°
Chainstay length: 435mm or 445mm
Threaded bottom bracket
12 x 148mm rear spacing
Fork offset: 44mm
Coil or air shock options, 230 x 57.5mm
 Sizes: S – XXL
Colors: black, green
Weight (claimed): 30.8 lb / 14 kg
The Santa Cruz designers experimented with different geometries after testing out the slackest bikes on the market. So, for the 2020 Santa Cruz Megatower, they came up with a modern but not extreme geometry, with a 470mm reach for a size large, and either a 65 or 64.7-degree head angle with a 160mm fork.
On the medium sized bike, in the 'Hi' setting you'll get a 450mm reach and a 65 degree head angle, 76.8 degree seat angle and an adjustable wheelbase.This ranges from from 1207 to 1217mm. When you change it to 'Lo',you lose a few millimetres in reach but gain some in wheelbase, while the head angle drops to 64.7 and the seat tube angle to 76.4 degrees. The changes are more pronounced the high up the size range you go.
Additionally, the Megatower has a dropout chip. This gives you 10mm of adjustment  forwards and backwards on the chainstay. The adjustment allows you to  dial in your weight distribution for extra playfulness or stability.
This adjustability gives riders the opportunity to tune their Megatower to suit them perfectly. The design is robust and does not compromise reliability or durability.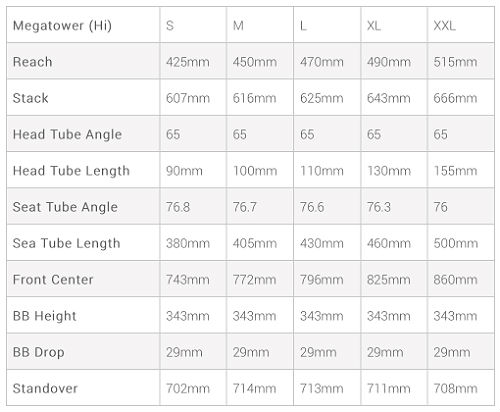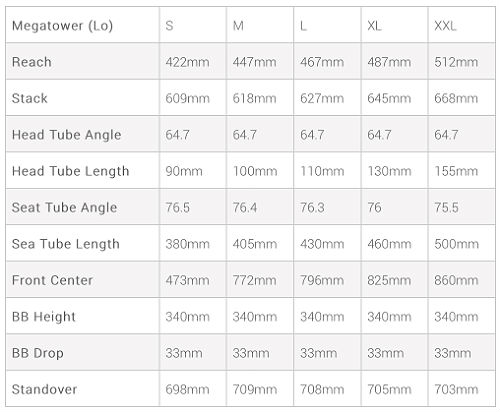 Santa Cruz use a similar suspension design on all their mountain bikes now. This comes in the shape of a lower link driven shock that has two counter rotating links. This gives the Megatower a very progressive feel and the ability to mount either a coil or an air shock to it. The rear suspension design gives a linear suspension curve, making it very predictable.
The light weight and suspension setup makes the Megatower a good climber. With the big 29″ wheels it will roll over rocks and roots easily on technical terrain, while climbing and descending. Test rides reveal that it has a purposeful feel rather than playful. But, this means that it is a super stable bike that will keep you on the line you want.
If you are looking for a bike to take on anything, you could do worse than buying a Megatower. It offers a good amount of adjustability, so if you like to tinker with your bike to get it just right, you will love this bike. However, to get the most  fun out of it, you will need to ride hard as it takes a lot of persuasion to bring it to life.
The Santa Cruz Megatower Range
The range includes seven complete bikes starting at £4,499.99 for the C R, rising to an eye-watering £9,499.00 for the CC XX1 AXS Reserve model. Rockshock Super Deluxe coil and air shock options are available from the C S model upwards. A CC frame-only option is available for £3,299.99.
Santa Cruz Megatower CC XX1 AXS
Here we have the Megatower CC XX1 AXS. For a measly £9,499.00 this could be sitting in the corner of your bedroom. 
You get the top of the range CC carbon frame, a Fox Float 36 Factory fork, Rockshox Super Deluxe Ultimate shock, and full SRAM XX1 Eagle AXS everything else including the Reverb. Stopping power comes from SRAM Code RSCs. You will be rolling on i9 hubs laced to Santa Cruz Reserve 30 rims via DT Swiss Competiton spokes. Finishing kit includes a Santa Cruz AM carbon bar and a WTB Silverado saddle. Beautiful.
Santa Cruz Megatower CC XTR
If you don't fancy electronic shifting or can't quite justify almost ten grand on a bike, you can save some money with this. 
The Santa Cruz Megatower CC XTR has a Reverb dropper, an eThirteen LG1r crank and an XTR groupset. Other than that, you get the same kit as the pricier model above. You can use the money you save to try it out on a proper mountain bike holiday.
Santa Cruz Megatower CC XO1 Reserve
The Santa Cruze Megatower CC XO1 Reserve is the cheapest of the top end carbon framed models with carbon wheels. Cheaper than the XTR model and a hell of a lot cheaper than the XX1 AXS shod range-topper, it certainly is less eye-wateringly pricey. You can choose between air and coil shocked versions too.
As the name suggests, you get the top end carbon frame, full SRAM XO1 Eagle 12 speed drive and the Santa Cruz Reserve wheels, the latter mate to DT Swiss 350 hubs rather than the i9 Torch models. Forks are Fox Float 36 units but the Performance damper instead of the Factory option.
Santa Cruz Megatower C S Reserve
The Santa Cruz Megatower C S Reserve has posh carbon wheels  the wheels but not the top of the range carbon frame. 
This one is the the same price as the CC XO1 (£6,599.99) but has the Reserve wheels on DT Swiss 370 hubs, a SRAM GX Eagle 12 speed drive, a SRAM Style 7k crank and losing the Santa Cruz AM carbon bar to a RaceFace Aeffect offering.
There is no such thing as a budget Santa Cruz bike but the CR is the cheapest Megatower here and still quite impressive. You don't get a choice of coil or air shock on this one like you do with the others. You get a Rockshox Super Deluxe Select, which isn't exactly rubbish..
This base model Megatower has a full SRAM NX Eagle 12 speed drive, SRAM MTH hubs on WTB i29 rims and Guide RE brakes. Finishing kit is very much the same as the other C models.
The C S model comes in at £5,399.99. This is mainly down to the RaceFace AR Offset rims, instead of the Reserve rims.
You get SRAM GX Eagle 12 speed drive, DT Swiss 370 hubs, SRAM Code R brakes, a Stylo 7k crank and a hosed Reverb is pretty much the same as the Reserve model.
What do you think of the 2020 Santa Cruz Megatower?
Are Santa Cruz bikes overpriced and overrated? I know many people that won't ride anything else. Are you one of these people? Let me know in the comments below. Also, if you want a Santa Cruz bike, but want to know where to get the best deals, click on the button below.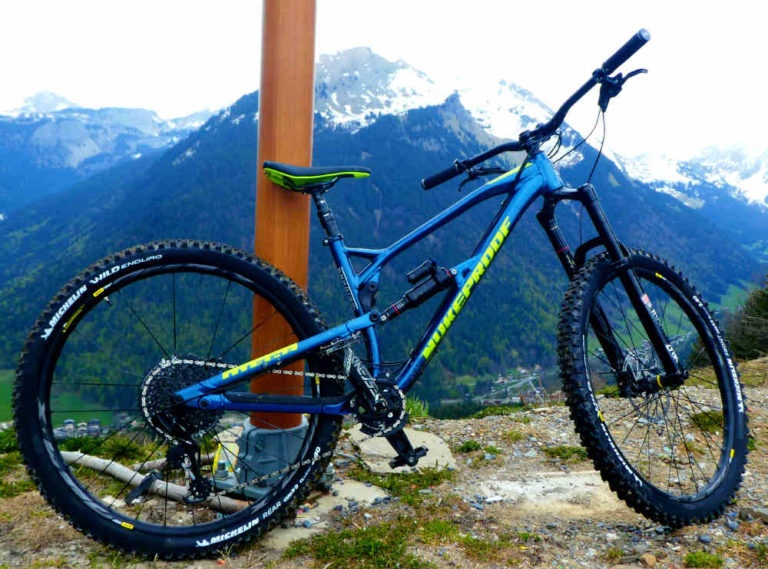 You may be interested in a high end Nukeproof Mega as an alternative. There are carbon and 29″ options available at a lower price point. The review on the blue button below is of the 290 Al Pro, however it should give you a good idea of what the higher end version are like.