What Mountain Bike Shoes?
What Mountain Bike Shoes?
Here are my recommendations for what mountain bike shoes to buy. No matter if you ride with flat pedals or clipless, you need to  be able to transfer your power to the pedals with a decent mountain bike shoe.
What Are Mountain Bike Shoes And Why Do We Wear Them?
When you are riding your mountain bike, you have three points of contact. You hands on the handlebars, your bum on the seat and your feet on the pedals. But, when you stand up on your pedals, you are only in contact with you bike with your hands and feet. This means that your feet become more important for controlling your bike and for getting feedback through the pedals.
There are two types of mountain bike. You can buy shoes for use with flat pedals and shoes with cleats for clipless pedals. Flat pedal mountain bike shoes have low-profile soles made of rubber for extra grip. Clipless shoes are stiff and have cleats mounted to the soles, so you can clip on to the associated pedals.
When you first start mountain biking, you may not want to spend the extra money on some mountain bike shoes and make do with some skate trainers. However, when your skills start to improve, you will feel the benefit of a good pair of mountain bike shoes. 
Mountain bike shoes have a few benefits. One of the benefits of both types of mountain bike shoe, is that you get good shock absorption. This means you can ride longer in comfort. In the case of clipless shoes, you have the advantage of being able to push and pull on the pedals at the same time, which helps during big climbs. You power transfer is improved, making your pedalling more efficient and the fact you are clipped to the pedals means that you have great control and your feet won't bounce off on bumpy terrain.
Flat pedal shoes not only give you get shock absorption and comfort, but they give you fantastic grip on the pedals. But you also have the advantage of being able to dab a foot down when needed. Flat pedal mountain bike shoes are also easy to walk around in, as they don't have the metal clips on the sole.
What Mountain Bike Shoes For Flat Pedals?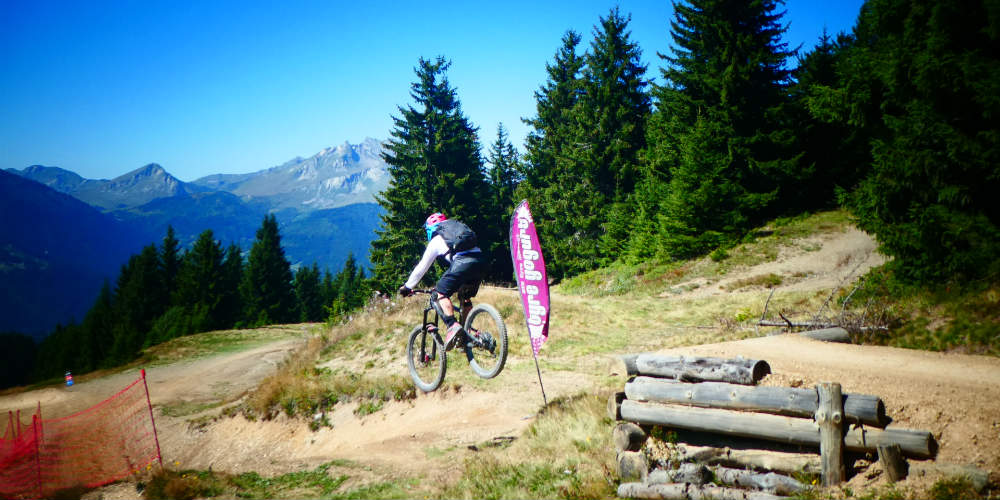 Flat pedal mountain bike shoes have soles with specific compounds and tread patterns. These are specially designed to make sure your feet stay planted on the pedals, ensuring you have plenty of control. The soles work with the shoe's inner shank's flexibility and the stability given by the upper.
When riding rough trails, your feet have a tendency to bounce off the pedals or shift around, therefore, flat pedal mountain bike shoes have built in damping to increase your stability.
Flat pedal mountain bike shoes should balance sole stiffness for protection, efficient power transfer and comfort. Stiffer soles don't give you as much feel when walking around, but they do give you a more direct feel when on the pedals. They also have better shock absorption.
The main thing to look out for, is the how much grip a flat pedal mountain bike shoe has. This is because these are the ones that you can rely on the most.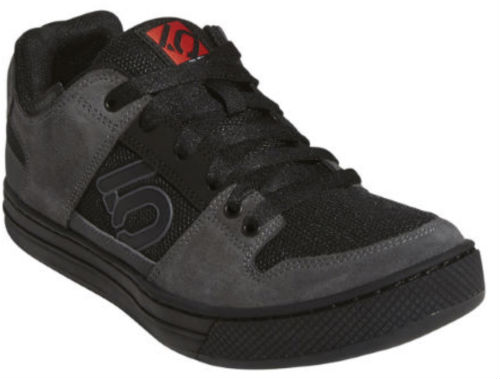 These are the mountain bike shoes that I wear. There are a few different versions, you can read about each of them in my guide to Five Ten Freeriders. I currently ride with the basic Five Ten Freeriders, I find them extremely comfortable both on and off the bike. They are flexible enough for walking around in while providing excellent grip on the pedals. 
If you ride in wet conditions a lot, you may not like that they don't repel water very well. In fact they soak it up and take a long time to dry. However, a decent waterproof coating or spray makes a huge difference. Alternatively, you could team them up with some Sealskinz waterproof socks.
Regular fit
Lace closure
Leather upper
Textile lining; One-piece moulded cupsole; Stealth® S1 rubber outsole for unbeatable grip; Classic Dotty™ tread
Medium-flex midsole
Product colour: Grey Five / Core Black / Red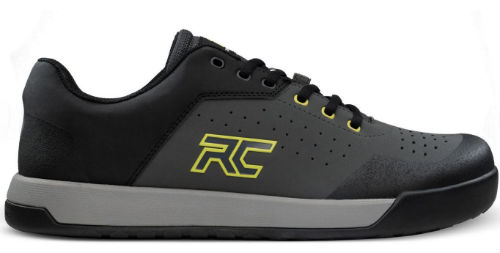 The Ride Concepts Hellion is an alternative to the Five Ten Freerider Pro (the more expensive version of the standard version I use). This is at a similar price point and has very similar features.
This mountain bike shoe uses a DST 6.0 High Grip rubber outsole, which is very grippy, but not quite as grippy as the Five Ten Freerider. The difference is pretty marginal though and you will probably only notice the difference when pushing hard on a technical section or grinding the gears up a particular steep climb.
The Ride Concepts Hellion has had some thought behind it when it comes to durability. For example, the anti-abrasion toe and heel protection and the two-panel synthetic upper has an anti-peel coating. Which is something the Five Ten doesn't have.
On the inside the Ride Concepts Hellion features a fully gusseted tongue. This stops dirt and grit etc getting in, which can be very unpleasant. The insole has impact zones at the heal and ball of the foot made from D30 foam. D30 is the stuff that feels nice and soft until it gets a whack. It goes hard when impacted, gives you extra cushioning and really gives them a solid feel.
Rubber Kinetics | DST 6.0 HIGH GRIP Rubber Outsole
D3O High Impact Zone Insole Technology
Two-panel synthetic upper with anti-peel coating and perforated ventilation
Anti-abrasion toe and heel protection
Eva midsole provides support and shock absorption
Fully gusseted tongue prohibits intake of dirt and debris
Modern lifestyle performance fit
Approximate weight – 421 g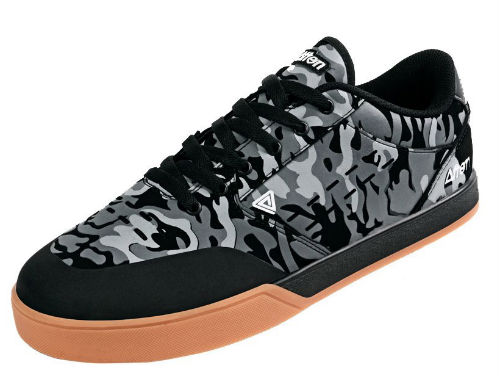 The Afton Keegan may look like a skate shoe, but there is a great deal of technology integrated in to it for mountain biking. 
This mountain bike shoe is has extra protection around the toes, to reduce the impacts you get from stray stones kicking up. It can also flex along the length of the sole, so they are comfortable to walk in. However, they have quite a lot of lateral stiffness, so you can properly load the pedals for stability on long downhill sections.
Between the your foot and the sole, the Keegan has layer of shock absorbing foam. This is to dampen the smaller vibrations you get, in order to make riding more comfortable. The sole is very much like what you would find on a pair of Vans, with its waffle tread pattern. This keys in nicely with the pins on your pedals and is very durable.
Even with this extra padding, you get good feel on the pedals, but they are not quite as grippy as a pair of Five Tens, as the compound is quite firm.
Snug performance fit- If you like more relaxed fitting shoes, please order a size larger
Afton's proprietary Intact® rubber – a blend of durability and traction
Outsole constructed specifically to interface with a flat pedal yet provide traction when climbing and descending hills off the bike
Mono-directional interior shank supports your foot on the pedal during impacts, assists in energy transfer when pedalling, and reduces vibration yet flexes to allow normal walking
Reinforced toe box with additional protective PU taping together protect your toes and shoes from rock deflections and impacts
What Mountain Bike Shoes For Clipless Pedals?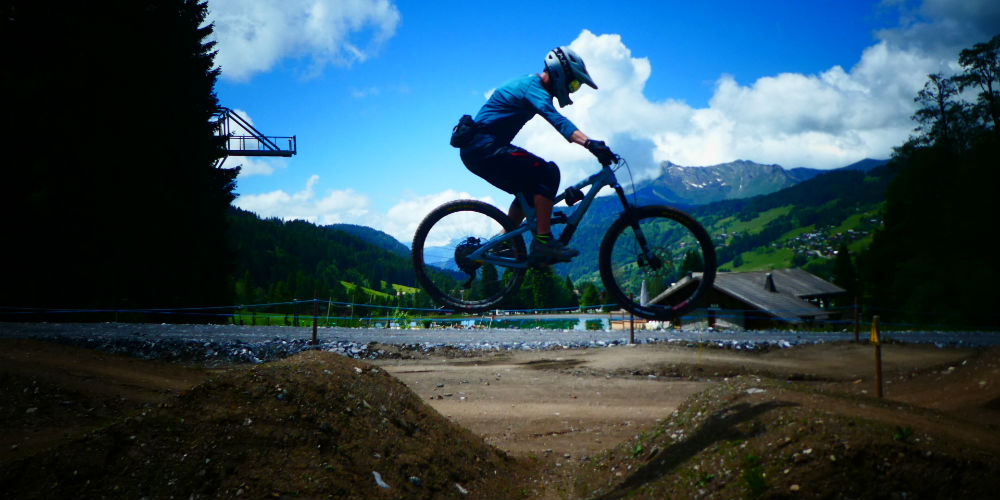 Clipless mountain bike shoes need to give you great foot stability and stiffness They should also be easy to clip in and out of easily.
The components of Clipless mountain bike shoes need to work well together. The upper and mid sole needs to be balanced to give you good damping and comfort. All mountain bike shoes need have the perfect stiffness and security, while maintaining comfort for a whole day of riding. They also nee to be durable in order to not fall apart after a few bashes, while giving you an element of protection.
When riding particularly rough terrain, even with clipless pedals, you have the potential accidentally unclip. Therefore they have to have a good fit and design to cope with the rough stuff. 
The stiffness of the sole and the addition of impact zones give you protection from crashes and bits of the scenery that may flick up and hit your foot. But the main purpose of a stiff sole, is so you can efficiently get the power in to your pedalling.
You will find that mountain bike shoes with stiff or thick soles transmit give you a more direct and dynamic feel when pedalling. However, they won't be easy to walk in.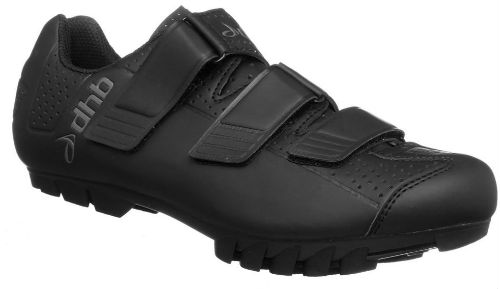 The dhb Troika is a very reasonably priced clipless mountain bike shoe. This would be quite good pair to buy if you want to give clipping in a go.
These have quite a wide fit, which may be music to the ears to some people. However, they are a bit too wide for most people, reducing feel on the pedals. Even Chain Reaction suggest that you should buy a whole size down from what you normal would buy.
The dhb Troika are a tough shoe that feel sturdy and well made. The upper is perforated, which gives you good breathability. These perforations are all on the top side of the shoe, so you don't get too much water ingress when splashing through puddles.
The compound of the sole is quite firm, which makes them not brilliant for walking around on tarmac. But this does give you good grip in soft mud, while giving you good rigidity for pedalling.
The dhb Troika are a decent pair of mountain bike shoes and they are at a good price point, which makes them a very attractive option.
Lightweight synthetic upper
Semi-perforated upper for breathability
SPD Cleat mounting system
Ergonomic offset strap system
Provision for toe spikes
Nylon Sole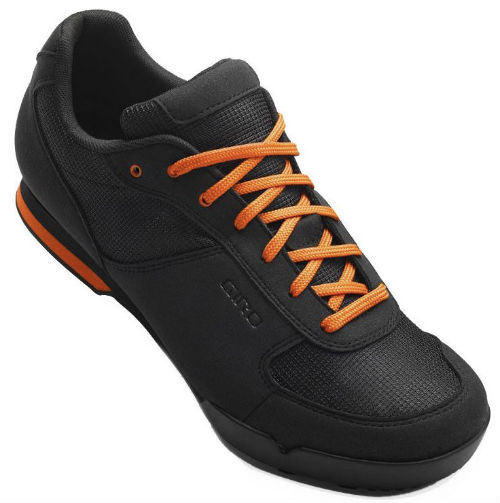 The Giro Rumble VR is a good alternative to the dhb Troika. It is quite a casual shoe that can be used for all types of riding, as long as you are not riding anything too gnarly. If you ride in wet conditions regularly, I would advise you to get some overshoes to keep your feet comfortable and dry. But they are a very reasonably priced SPD mountain bike shoe for leisurely rides.
These mountain bike shoes are designed to be much easier to walk in than regular clipless mountain bike shose. This is thanks to the deeply recessed cleat area. This means that they are a good option for someone that wants a pair of mountain bike shoes for commuting and wants to continue wearing them in the office, or to walk around in comfortably stopping off at the shop on the way home.
The Vibram sole has a grippy diamond pattern, which gives you good grip when walking on rough terrain, so you won't have any problems walking around on trails.
The breathable mesh make the Giro Rumble VR nice and comfortable, just like a normal pair of trainers. When it comes to clipping in to the pedals, they are compatible with two-bolt cleats with two positions for fixing them in. The deep recess makes it  engagement is a bit awkward at first, but it gets easier with practice.
As the Rumble VR is a versatile mountain bike shoe, there is quite a lot of flex, which you will notice more when you are standing on the pedals. However, the sole is solid and sturdy off the bike. You may find that these mountain bike shoes are quite narrow, but this might give you the fit that you are looking for. Chain Reaction suggest that you go for half a size bigger than you normally would buy. As versatile as these shoe are, you may want to look elsewhere if you are an aggressive rider or you plan to be doing some enduring training rides.
Even though the Giro Rumble VR is a robust shoe. They regret for riding in wet weather. This is because they really soak up the water and are not easy to clean mud off. It takes a long time for them to dry off, which isn't too much of a problem if you ride a couple of times a week, but this isn't ideal if you use them every day for commuting in bad weather. Therefore, I would advise you to use overshoes, Sealskinz waterproof socks or some waterproof spray.
Overall, the Rumble VR is a versatile shoe, but it is better suited to light mountain biking, touring or commuting, rather than big days on the trails. This is because they are not the best in wet weather, but at this price point, they are a pretty good buy.
Comfortable, durable and breathable upper
Vibram® sole provides high levels of grip
Injected inner shank provides the stiffness needed to transfer power to the pedals
Lace closure allows a highly customisable fit
Weight: 850g (Pair, size EUR 42.5)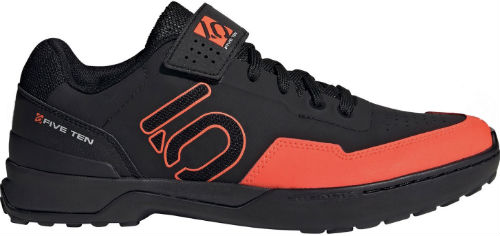 The Kestrel Lace is one of the small range of clipless mountain bike shoes models Five Ten make. They have all the qualities you would expect to get with a good pair of Five Tens. Even though they look like a free ride mountain bike shoe, the Kestrel Lace has a stiff sole giving you great power transfer. You will be impressed with their traction and how easy they are to walk around in. This is thanks to the flexibility  through the toe and the Stealth C4 rubber sole. They are quite heavy, but this is the compromise for a mountain bike shoe with excellent foot protection and durability.
The Kestrel Lace performs brilliantly, has excellent power transfer, has great feel and comfort on and off the bike. They are also very durable, so they should last you a long time. This is a great option for an enduro and all mountain rider.
The lace-up design distributes nice and evenly over your foot ands your heel in nicely. The Kestrel has a large velcro strap that goes over the top of the tongue. This is to give you an secure fit, but it also holds the laces, so they don't get caught in your chain.
The inner sole is quite thin, but this still provides good comfort on all day rides. You can obviously tweak the comfort by changing the inner sole for an aftermarket one.
The Kestrel Lace is quite a warm mountain bike shoe, especially when you are riding on warm days. Perforations above the toes do provide you with some ventilation, but there are more airy shoes on the market. However, they make up for lack of ventilation with excellent foot protection. You can see from the picture above, that Stealth C4 wrap around the sides of the shoe for protection. They are also supported with a dense cushioned EVA foam which helps to absorb bumps, especially on technical downhill terrain. 
In conclusion the Kestrel Lace is  a well made mountain clipless bike shoe. It is also very durable, has versatility and is high-performing. Five Ten is one of, if not the most popular brand in mountain bike footwear for good reason. The Five Ten Kestrel is a great option for the all-mountain and enduro mountain biker that wants a shoe that gives excellent power transfer, grip, is easy to walk in and provides good foot protection.
Clipless & SPD pedal compatible
Sleek, PU-coated synthetic upper
Perforated toe vamp & mesh tongue for extra breathability
Non-slip heel cup to reduce torsional flex
Compression-molded EVA midsole with nylon shank
Lace closure with protective Velcro strap
C4™ durable outsole
What Mountain Bike Shoes Are You Going To Buy?
These are good options for the majority of riders. If you have any questions or thoughts, please leave them in the comments section below.