What Is An Electric Mountain Bike?: Everything you need to know
In this post, I am going to answer the question of "what is an electric mountain bike?". Electric mountain bikes are still dividing opinions. Some people see them as cheating, while others see them as a way of making mountain biking more accessible. They help people that wouldn't normally have the ability or fitness to get on the trail. They also help the riders access terrain they wouldn't normally be able or have time to get to. Whichever camp you sit in electric mountain bikes are getting more popular and they are here to stay.
You get a different riding experience with electric mountain bikes. Steep and technical climbs that would normally be unridable, become fun challenges. You can ride further and longer than you normally would be able to on a conventional mountain bike. You can also lap the fun descents over and over again.
There has been lots of improvements in the motors and batteries recently and they are integrated in to the frame much better. This means the geometry has been improved, which in turn has improved the ride. This is all thanks to the amount of competition in the marketplace, with more brands offering more options for electric mountain bikes.
Are Electric Mountain Bikes Just Electric Motorbikes?
Electric mountain bikes have an electric motor, but they are not motor bikes. The motor only works while you are pedalling and it cuts out when you reach 15.5mph. Electric mountain bikes don't have a throttle either, the ones that do are classed as motor vehicles, so the owner needs a helmet, license, tax and insurance (in the UK anyway). Also, you can't use them on bridleways and mountain bike trails.
Are Electric Mountain Bikes For Lazy People?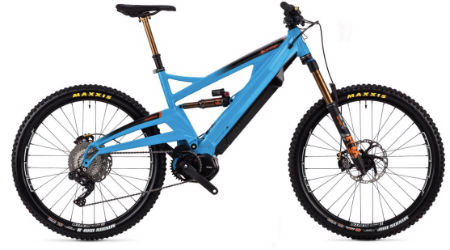 Of course electric mountain bikes are going to appeal to riders that are not particularly fit. But the fact that you need to pedal before the motor kicks in means you are still putting in effort. Also these bikes weigh around 23kg. This means that you do need some strength in your body and some skill to control them on the descents.
Many electric mountain bike owners claim that they are much fitter since they started riding them. The fact that you can stay out on your bike for longer, means that you are doing the same, or even more exercise than you would be on a regular mountain bike. Many pro riders are using electric mountain bikes in their training for this very reason.
I was talking to a group of mountain bikers, who ride electric mountain bikes on certain rides. They all said that they burn just as many calories when riding their electric mountain bikes, as when they ride their regular bikes. However, the difference is, is that they get to ride more and have more fun.
So, so far we have established that electric mountain bikes are for anyone that wants to get out and ride further or for longer, no matter what level of fitness you have or how old you are.
Who are Electric Mountain Bikes For?
A while ago, I was riding at Coed y Brenin, Wales and there was a group of middle-aged guys hiring electric mountain bikes. Like us, they rode the black trail, known as "The Beast". However, they rode it twice and went back up the hill so they could ride the fun downhill section afterwards. Their electric mountain bikes allowed them to get more riding in than us that day.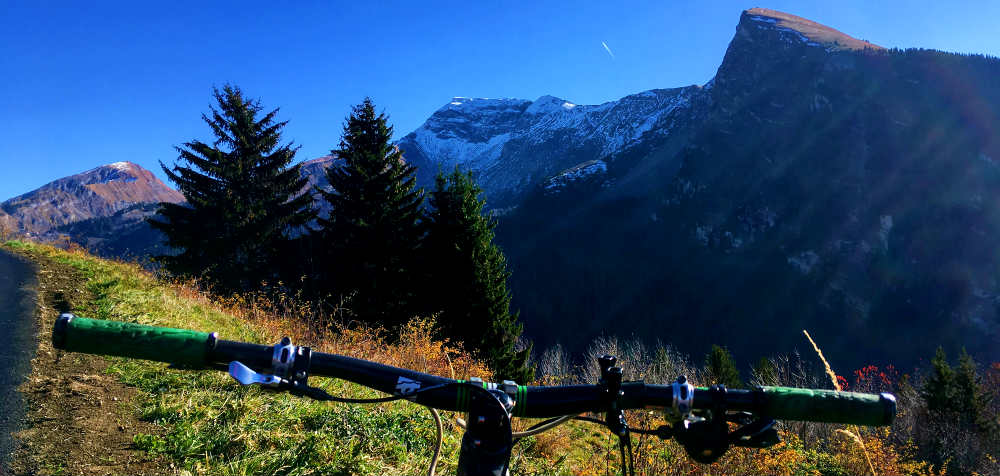 But, electric mountain bikes are not just for blokes that are getting on in their years. Living in Morzine, France, we are lucky enough to have access to the ski lifts, that take us to the top of the trails. However, during the off-season, when the lifts are closed, we have to pedal up the mountains. This is hard work, and you don't cover much ground, as progress up an alp can be quite slow.
This is where electric mountain bikes come in. They are getting more and more popular, as riders are able to access some great terrain that they would not normally have time or energy to reach.
Therefore, electric mountain bikes are for rider's that want to experience terrain that they can't normally get to. This makes no difference to how old you are, or your level of fitness. Many rider's own electric mountain bikes as second bikes, to use for different terrain.
However, there is something you need to be aware of when riding electric mountain bikes. The terrain that is now accessible to you, may get you in to trouble. I was talking to a mountain bike guide recently. He said that rider's of electric mountain bikes are heading to terrain that they cannot cope with. They make life easier for people without any previous experience of riding conventional mountain bikes on technical terrain. These riders get lured in to a false sense of security and end up on terrain they don't have the experience or skills to ride safely.
Other riders that will benefit from electric mountain bikes are injured or older riders that need a bit of a helping hand to get back on the trails. They also make it easier for groups of riders with mixed abilities, as the less fit or skilled rider will find it easier to keep up with their mates. Parents use them to get some extra laps in while they can when they get an hour on their own. But, they use regular mountain bikes when they go out with their mates.
Don't Electric Mountain Bikes Ruin The Trails?
Some people suggest that the extra weight and the power output of electric mountain bikes cause loads of trail damage. This is pretty negligible, as the weight increase combining both bike and rider is less than 10%. The 250W maximum output of most  electric mountain bikes isn't used very often or for very long, as it only really comes in to play on the steepest of climbs. I suppose that there is an argument that electric mountain bike riders can do more laps that will erode the trail, but I really can't see them being banned, just like I can't see lighter more efficient traditional mountain bikes being banned from the trails.
But It Isn't Pure Mountain Biking!
If you think that the purity of mountain biking is suffering thanks to electrical assistance, you need to think about the other aspects of riding. Uplifts and chairlifts are ways to get us up the big hills more quickly allowing us to ride more. Is an electric motor any different?
What Are The Limitations Of Electric Mountain Bikes?
There are two main issues with electric mountain bikes. High prices and limited range. However, the prices are starting to drop and the range is getting longer. The other issue, is that electrical issues are harder to fix than mechanical ones.
Any Other Reasons Why I Should Buy An Electric Mountain Bike?
In addition to all the stuff I have mentioned so far, electric mountain bikes are brilliant fun. They are more heavy than traditional mountain bikes and will never feel as nimble. Also, you really wouldn't want to take one on a hike-a-bike trip. But they give you help on the flat and on the uphills. Due to their low venter of gravity, they giver you a downhill bike style stability on the descents.
The motors are becoming more refined and their assistance comes in seamlessly. The batteries are becoming lighter and smaller, allowing them to be integrated in to the frame in better ways. Some manufacturers provide ways of extending the range with auxiliary batteries that are wither mounted on the bike or in a backpack.
Electric mountain bikes are not for everyone though. They are really expensive, but the price should start to reduce soon. Also, there is a great sense of achievement from pedalling your bike to the top of a mountain with no help. Also regular mountain bikes are more "grab and go", as you don't need to charge them up and they are more simple to maintain.
However, the benefits are starting to outweigh the drawbacks for a lot of riders. 
All That Extra Weight Can't Be Good For The Components
Component manufacturers are now making parts specifically for electric mountain bikes. This is because the extra weight takes it toll on regular components. Specific shocks, forks, brakes, drivetrain, chains, handlebars, wheels and tyres are all being fitted to electric mountain bikes. This is great news for regular mountain bikes too, as we are seeing things like e-bike brakes being fitted to them giving excellent stopping power.
While I am talking about components, here are five key features that set electric mountain bikes apart from their non electric counterparts.
Most bike manufacturers use handlebar mounted controls. These allow you to toggle between the different modes that provide different levels of assistance. It is common to have Eco, Trail and Boost modes. You will also get a LCD display that lets you keep an eye on battery life, speed and other information.
The frames now give seamless integration of the technology involves with electric mountain bikes. This is thanks to more compact batteries. Some electric mountain bikes are now indistinguishable from regular mountain bikes without having a proper look round them.
The standard size battery used to be 500Wh, but now it is possible to find electric mountain bikes with 750Wh power packs. Some have bolt on range extenders, but most have removable batteries to make charging more convenient.
There are a number of manufacturers that product motor units for electric mountain bikes, but the most common ones you will see are from Shimano and Bosch. The torque, response speed and smoothness of power deliver they produce varies between the manufacturers.
As I said earlier the parts you will find on an electric mountain bike are much more beefy to cope with the weight gains. But they are also built like this to cope with the extra milage and speed electric mountain bikes will do.
Basics of Electric Mountain Bikes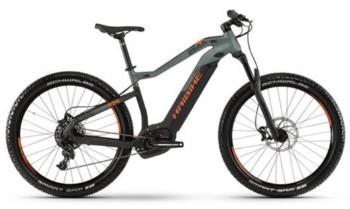 How Much Do Electric Mountain Bikes Cost?
The entry level electric mountain bikes are hardtails, and are currently about £1,500. But for a full suspension electric mountain bike, prices start at around £3,000. Electric mountain bikes tend to be a bit more expensive than regular mountain bikes. This is due to the addition of a motor and battery. Also, the suspension components are beefed up to cope with the extra weight.
What Is The Range Of Electric Mountain Bikes?
The range of an electric mountain bike depends on a few things The first thing is the capacity of the battery, which is rated in watt hours (Wh). Then the other factors are the rider's weight and fitness, the route (you will use the motor more if the route has lots of climbs) and the ambient temperature. This means the range can be anything between 10km to 70km. You really need at least a 400Wh battery.
How Do I Charge The Battery?
You simply plug it in to the mains just like your mobile phone. It is easier to remove the battery from the bike, which takes seconds to do. Depending on the make and model of your bike, it can take between 2 and 6 hours to fully charge the battery.
Most electric mountain bikes use a "mid-drive" motor located in the bottom bracket area. This keeps the centre of gravity nice and low while delivering the power directly to the cranks. The motors typically churn out 250W to 350W at full power. You can switch to lower power modes to get more range out of your battery if you are going out on an all dayer. You can also turn it off altogether for descents.
You select the modes with controls mounted on the handlebars. These controls also have a display, telling you what mode you are in and how much battery power you have left. Some electric mountain bikes have an app for your phone which allows you to fine tune the level of assistance for each mode.
The battery is often mounted in the downtube, but some bikes mount them externally. When it comes to the motors, there are some subtle differences. The most common electric mountain bike motors are the Shimano STEPS E8000 and the Bosch Performance Line CX systems. But there are other brands with their own units. Some brands go for light weight tech to give you a bit of help on the climbs while others go for more torque to power you up to the top.
How to Choose An Electric Mountain Bike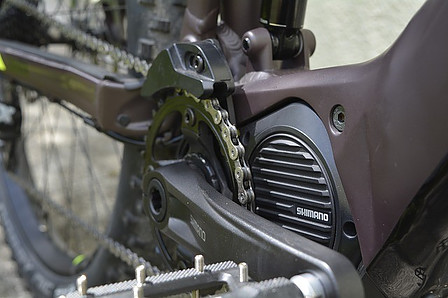 Choosing an electric mountain bike is similar to buying any mountain bike, the factors that you need to consider when choosing electric mountain bikes, is, budget and terrain.
Hardtail or Full suspension?
The amount of suspension you have correlates to the terrain you are riding. Hardtail bikes are cheaper, but not very well suited to rough terrain. Full suspension bikes are more capable, but are more expensive.
Rear or Central motor driven?
When it comes to electric mountain bikes, you can choose between two different types of drive. However, rear drive electric bikes are usually used for commuting bikes and a few hardtails. They are heavy, and the extra weight on the back of the bike means they are not great for off-road riding. They do come with an energy recovery mode though, which charges the battery when you are not pedaling.
Centrally driven bikes have the motor mounted below the pedals. This is a better option for mountain biking, as the centre of gravity is lower. This may take a bit of getting used to if you are not a very experienced rider.
Don't think that the motor is the primary reason for buying a particular electric mountain bike. Factors, such as fit and geometry are more important.
Hardtail with rear motor – Commuters and for those riding on flat trails and even ground. Perfect for canal paths.
Hardtail with centre motor – Better for rougher terrain and fine for the less technical trails at trail centres
Full suspension with 120mm travel – Built for long rides over rough terrain
Full suspension with 140mm + travel – Very capable bikes that allow you to have as much fun as possible. They are great to climb and can cope with technical descents. However, they are expensive.
What to Look For When Buying an Electric Mountain Bike
Buying an electric mountain bike is not that different to buying a normal bike, other than what I mentioned above. But, you do have to make sure they have quality components to cope with the extra weight.
Electric mountain bikes have more performance and weight than regular mountain bikes. This means you need some good rubber under you. A good set of tyres will help with the traction you need for climbing, descending and cornering. A good choice of tyre for this is the Schwalbe Nobby Nic Snake Skin or Hans Dampf Snake Skin.
Your handlebars tell you a lot about what is going on with your bike, they also are how you control it. Therefore, the right handlebars will make a huge difference to how your bike handles. A wide handlebar is recommended for electric mountain bikes, with a stem no longer than 80mm. Don't forget to get a good set of grips too, to ensure you get the most control possible.
Electric mountain bikes are much heavier than regular mountain bikes, therefore you need a proper fork. This means a high quality one with a through axle. It isn't necessary to have a lock out, however, you should be able to adjust it and set the sag to the appropriate level.
That extra weight I keep talking about also has an effect on your braking. Therefore, you need some good ones, and by this, I recommend that you have disc brakes. You will need at least 180mm discs front and back, to get the most control.
The remote dropper seatpost is the best thing since they put suspension on bikes. You can raise and lower the seatpost with a button on the handlebars. It makes a huge difference to comfort and safety when riding.
Recommended Electric Mountain Bikes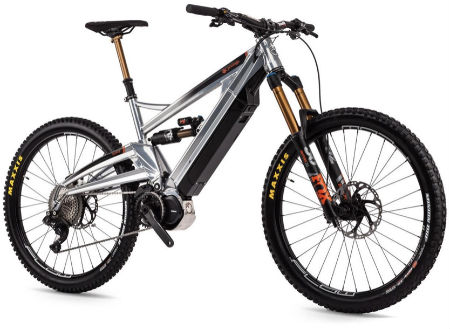 The Orange Surge has 165mm of travel at the rear and 170mm on the fork. This bike is designed for big hard hitting days in the countryside.
The frames are manufactures in Halifax, England. It is a single pivot monocoque aluminium frame with a downhill inspired swingarm. This uses wide diameter bearings and the pivot is mounted closer to the chainring to reduce pedal kickback. This design reduces the pedalling efficiency a little, but gives you more progression towards the end of the suspension travel.
The Surge has a Shimano STEPS motor concealed low down by the bottom bracket. This is protected from debris and rocks with a machined alloy bash plate. The battery is located in the downtube and has 504Wh. This is secured with a lock and can be charged while it is mounted in the bike. The motor assistance is controlled by the Shimano E6000 head unit.
The geometry of the Surge is long. With a 480mm reach (large frame size), a 64 degree head angle and 441mm chain stays that contribute to a very long 1,268mm wheelbase. The bottom bracket is 342mm from the dirt and the seat post is at 74 degrees. All this means that the figures are up there with modern mountain bike geometry, making it a very stable and confidence inducing bike, especially on the descents.
Despite the rugged looks of the Surge, it rides very smoothly. The single pivot design reduces the bobbing effect from pedalling. I said earlier that pedalling efficiency is reduced from this design, but as it is an electric mountain bike, this isn't that much of an issue. Therefore, Orange have designed it so the suspension can cope better with big impacts from rocks and roots.
This smoothing out allows you to maintain speed while giving you a calmer feeling. This coupled with the extra weight of the motor and battery makes the Orange Surge stay planted and composed on more technical terrain.
As you probably expect, this isn't the lightest bike in the world. This means that it won't be particularly easy to rail a berm. However, the lengthy wheelbase and smooth rear end means it eats up rough and steep terrain with speed.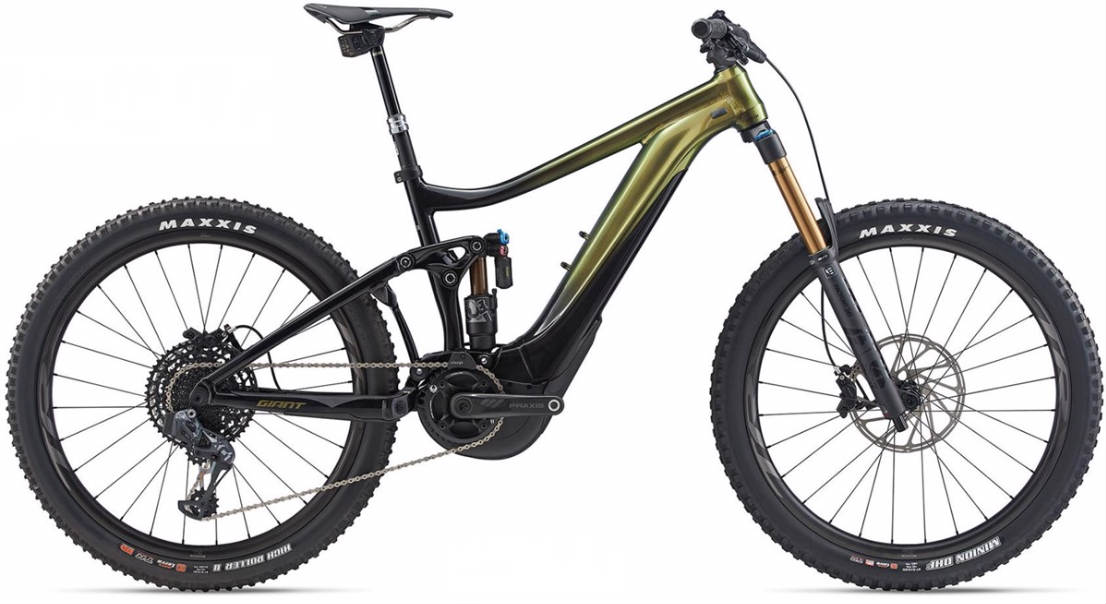 The Giant Reign is designed to be an aggressive trail and enduro electric mountain bike. It is billed as a "winch up, plummet down" kind of bike.
For 2020, it has been redesigned with a new alloy frame with 160mm of rear travel with the Giant Maestro twin link suspension system. It has 170mm on the front to soak up the biggest of bumps. The geometry is actually pretty close to the non electric version of the Reign. The reach is 452mm, the head angle is at 64.5 degrees, but the seat angle is steeper at 76 degrees. The chainstay length is 470mm, which means that it is a good 35mm longer than a regular Reign and 25 to 30mm longer than similar electric mountain bikes.
Power comes from a new 250W Yamaha unit. It has six sensors, including one that detects gradient and one that monitors acceleration. The motor can deliver 80Mn of torque and has a smart assist mode to adjust the assistance automatically. It has a number of manual setting too. 
The battery locks in to the downtube and is protected by an integrated cover. There is also an option of a 250Wh range extender that boosts your capacity to an amazing 750Wh. This bolts to the bottle cage mounts and weighs an extra 2.5kg.
The Reign is an absolute beast of a climber. The long back end means that your front wheel doesn't lift when powering up the steep stuff. The drawback of this, is that it isn't easy to lift the front wheel over obstacles, but a shorter stem with a high rise handlebar would help with this.
The power deliver is said to be good but not as seamless as some of the Giant Reign E's rivals. But the Smart Assist mode matches the terrain very well with the effort needed to get you up the hills.
Early testers have said that the Reign E isn't as fun as it should be on the descents. This is because they felt a little off balance and too far forward. This is something else that would be improved upon with a shorter stem. The Reign is a bike that would shine on high speed runs and would feel planted and stable thanks to the geometry and components. This is an extremely capable electric mountain bike, but probably not as confidence inducing as some of its rivals.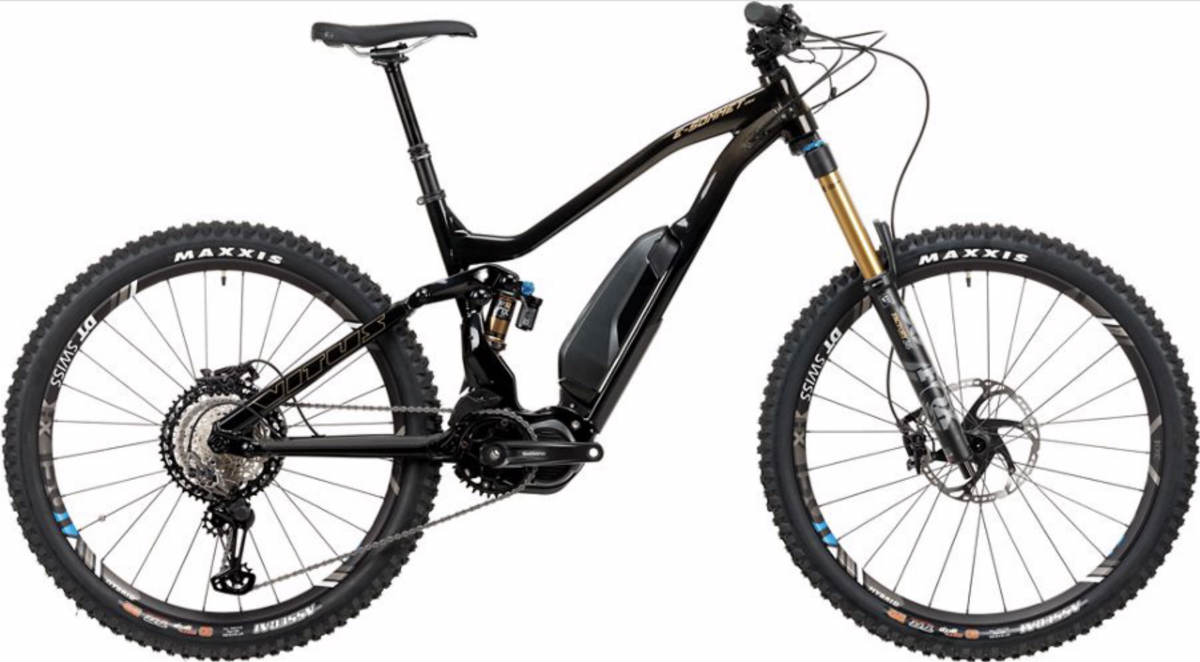 The Vitus E-Sommet is another electric mountain bike with aggressive geometry. it is based on the Vitus Sommet Enduro bike, so riders can enjoy technical descents with confidence. This is the one to choose if you want the best value for money. You get a lot for your money and they sell out very quickly because of this. The E-Sommet comes with 160mm of travel front and back, so it can take big hits and smooth out those bumps.
This bikes based around the Shimano Steps E8000 motor so it has smooth power delivery and the customisation options using the E-Tube app. The 504Wh battery secures nicely to the top of the downtube and is big enough for a full day out. The boost mode gives you the ability to have a few hot laps when time is short.
The geometry is typically low and slack with a steep seat post angle and long reach. The length of the bike isn't as extreme as the bike above, making it more suitable to more riders.
There are a few different versions of the E-Sommet to suit your budget, but this bike is the intelligent way of entering the world of electric mountain bikes, unless you have a very healthy bank account and you can splash the cash.
The components are very good for the price you pay on all versions, but you may want to choose different tyres to suit your personal preference.
Thanks to the well thought out geometry, the Vitus E-Sommet handles as close to a modern enduro bike as you can get at the moment. But, the advantage you have is that you can speed up the climbs much easier. You get perfectly balanced riding position which makes you feel like a hero when you are travelling a speed on the steep, technical downhill sections.
The Future Of Electric Mountain Bikes
The future of electric mountain bikes is looking pretty exciting. The main thing we are going to see is better integration of there technology in to the frames. The motors and batteries will be smaller and lighter hiding them much better. This will mean that the geometry of electric mountain bikes will be able to get much closer to traditional mountain bikes, making the riding experience even better. This will also reduce the overall weight of the bike, meaning there will be less need for over engineered components. In turn, this should reduce the price eventually.
There is likely to be some segmentation of electric mountain bikes, from trail bikes to big hitting heavy duty bikes that will get you anywhere. It wouldn't surprise me to see electric downhill bikes with triple crown forks. A bit like this Husqvarna I spotted last summer.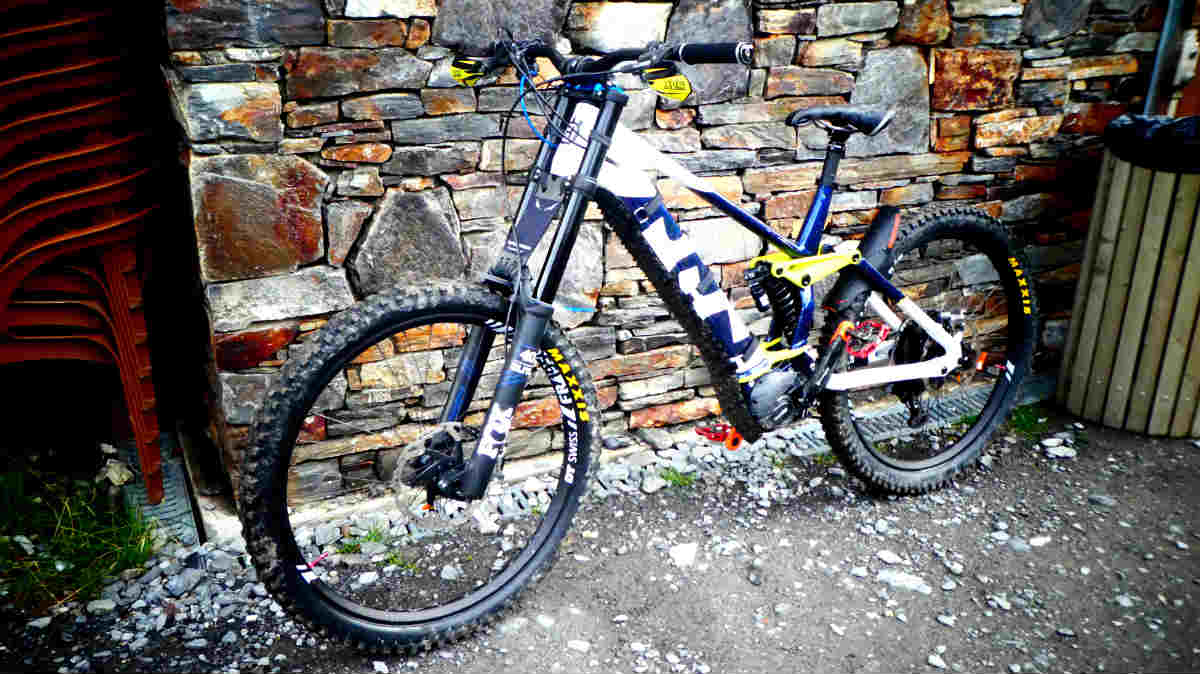 What Is An Electric Mountain Bike? - Answered!
I think I have explained everything you need to know about electric mountain bikes. Please let me know if there is anything else you would like to know about these fantastic machines. I will be updating this post with more bikes as the information about them is released, so make sure you keep coming back.
Do electric mountain bikes appeal to you? Please let me know your thoughts and questions in the comments section below.
Also, don't forget to sign up for the MTB-Threads newsletter!