In this post, I am going to answer the question of "what is an electric mountain bike?". I am also going to fill you in on the answers to frequently asked questions, while giving tips on how to buy the right one for you.
You may have seen people whizzing along the trails on electric mountain bikes. Part of you is saying "they are cheating!" or "that's not proper mountain biking!". However, deep down it actually appeals to you. Those guys on electric mountain bikes are actually getting more riding in during a day, than they would be on a conventional mountain bike.
If you are not totally sure what electric mountain bikes are, they are mountain bikes that are electrically assisted. A motor can be switched on to assist the rider's pedalling. The top of the range bikes give you 3 times the power output of the effort you put in.
Who are Electric Mountain Bikes For?
The first time I encountered an electric mountain bike on the trails, was in Chatel, France. A rather large elderly man flew up a steep hill right past me. Although frustrating (as I was stuck behind him on a long downhill trail), I thought this was brilliant.  This guy was accessing trails that he probably would be able to get to with a conventional mountain bike. That, is surely a good thing!
A while ago, I was riding at Coed y Brenin, Wales and there was a group of middle-aged guys hiring electric mountain bikes. Like us, they rode the black run, known as "The Beast". However, they rode it twice and did another ride so they could get to the fun downhill section afterwards. Their electric mountain bikes allowed them to get more riding in than us that day.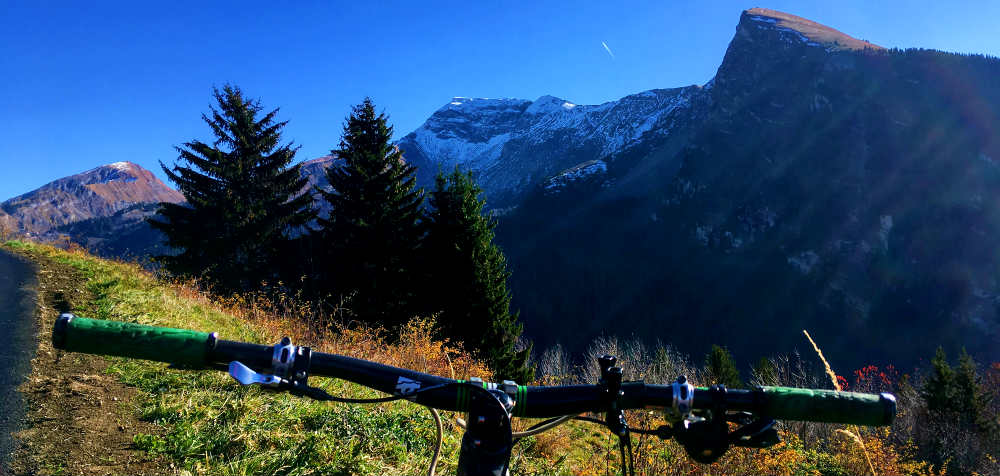 But, electric mountain bikes are not just for blokes that are getting on in their years. Living in Morzine, France, we are lucky enough to have access to the ski lifts, that take us to the top of the trails. However, during the off-season, when the lifts are closed, we have to pedal up the mountains. This is hard work, and you don't cover much ground, as progress up an alp can be quite slow.
This is where electric mountain bikes come in. They are getting more and more popular, as riders are able to access some great terrain that they would not normally have time or energy to reach.
Therefore, electric mountain bikes are for rider's that want to experience terrain that they can't normally get to. This makes no difference to how old you are, or your level of fitness. Many rider's own electric mountain bikes as second bikes, to use for different terrain.
However, there is something you need to be aware of when riding electric mountain bikes. The terrain that is now accessible to you, may get you in to trouble. I was talking to a mountain bike guide recently. He said that rider's of electric mountain bikes are heading to terrain that they cannot cope with. They make life easier for people without any previous experience of riding conventional mountain bikes on technical terrain. These riders get lured in to a false sense of security and end up on terrain they don't have the experience or skills to ride safely.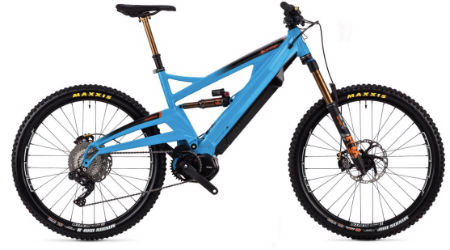 Are Electric Mountain Bikes Cheating?
I have done quite a bit of research in to electric mountain bikes, and the answer to this question is "apparently not". The motors in electric mountain bikes are just there to assist you. Therefore, you still need to put in some effort yourself. However, the fact that you can stay out on your bike for longer, means that you are doing the same, or even more exercise than you would be on a regular mountain bike.
I was talking to a group of mountain bikers, who ride electric mountain bikes on certain rides. They all said that they burn just as many calories when riding their electric mountain bikes, as when they ride their regular bikes. However, the difference is, is that they get to ride more and have more fun.
So, so far we have established that electric mountain bikes are for anyone that wants to get out and ride further or for longer, no matter what level of fitness you have or how old you are.
Basics of Electric Mountain Bikes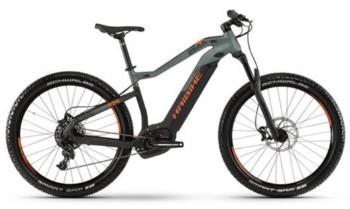 How much do Electric Mountain Bikes Cost?
The entry level electric mountain bikes are hardtails, and are currently about £1,500. But for a full suspension electric mountain bike, prices start at around £3,000. Electric mountain bikes tend to be a bit more expensive than regular mountain bikes. This is due to the addition of a motor and battery. Also, the suspension components are beefed up to cope with the extra weight.
What is the range of electric mountain bikes?
The range of an electric mountain bike depends on a few things The first thing is the capacity of the battery, which is rated in watt hours (Wh). Then the other factors are the rider's weight and fitness, the route (you will use the motor more if the route has lots of climbs) and the ambient temperature. This means the range can be anything between 10km to 70km. You really need at least a 400Wh battery.
How do I charge the battery?
You simply plug it in to the mains just like your mobile phone. It is easier to remove the battery from the bike, which takes seconds to do. Depending on the make and model of your bike, it can take between 2 and 6 hours to fully charge the battery.
How to Choose An Electric Mountain Bike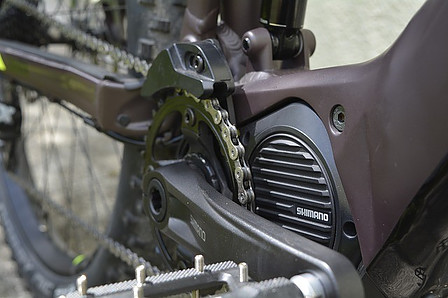 Choosing an electric mountain bike is similar to buying any mountain bike, the factors that you need to consider when choosing electric mountain bikes, is, budget and terrain.
Hardtail or Full suspension?
The amount of suspension you have correlates to the terrain you are riding. Hardtail bikes are cheaper, but not very well suited to rough terrain. Full suspension bikes are more capable, but are more expensive.
Rear or central motor driven?
When it comes to electric mountain bikes, you can choose between two different types of drive. However, rear drive electric bikes are usually used for commuting bikes and a few hardtails. They are heavy, and the extra weight on the back of the bike means they are not great for off-road riding. They do come with an energy recovery mode though, which charges the battery when you are not pedaling.
Centrally driven bikes have the motor mounted below the pedals. This is a better option for mountain biking, as the centre of gravity is lower. This may take a bit of getting used to if you are not a very experienced rider.
Don't think that the motor is the primary reason for buying a particular electric mountain bike. Factors, such as fit and geometry are more important.
Hardtail with rear motor – Commuters and for those riding on flat trails and even ground. Perfect for canal paths.
Hardtail with centre motor – Better for rougher terrain and fine for the less technical trails at trail centres
Full suspension with 120mm travel – Built for long rides over rough terrain
Full suspension with 140mm + travel – Very capable bikes that allow you to have as much fun as possible. They are great to climb and can cope with technical descents. However, they are expensive.
What to Look For When Buying an Electric Mountain Bike
Buying an electric mountain bike is not that different to buying a normal bike, other than what I mentioned above. But, you do have to make sure they have quality components to cope with the extra weight.
Electric mountain bikes have more performance and weight than regular mountain bikes. This means you need some good rubber under you. A good set of tyres will help with the traction you need for climbing, descending and cornering. A good choice of tyre for this is the Schwalbe Nobby Nic Snake Skin or Hans Dampf Snake Skin.
Your handlebars tell you a lot about what is going on with your bike, they also are how you control it. Therefore, the right handlebars will make a huge difference to how your bike handles. A wide handlebar is recommended for electric mountain bikes, with a stem no longer than 80mm. Don't forget to get a good set of grips too, to ensure you get the most control possible.
Electric mountain bikes are much heavier than regular mountain bikes, therefore you need a proper fork. This means a high quality one with a through axle. It isn't necessary to have a lock out, however, you should be able to adjust it and set the sag to the appropriate level.
That extra weight I keep talking about also has an effect on your braking. Therefore, you need some good ones, and by this, I recommend that you have disc brakes. You will need at least 180mm discs front and back, to get the most control.
The remote dropper seatpost is the best thing since they put suspension on bikes. You can raise and lower the seatpost with a button on the handlebars. It makes a huge difference to comfort and safety when riding.
Examples of Electric Mountain Bikes
Are you going to buy one?
Do electric mountain bikes appeal to you? Please let me know your thoughts and questions in the comments section below.
Also, don't forget to sign up for the MTB-Threads newsletter!