Winter Bike Tyres: How to buy the right ones for your ride
When the weather changes to something a further from dry and dusty, the riding experience changes somewhat. Winter means riding through slippy mud, snow and ice. It also means that you will come across more leaves and branches fallen from trees, thanks to wind, rain and snowfall. Luckily, a good set of winter bike tyres will help you cut through the mud and give you grip.
How important are winter bike tyres?
Tyres are your contact points with the trail, and choosing the right rubber unlocks your bike's full potential for the surface you are riding on. You may be wondering if buying winter bike tyres is worth the investment. This depends on how serious you are about riding and how much you are going to do during winter. You will probably get a couple of winters out of a pair as you won't use them as much as your regular tyres.
A great compromise, is to just change the front tyre for a winter version. This will give you lots of grip in the corners, and lots of tail happy fun!
How to choose winter bike tyres
There are a few things to look at when buying the right winter bike tyres for your mountain bike.
Tread – It may come as no surprise that the tread on winter bike tyres has to suit the conditions you are riding on. For maximum grip, you will need a tread pattern with bigger knobbly bits that are far apart. This lets the tyre dig in to the surface, while reducing the amount of mud clogging them up.
Compound – This may not be very obvious, but the compound of winter bike tyres is very important. For riding in the winter, you will want tyres with a soft and sticky compound. This will give you grip over technical terrain, rocks and roots. However, it will increase your rolling resistance, making it more effort to pedal, but I will take more grip over rolling resistance every time. Additionally, softer compounds give you more grip in colder weather.
Some manufacturers make duel compound tyres. These tyres have a harder compound in the centre and softer edges. This reduces your rolling resistance, while giving you grip in the corners.
Width – When it comes to choosing the width of your new winter bike tyres, there are two ways to go. Narrow tyres with a larger tread pattern, dig in to the mud and give you lots of grip. This is an advantage if it is particularly muddy, as the reduced clearance around your chainstay and fork, reduces the mud that can clog up your frame. This choice means that your tyres won't grip on to rocks and roots too well. Additionally, narrower tyres are more susceptible to punctures. Therefore, using tubeless tyres is recommended.
The other choice, is to go for a wide tyre that will go over the mud rather than through it. This choice can clog up your frame with mud, due to the reduced clearance.
There will never be the perfect tyre that will cover every type of surface you come accross. But, you can hopefully choose the best compromise for the terrain you normally ride on.
The right type of winter bike tyre for the right terrain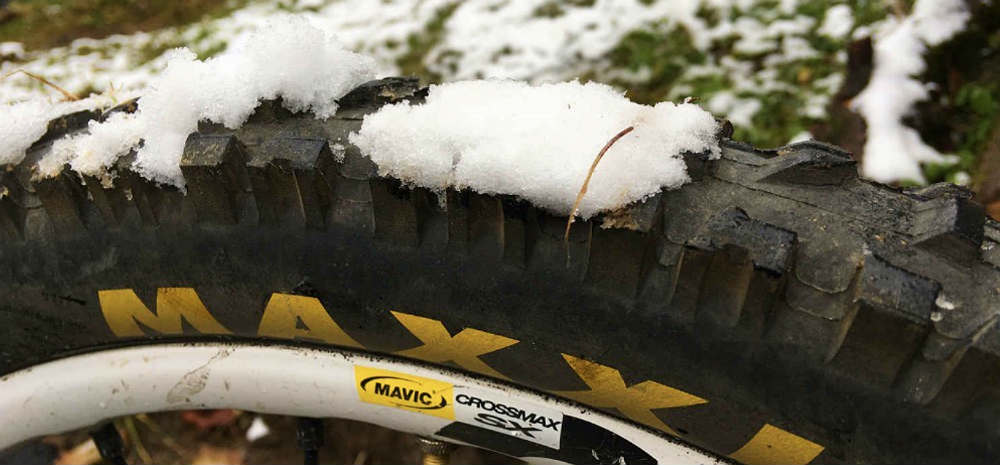 Tread
– Large knobs to dig in, spaced out to allow mud to clear from the tread
Width – Narrow to cut through the mud, especially on the rear
It is good to run a lower tyre pressure to increase the tyre's contact point with the ground. Going for tubeless tyres will prevent punctures while helping with grip.
Tread – Tightly spaced and short knobs.
Width – As wide as possible for maximum grip
Don't go too low with your tyre pressure. A firmer tyre will help prevent snake bite punctures, but don't go silly and pump them up too hard, or you will lose grip and find your tyres washing out (this can hurt a lot).
Tread – Large side knobs for grip in the corners, and smaller ones down the middle for good rolling resistance.
Width – Wider to cope with a multitude of surfaces.
Winter bike tyres from the top brands
High Roller II TR – A superb all mountain downhill tyre. The tread is aggressive allowing it to dig in to the dirt easily and clear mud away. The TR stands for Tubeless Ready, so you don't need to worry about punctures. It has enhanced braking and grip, with a consistent feeling.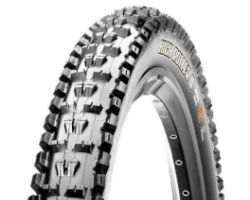 Maxxis Beaver – These are great cross-country tyres and designed for racing in adverse conditions. The tread is ideal for wet and muddy conditions. This is due to their tread pattern and duel compound design. These are ideal for when it is really wet and their low profile reduces the chance of mud clogging your frame.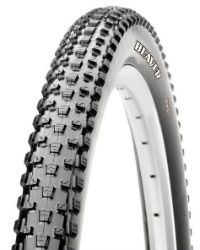 Maxxis Aggressor –  The Maxxis Aggressor is an all round tyre, that can take on cross country pedals and aggressive all mountain riding. The tread pattern gives excellent hold and stability while cornering. This is the closest you can get to a "do everything" tyre.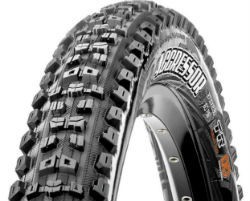 Schwalbe Magic Mary – These are brilliant tyres for pretty much any type of riding. They are used a lot by enduro and downhill riders, due to their durability. The tread is and intermediate one, giving great grip in the corners and while braking in soft mud. The tread is also very open, allowing the mud to clear, giving you grip over rocks and roots.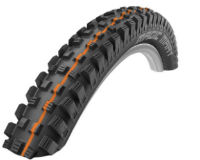 Schwalbe Hans Dampf Snakeskin – The tread pattern on the Hans Dampf gives a very consistant feel, meaning the rider has lots of control. This tyre has very predictable characteristics and is ideal for blasting along single track.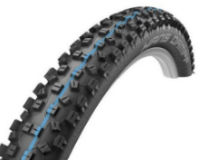 Schwalbe Nobby Nic Snakeskin – The Nobby Nic is a great all round tyre, and designed to take on all terrain in all weather. It is ideal for touring, tough cross country and enduro riding. The tread pattern allows you to have great control when it starts to get technical. If you choose this tyre, I recommend going tubeless, due to the style of riding that you would normally be doing.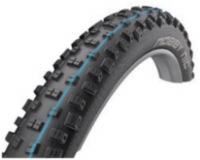 What are you thoughts on Winter Bike Tyres?
Do you change yours? Or do you know of better ones? Let me know in the comments section below. Also, don't forget to sign up for the MTB-Threads newsletter for your FREE E-book guide to winter mountain biking!
Winter Mountain Biking Tips
Mountain biking in the winter is really good fun. Just getting outside in the fresh air and skidding around in the snow and mud is a great way to spend a day. It might not appeal to everyone, but once you get out you will understand. Here are some tips for winter mountain biking.
The hardest part about mountain biking in the winter, is just having the motivation to get out in the cold. But, if you are prepared, it is much easier.
If you are wearing the right clothing, you should be a bit cold to start off with. This means you won't overheat the you start pedalling. As a good rule of thumb, if you are comfortable and cosy when you start and thinking that it is actually nice outside, you are overdressed.
Layers are the key to comfort. You can more or take them off and stash them in your hydration pack or backpack. You need to make sure your layers wick away moisture. This will mean that it dries out quickly and does not make you cold.
3. Begin with a hill if you can
Or at least a pedal. Starting with a bit of effort will get you warmed up and will give you a good indication if you have got your layers right.
4. Get a technical jacket
Technical mountain bike jackets can be quite pricy, but worth it. They have specific features that will make you much more comfortable on your rides.
5. Choose the right gloves
The best winter mountain bike gloves are insulated on the back, but have a thinner material on the palm for feel and control. If you pick gloves that are too padded on the palms, you will get arm pump.
Having something to protect your eyes is essential in the winter. Glasses or goggles will stop mud and grit getting in to your eyes. Goggles are great, but they fog up when you warm up when pedalling. So in the winter, you may want to get some eyewear. You don't need to spend lots of money to get something good.