Your mountain bike derailleur is what makes changing gear possible. It is a pretty clever component when you think about it. This small piece of plastic and metal allows us to ride up hills, while being durable enough to withstand the harsh situations we put them in.
You may want to upgrade your mountain bike derailleur. Doing this will help you climb better, and a higher quality replacement will last longer and be more reliable.
How many gears?
If you are considering changing your mountain bike derailleur, it is probably because your current one is broken or not reliable. Whatever your reason, you need to make sure your new one is compatible with the amount of gears you have on your bike. If the derailleur is all you are changing, you will need to make sure it works with your current gear shifters. Gear shifters are designed to work with a specific size of rear cassette. These are usually 9,10,11 or 12 speed.
However, if you are thinking about changing your shifters too, you will have more options. But, you will probably want to go for am 11 or 12 speed derailleur. This method is pretty common now, and very easy to buy compatible chains, cassettes and cables. If you are changing your cassette, you shouldn't need to worry about compatibility. The majority of wheels are compatible with 11 and 12 speed cassettes.
=>Click here to learn about gear shifters<=
Shifter Compatibility
As with even the simplest of technical things in life, compatibility can limit your choices. Obviously, if your are changing your whole drivetrain, you can have whatever you want, as long as it fits. Therefore, your front derailleur (if appropriate), shifters and cassettes must match. When buying a new mountain bike derailleur, you really need to make sure it is the same brand and preferably, the same product line as your shifter.
Shimano or SRAM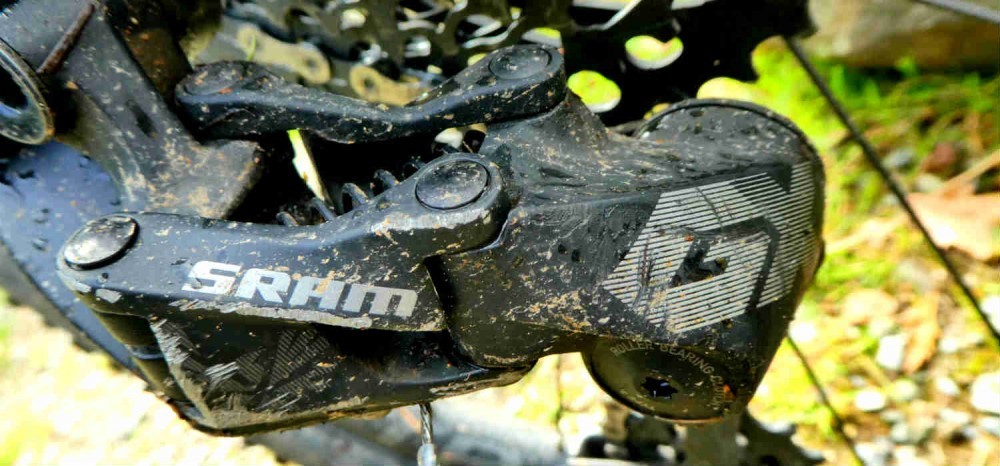 The two main manufacturers of mountain bike drive trains are Shimano and SRAM. This is a matter of personal preference, or what is currently on your bike. As I said before, you need to stick with the same brand for your mountain bike derailleur and shifter, so remember to not mix and match.
All Shimano 11 speed components are compatible. For example, XTR M9000 derailleur can be used with a pair of SLX M7000 shifters.
All Shimano 10 speed components are compatible. Therefore, you can use an old, 10-speed XTR M986 rear derailleur with new, Deore M610 shifters.
7, 8, 9 and 10 speed SRAM components are all interchangeable. This is even between road and mountain bikes.
10 and 11 speed SRAM components are not interchangeable
Cage Length
Generally there are three mountain bike derailleur cage lengths, short, medium, long. This is to accommodate the varying chain tension as you change through the gears. The length is the distance between the upper and lower pulleys of the derailleur. Mountain bikes tend to use medium or long cage derailleurs, as their cassettes have wide ranges.
If t is still not clear what length cage mountain bike derailleur to buy, look at the tooth capacity in the product description. This number should match the size of your drivetrain. A mountain bike derailleur needs enough capacity to accommodate the smallest and largest cassette sprocket and chainring.
Have a look at Wiggle's detailed guide to buying a mountain bike derailleur
Index or Friction Shifting
It doesn't really matter if you have index or friction shifters on your bike. This is because mountain bike derailleurs will work with both. However, it is worth knowing what you have so you can set it up properly.
Weight Considerations
The importance of weight of your mountain bike derailleur all depends on your personal preference and bank balance. Some riders will be happy to pay lots of money to shave a few grams off the weight of any new component. Other riders won't even look at the weight of a new component, as long as it does the job and is durable.
Longevity
More expensive mountain bike derailleurs will use higher quality components. This is apparent with jockey wheels, as less expensive ones will use lower quality bushings that will wear quicker. More expensive ones will use cartridge bearings on ceramic bushings, that will keep them spinning for longer.
Ratios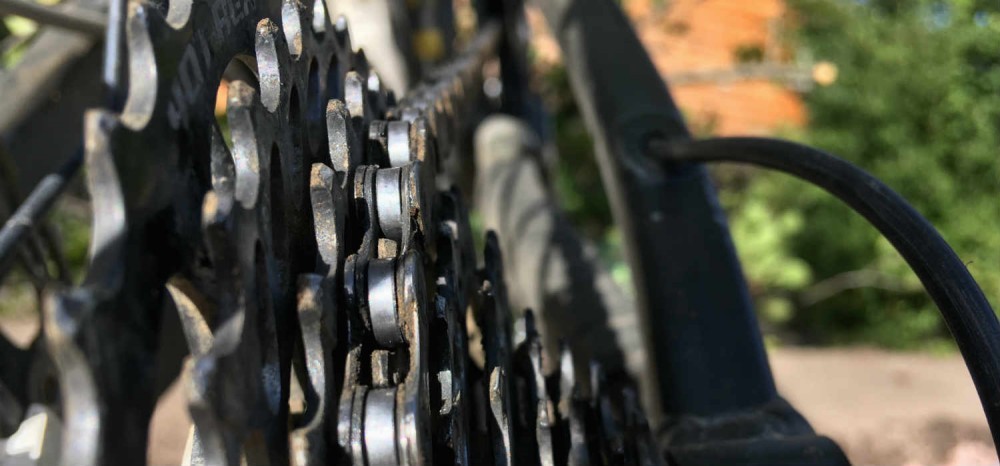 The chances are, if you are buying a new derailleur, it may be time to replace your cassette too. To plan the perfect gear ratio for your mountain bike, have a look at this Bike Gears Calculator. This takes in to account, wheel size, cranks, chainring and rear cassette.
Clutches
The idea of the clutch on your mountain bike derailleur is to keep your chain on your gears when it gets bumpy. Quick changes in your weighting and suspension travel make your chain go slack, meaning you can drop your chain at the worst moment. The clutch keeps necessary tension on the chain, to prevent it coming off.
If you are having problems with dropping your chain, have a look at my post about chain guides.
Electric Mountain Bike Derailleur
It is now possible to buy an electric mountain bike derailleur. These are available from both Shimano and SRAM and require a whole drivetrain upgrade. You will also need new brakes, so this is not a cheap modification. The advantage of an electric mountain bike derailleur, is that you get more precise and faster gear shifting.
Are you going to upgrade your mountain bike derailleur?
As with anything in life, you get what you pay for. A more expensive mountain bike derailleur will last longer and help you climb, where cheaper ones will be less durable. Let me know what your thoughts and questions are in the comments section below. Also, don't forget to sign up for the MTB-Threads newsletter!