Mountain Bike Wheel Sizes
Mountain Bike Wheel Sizes
Recently, I have been seeing people on social media asking about mountain bike wheel sizes. This is understandable, as new mountain bikers will struggle to determine what is best for them and why different sizes exist. Therefore, I thought I would write a post that explains mountain bike wheel sizes to fill in the gaps.
There was a time when all adult mountain bikes came with 26″ wheels. But now you would be hard pushed to find new mountain bikes with 26″ wheels, as manufacturers have opted to produce bikes with larger sized wheels. But what do the different sized wheels offer you as a rider?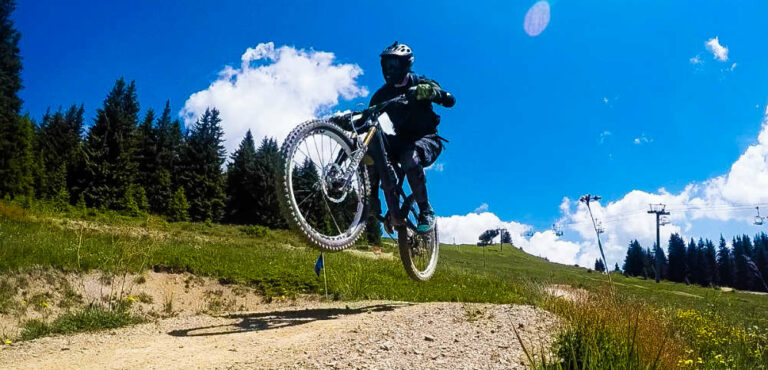 The 26″ wheel originated on beach cruisers. Beach cruisers came before mountain bikes and were adapted to ride rough terrain, which effectively turned them into the first mountain bikes. The 26″ wheel size continued to be the dominant wheel size for mountain bikes for several reasons.

26″ wheels can be lighter as their diameter makes them more responsive than larger sized wheels. 26″ wheels give the bike a nimble feeling and great acceleration on smooth, flat surfaces.

You will tend to find 26″ wheels on slopestyle and dirt jump bikes as it is easier to build them tough to cope with hard landings.

The problem with 26″ wheels these days, is that it is getting difficult to find spare parts and quality tyres for them. It is not impossible to find these items, but this is a consideration if you are looking at buying a second-hand bike with 26″ wheels.

The agility of 26″ wheels is a definite bonus, allowing you to change direction easier than larger wheel sizes. However, the smaller size does have its disadvantages. They drop into holes easier and do not roll over bumps as well as larger wheels. Additionally, they don't provide as much grip or stability as their larger counterparts.
27.5"/650b Mountain Bike Wheels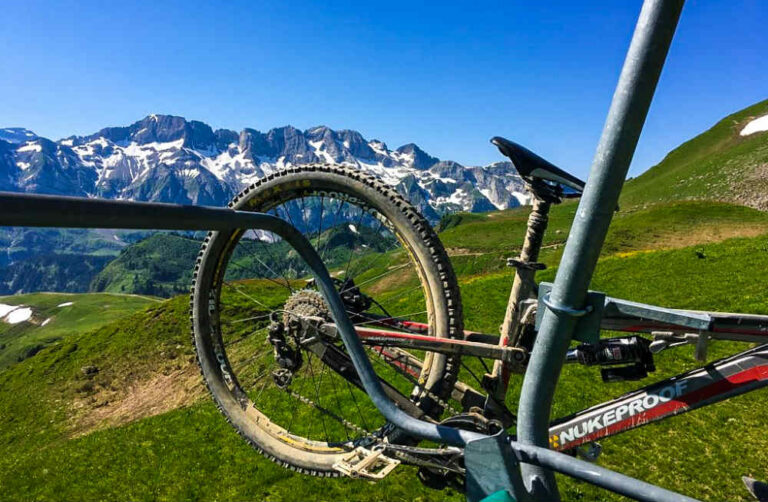 The next size up from 26″ wheels, is 27.5″. These are also known as 650b, and are actually closer to 27″ than 27.5″. But the advantage of 27.5″ wheels over 26ers, is that they roll faster and give you more grip. However, the big debate these days, is choosing between these and 29″ wheels. 27.5″ wheels are easy to corner than the 29er. They are also more responsive and work well with long travel forks. 
The key factors you need to take away from this, is that 27.5″ wheels travel faster than 26″ wheels, but have a more nimble feeling than 29″ wheels.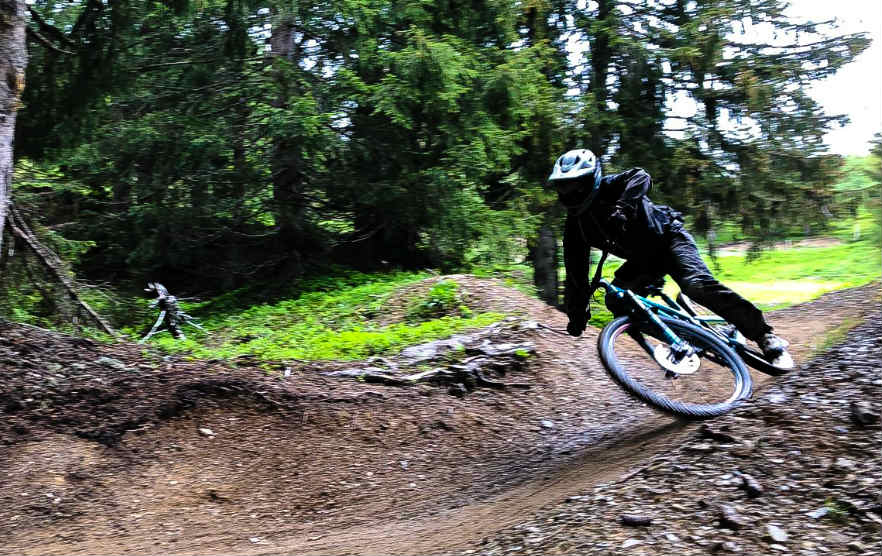 29″ wheels have been much improved over recent years, as they have got lighter and stronger, due to the advancements in wheel technology.

The first advantage of 29″ wheels you will notice, is that they roll much faster over bumpy terrain. This is why you will see them on the majority of World Cup Downhill and Enduro World Series race bikes. However, they are harder to ride on twisty trails than smaller wheels, especially at slow speeds. Also, they are more difficult to get rolling than smaller wheel sizes, and their smoothness does take away some of the sensations of speed.

But, once you get rolling, the shallower angle of the wheel, means that the 29er hits bumps with more momentum, making it easier for them to roll over rocks and roots. The larger contact patch with the ground gives you more grip than a 27.5″ wheel too, allowing you to opt for tyres with less rolling resistance so you can go even faster.
Mullet bikes typically have a 27.5″ wheel on the back and a 29″ wheel on the front.
The idea behind a mullet bike is to make the bike significantly better for downhill riding. The larger front wheel rolls better and gives more stability, while the smaller rear wheel makes it easier to turn and flick the back end around. There are a few riders that believe this combination is hard to beat.
How To Choose Between Mountain Bike Wheel Sizes
With all this said, how do you know which of the mountain bike wheel sizes is best for you?
You may be thinking that a 26″ wheel is a good option, especially if you are a beginner. However, there are not many manufactures that make brand new 26″ wheeled bikes these days. The ones that you will find are usually only suitable for light off-road riding, or slopestyle and dirt jump use.
You will see that there are many second-hand bikes with 26in wheels. You will be able to find parts for them on eBay. So if your budget will only allow you to go for a bike with 26in wheels, it is not the end of the world.
Larger wheels give you lots of advantages, but that does not mean smaller-wheeled bikes are no good. You will still be able to find a well-specced 26″ wheeled mountain bike for not much money online, that you will be able to have a serious amount of fun on. Check out my guide to buying used bikes online to make sure you don't fall into any traps.
You will notice that 27.5in and 29in wheels dominate the market. You will be able to find a bike within your budget with either wheel size. I recommend that you check out Vitus mountain bikes, for very capable bikes that are fantastic value for money.
When I was choosing between wheel sizes for my Nukeproof Mega, I rode both 27.5″ and 29″ versions. The 29er was fantastic, and I loved how easy it rolled over rocks and roots, and how smooth it was with a "grown-up" feeling. However, I am not the tallest of people, so it took a bit of getting used to, especially as I was coming from a 26er. When doing drops or jumps, I found that I buzzed my bum on the back tyre a lot, which as unnerving (and painful) for me. I'm sure that this is more down to adjusting my technique though.
The 27.5″ Nukeproof Mega felt perfect for me though. I preferred the nimble and playful feeling (less grown-up for me). I found it much easier to rail berms and negotiate tight corners. Therefore, I decided that the 27.5″ wheels suited my personal preference more.
However, 29in wheels offer many advantages for many riders. As they are ideal for high-speed XC and downhill bikes. But their improved roll-over and increased traction benefit riders in all disciplines.