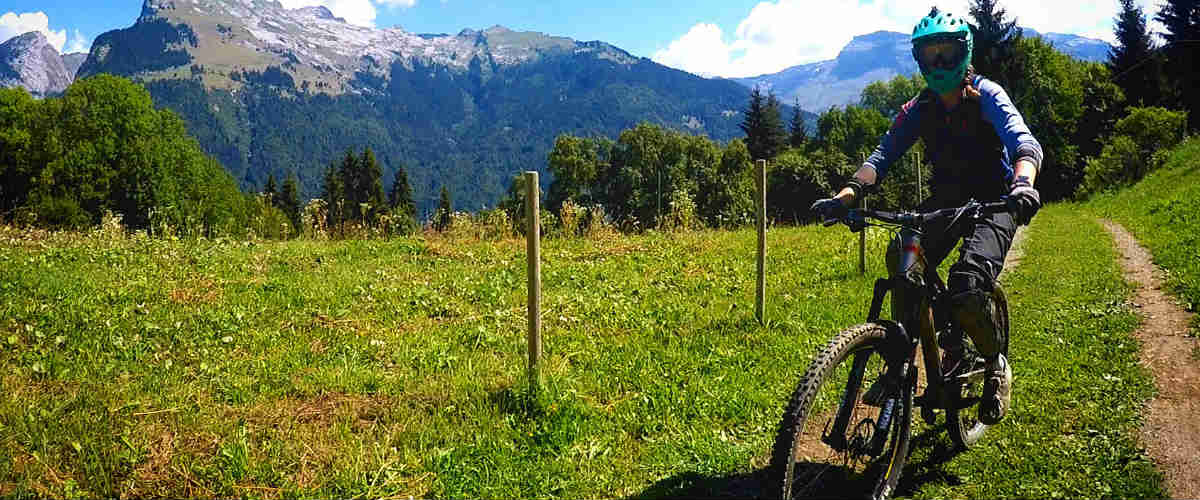 Mountain biking are expensive, but it becomes more affordable if you are realistic about what type of bike you need. A beginner, won't need anything too fancy and expensive. This is also the case, if the terrain you are riding isn't too technical. Therefore, selecting the best most affordable mountain bike for you is essential. Here are some examples of affordable mountain bikes under £1000. You won't find any full suspension mountain bikes in this list. This is because I believe that you will get a much better bike for the money if you stick with a hardtail in this price bracket. You can buy a new full suspension bike for around £1000, but I will not recommend any of them.
=> Click here to learn some top tips about buying used mountain bikes online<=
When looking for the best most affordable mountain bikes under £1000, you notice that you find certain common characteristics in most of them. For example, the frames are all aluminium or steel and mainly have cross-country geometry. Their components are the manufacturers own brand and have 1×10 drivetrains. Additionally, you will notice that they don't have dropper seatposts, but they do have hydraulic disc brakes.
The bikes in this list are easily upgraded, therefore you can start modifying them straight away or as your riding progresses.
Cannondale Trail 5
From £499 (women's)
Cross Country
27.5″ on small and medium bikes. 29″ wheels on medium to extra large bikes
=>Click here to buy your Cannondale Trail 5 from Tredz<=
The Cannondale Trail 5 is one of my top affordable mountain bikes. It has a Shimano/Sunrace drivetrain, which is a very good piece of kit to have on a bike this cheap. The front fork is a RockShox XC30 TK and it uses shimano MT200 hydraulic brakes. This bike comes with nice wide 780mm riser handlebars to give you good control. The stem, is medium length to suit its reach measurement.
The Trail 5 is suitable for aggressive cross-country thanks to its geometry. It comes with either 27.5″ or 29″ wheels. The reach and chainstay measurements are a quite long for a cross-country bike, but this will help you feel stable on descents.
Specialized Rockhopper
Price range from £525 to £1050
Cross country race
29″ wheels
=>Click here to buy your Specialized Rockhopper from Evans Cycles<=
The Specialized Rockhopper is one of the best affordable mountain bikes you can buy. It is quite a classic option for a great hardtail mountain bike too. The drivetrain has MIcroshift, Shimano, KMC and Sunrace components to keep you moving forwards. The fork is a Suntour XCM 29 with a coil spring, while pretty much everything else is made in house by specialized.
The 2019 version of the Rockhopper has a more cross-country oriented geometry. The travel you get from the fork depends on the size of the bike. The extra small has 80mm of travel, the small has 90mm and the other sizes have 100mm.
This bike is a great starter bike and the Comp version would be a good first cross-country racer. One of the great things about the Rockhopper, is that the seatpost measures in at 30.9mm. This means you could easily upgrade to a dropper seatpost to make lifer easier.
GT Avalanche Expert
£900
Cross Country Race
29″ Wheels
=>Click here to buy your GT Avalanche Expert<=
Of all the affordable mountain bikes on this list, the GT Avalanche Expert probably has the best specification. It has the Shimano 1×11 SLX derailleur and shifter, Shimano hydraulic brakes, Sunrace cassette and a Rockshox Recon RL 100mm boot fork. This bike will be fantastic during a cross-country race or just shredding the bike park with your mates. The geometry makes it a full cross-country bike, even though it has a slacker head angle. This will give you more control on the descents. Despite its great specification, there is room for customisation, such as a dropper seatpost. Remember it is fun to customise.
There are cheaper lower spec versions of the Avalanche, that you may want to check out too.
Vitus Nucleus 275 VR
£499.99
Trail oriented
27.5″ or 29″ wheel options
=>Click here to buy your Vitus Nucleus from Chainreaction<=
For a bike that is a bit more trail oriented than the other bike on this list, the Vitus Nucleus is a good affordable mountain bike. It has 29mm wide wheels shod with WTB Trailboss and Vigilante tyres, a Shimano Altus drivetrain, a Suntor SF14 XCR32 air fork. The fork on the 27.5″ wheeled version has 120mm of travel, while the 29er has 100mm. The brakes are Tekro HD-M290 which are great for trail riding. The geometry of the Nucleus, is similar to all mountain bikes, which means this bike will be very capable and fun. For the price, this is an extremely well specced bike. The frame is even pre-drilled, to make it easier to install a dropper seatpost.
Trek Roscoe 6
=>Click here to buy your Trek Roscoe 6 from Evans<=
The Trek Roscoe is a good affordable mountain bike that is ideal as a first bike. It is a good all-rounder and is suitable to trail riding and covering long cross-country distances. The SR Suntour XCM fork has 120mm of travel and the Shimano Deore M6000 drivetrain has 10 speeds. Its hydraulic Tekro HD-M275 brakes will help keep you in control on the trails. This is the type of bike that will look after you while you build your riding skills. This is partly down to the 27.5″+ tyres, which provide extra grip and instilling confidence. It is also brilliant fun, which is what mountain biking is all about.
Which of these affordable mountain bikes would you buy?
These are examples of the best affordable mountain bikes available right now. This list has been compiled to take out the guess work for mountain bikers on a budget or for those just starting out. These affordable mountain bikes are very capable and will provide immense amounts of fun on the trails.