Best Mountain Bike Handlebar Grips: What to look for
Your grips are more important than most people think. Along with your pedals and and saddle, they are what connects you to the bike. Mountain bike handlebar grips make a huge difference to your comfort, endurance and the amount of control you have over your bike. In this post, I am going to tell about all the things you should be looking in for when buying mountain bike handlebar grips and give you some great options.
Grips are one of the most affordable ways you can upgrade your mountain bike. By trying out a few types of mountain bike handlebar grips, you will eventually find what is best for hand shape, riding style and the conditions you usually ride in.
Lock-on grips have a rubber grip that is moulded around a hard plastic core. These slide easily on to your handlebars, and are clamped with locking rings at both ends or just at the inside. Lock-on grips secure firmly to the handlebars and rarely slip. It may come as no surprise, but the ones with locking rings at both ends of the grips are the most secure.
The main advantages of lock-on grips are their ease of installation and their non-slip performance. However, they are not as forgiving as push-on grips.
Push-on grips are made totally out of rubber and require adhesive or compressed air to fit them to your bars. You can use cable ties or wire to fit them too. The main advantage of push-on grips, is their excellent vibration damping properties and cushioning. This is because the rubber is in direct contact with the bars.
The easiest way to fit push-on grips, is to spray hairspray in to the inside of the grip and slid it on. You can find some push on grips with grooves for cable ties to give you extra security.
When it comes to the shape of mountain bike handlebar grips, there are a lot of variables. You will find ones that give you loads of support with ergonomic bumps and wings. You will also fond ones that have a more traditional cylindrical shape for high performance.
Some grips are wider than others. These are designed to spread the pressure you exert on them for improved comfort. Grips with a rounder profile give you more response.
The tread pattern on different grips isn't there to look good, it serves a purpose. More pronounced red patterns and deep grooves are best for clearing mud and moisture. They are also the best choice for those that like to ride without gloves. If you like to ride with gloves you may want to choose grips with a lower profile and thinner tread pattern.
The compound makes a difference to how much grip you have on the handlebars too. You will see that manufacturers will sell super tacky grips. These are great for extra grip, but they don't last very long, as they re so soft. You will find grips made from silicon foam too. These are great for damping the vibrations through the bars, they also conform to your hands slightly.
Best Mountain Bike Handlebar Grips
Nukeproof Sam Hill Enduro Race Grip Super Soft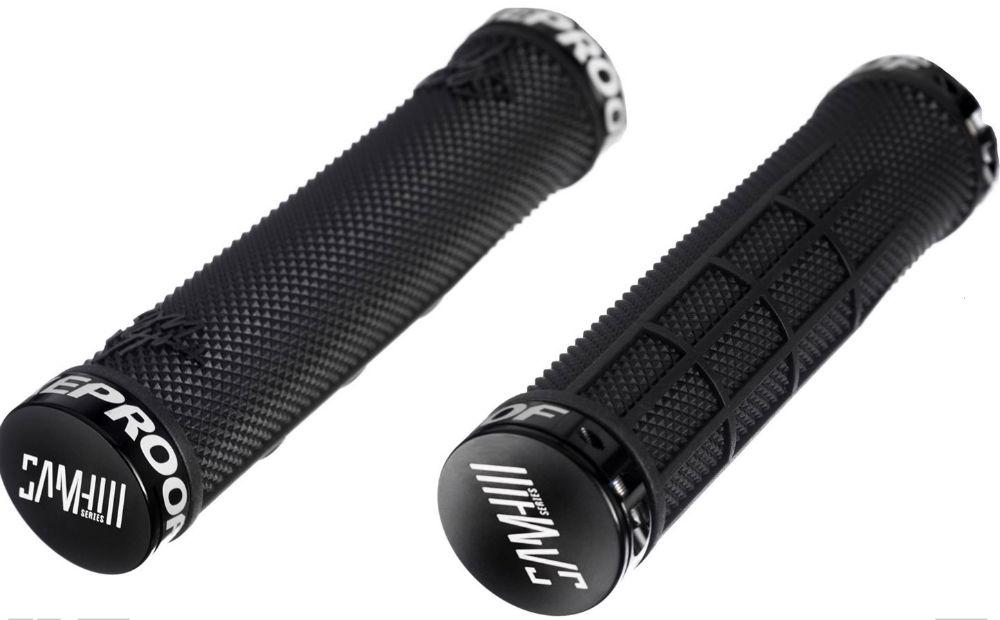 These are the softest version of the Sam Hill developed grips. He has worked hard to create the perfect mountain bike handlebar grips for long days on the bike. These are ones he uses when competing (and winning) in the Enduro World Series.
They are designed for riders that prefer to not wear gloves when riding. They are super comfortable and provide lots of grip. However, they do wear out quickly due to their softness. But, they are also well priced, therefore you may want to order a spare pair if you like them.

For a tacky, but more durable set of mountain bike grips, you may want to check out the Chromag Basis grips. These have a special compound that makes them last, but still has a tacky feel to them. 
The Chromag basis has a very slim profile with a slightly dimpled tread pattern. This makes them good for glove wearers. They have a habit of soaking up sweat, so they are not ideal for those that don't like to wear gloves.
The teardrop shape on the collars make fitting them very easy while ensuring good security.
These Chromag Basis mountain bike handlebar grips are lightweight, secure and very durable. You will not be disappointed in them. Additionally, they come in a choice of five colours, to get the best match for your bike.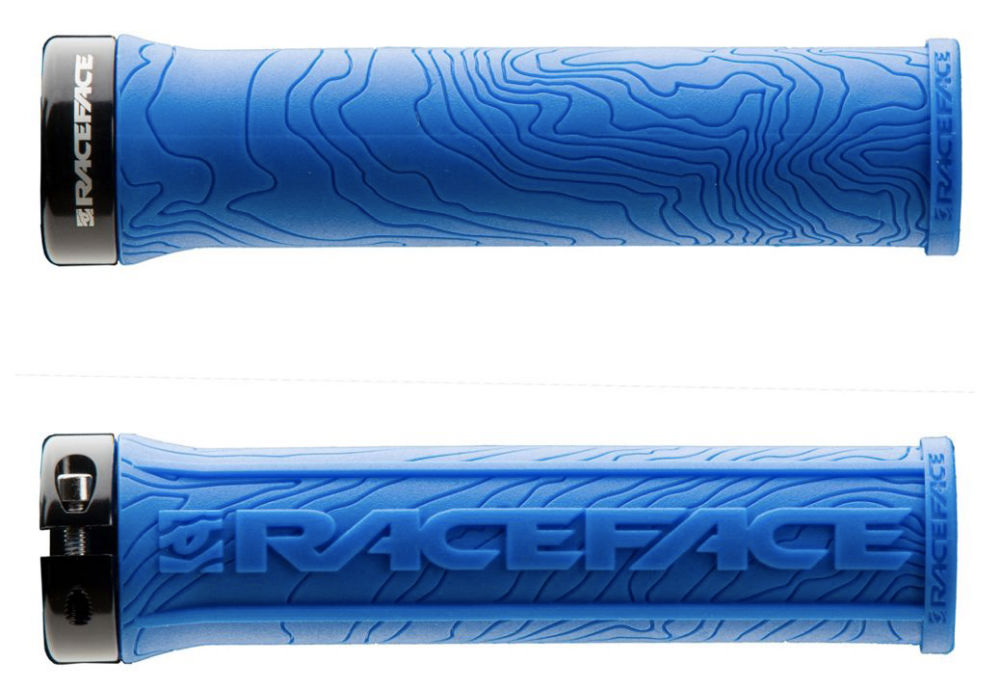 The Race Face Half Nelson is an award winning mountain bike grip. It is well padded, with a great amount of feel. This has a very thin profile, at only 28mm and works well with to without gloves.
This is a fantastic grip, however make sure you fit it properly. It has a tendency to slip under heavy loads, especially on carbon bars.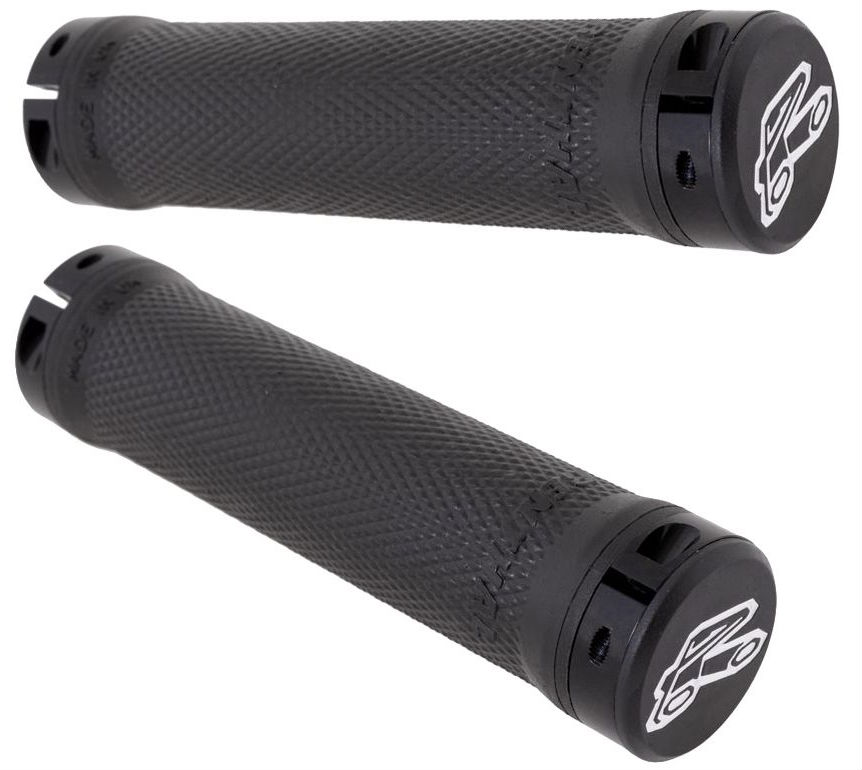 The ultra tacky mountain bike grips are the softest and grippiest Renthal make. They have a uniform pattern with a slightly raised flange at either end. One of the great things about the Ultra Tacky, is that they have removable collars making it cheaper to buy replacement parts when they wear out.
The extremely soft compound gives you excellent grip, which reduces fatigue I your hands, as you don't have to use a vice like white knuckle grip. They are good for both gloved and gloveless riders. However, with the extra grip your hands are likely to move around inside your gloves if they don't fit properly.