Best Mountain Bike For Kids
With the huge increase in screen time, it is really important to get kids out in the open air. They need to exercise more than their thumbs playing computer games too. Mountain biking is an excellent way of spending time with your little ones, giving them some exercise and giving them a chance to find a passion early in life. In this post I am going to tell you how to choose the best mountain bike for kids and Gove you some top tips for getting them out on the trails.
As with any beginner, don't take them down a black trail on their first day. Make sure that they are comfortable riding on flat surfaces before slowly working them up to off-road, then to easy trails, then on to more varied trails. They need to be riding a bike that is suitable for the terrain they are riding and the most important thing is, that it needs to fit them properly. If they don't fit their bike, they will not enjoy it. This means they are unlikely to take mountain biking up as a sport. It will also be a waste of money if their bike just gathers dust in the garage.
When you take them out on their first few rides, it is a good idea to do the following:
Plan a root that isn't top long. But it has to be fun and ideally familiar. This could be somewhere that you have walked together previously.
Keep an eye on the time and distance of the ride. Sometimes shorter is better, as your child may respond better to a slow introduction to mountain biking.
Make sure the route isn't too technical. If they can't bomb around or get a flow, they won't enjoy themselves.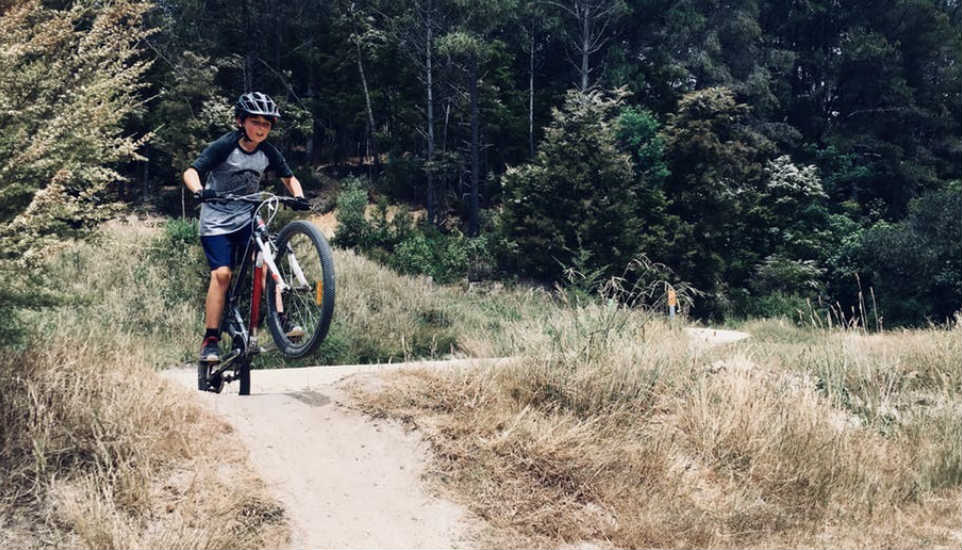 By knowing what to look for in a bike, what you should have and what you shouldn't have, you can make an informed decision when buying. 
The Right Bike For The Right Age
2 – 3 yrs old = 12″ wheel balance bike
3 – 4 yrs old = 14″ wheel (pedal bike or balance bike if need be still)
4 – 5 yrs old = 16″ wheel
5 – 7 yrs old = 20″ wheel
8 – 10 yrs old = 24″ wheel
12+ yrs old = Adult bike
You Don't Need All The Features Available
By employing the thought that less is more when it comes to mountain bikes for kids, your child will have a better experience.
Bikes with loads of features and functions are much heavier than ones without them. Weight is really important for kids, as they find it difficult to lug heavy bikes around. This means that they won't enjoy riding them and put them off for life.
Having extra features means there is more to go wrong, especially when they end up leaving their bikes out in the rain all night. Avoid bikes with gears until they are on 20″ wheeled bikes.
You should always avoid adding stabilisers to your kid's mountain bike. These prevent them from learning how to balance. By starting them off on a balance bike, they will learn how to stay upright and won't need them when they graduate to a proper bike.
It is tempting to buy a bike that is too bike, so they can grow in to it. This doesn't work, as they are too scared to ride the bike and be intimidated by it. The best thing to do, is buy the right sized bike and sell it when your child gets too big for it.
The size of your kid's bike is the most important thing to concentrate on. A proper fitting bike gives ease of use and is much safer. Things to consider when it comes to fit are:
Stand over height – The correct stand over height  allows you to put your feet on the ground when your legs are either side of the cross bar.
Wheel size – Larger wheels roll over bumps easier than smaller ones. However, not all 20″ wheeled bikes are the same, due to their geometry. Choose a bike  with the largest wheels for your child's stand over height. These larger wheels will make the bike more stable and more efficient for pedalling.
Seat height – While seated, your child needs to be able fo put the balls of their feet on the ground.
Reach – Your child should be able to comfortably reach the handlebars with slightly bent elbows while seated. They should also be able to operate the brake levers while seated.
Proper mountain bikes for kids can be really expensive. This can be hard to justify for a kid's bike, when you can get a really cheap one from a toy shop. But a mountain bike promotes fitness, a love for the outdoors and a possible lifelong passion.
When you compare the price of a games console, all the extra games and accessories, it doesn't seem so bad. Also, if you add up the cost of joining sports teams or after school clubs over a year, a decent mountain bike is a good buy.
By buying a quality mountain bike for your child, they will enjoy a couple of years out of it before you need to sell  it in order to buy a larger one. The price of a quality mountain bike may still make your eyes water, but it will enhance your child's enjoyment and skills over time.
Pay Attention To Their Ability
Mountain bikes for kids are marketed to certain age groups, but this is just a rule of thumb. Kids develop at different rates to each other. Some learn how to balance, steer and pedal quicker than others, so they may need to graduate to a more advanced bike as long as it fits them. Understanding your child's ability will make a difference to the bike you choose for them.
Pay Attention To The Bike's Weight
I mentioned earlier about the amount of features having an impact on a bike's weight. Kids are obviously not as strong as adults, so try to buy a bike that isn't too heavy for them. Some 20″ wheeled bikes weigh as much as an adult bike!
There are a few options for brakes on kid's bikes. Some bikes have coaster brakes, these make it super easy to slow down and stop by pedalling backwards. The disadvantage of these, is the they make the bike quite heavy. Also, they will need to learn how to operate normal brake levers when the move up to the next bike. It is possible to find bikes with both brake levers and coaster brakes. This makes it even easier to stop and they can learn how brake levers work early on.
When your child progresses on to actual mountain bike trails, I recommend buying a bike with brake discs. This is because they stop faster and if you can go for hydraulic brakes, they will get more control. Additionally, hydraulic disc brakes require less maintenance.
It may be tempting to go for a bike with suspension straight away, but a rigid bike would be a better option for a first bike. This is because kids will learn the fundamentals of riding a bike more. They are cheaper, lighter and don't need as much maintenance.
Kids bikes with front suspension generally have really poor quality forks. Unless you are going to spend more money on a proper mountain bike, I would avoid a bike with front suspension. This is because they are not that effective and add a a lot of weight to the bike. But a bike with a good fork, will soak up the bumps, add traction, improve control and stability. These higher end forks can be adjusted to suit the rider's weight and personal preferences.
Full suspension kids mountain bikes are only really with having if your child is riding more advanced terrain and technical trails. If they mainly ride cross country trails, a full suspension bike may not be the right choice. This is because they are heavier and less efficient to pedal.
For kids that are just staring out, a single speed bike is great. This is because they are simple to use, have less things to go wrong with them and are lighter. But, once you take your kids on to trails with climbs and descents, they will benefit from having a bike with gears. 
Some kids bikes have as much as 27 gears, but these can be confusing. A 1x with 7 to 9 gears is enough for your kid to get to the top of most trails and there is only one gear shifter and derailleur to worry about. 
When your child is riding a bike with gears, you need to consider the gear shifters. There are a couple of options to choose from. Shifters on kids mountain bikes need to be easy to operate with small hands. You have the choice of traditional shifters that you find on adult bikes, but designed to be operated much more easily. There is also the grip shift option. These are operated by twisting a section of the handlebar grip. These are really easy to use, but are not to everyone's taste, especially when the terrain gets more technical.
If you have access to a skate park or somewhere with consistent features, your child's skills will improve quickly. By being able to practice certain features over and over again, they will learn bike control and essential skills. If you don't have access to a bike park, set up a slalom course, planks of wood to ride over or anything that will add an element of difficulty to a practice session.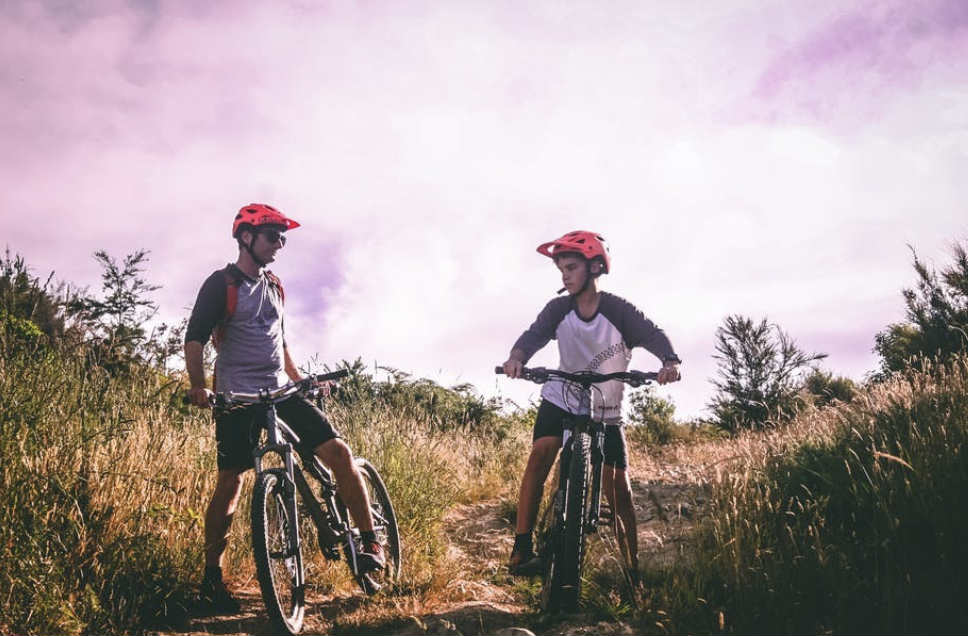 Kids have no fear and you will be surprised at what they manage to do on a bike. You need to slowly build up the level of difficulty to build up their confidence. Put them just outside their comfort zone, but make sure you talk them through what they need to do, show them how to do it and give them loads of encouragement and praise when they have done something new.
Don't force them to do something they are not comfortable with. Break down obstacles they struggle with in to sections and coach them through it. Doing all this is all very well, but if you don't make it fun, your kids won't want to ride, especially if you end up screaming at them like a drill sargent.
5. There Will Be Accidents
As I'm sure you know, falling off your bike hurts and it is inevitably going to happen from time to time. This is part of the learning process, no matter how old or experienced you are. Be prepared with a first aid kit, but make sure that they have the proper safety kit on. A helmet is a minimum requirement and so is a good attitude to encourage them to get back on their bike and try again.
Best Mountain Bikes For Kids
Here are some of the best mountain bikes for kids you can buy online.
Best 12" Wheeled Balance Bike
Vitus Nippy Superlight Balance Biker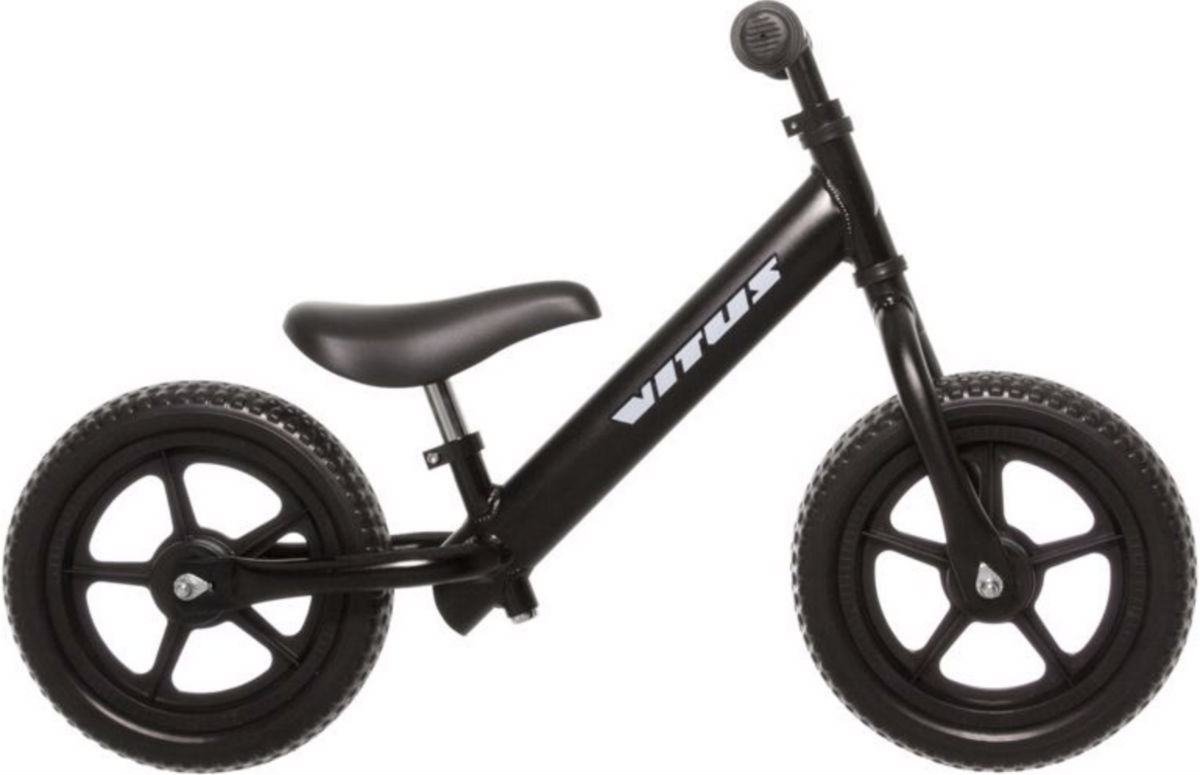 Lightest balance bike available
Easy to assemble
Easy to ride
Looks great
Adjustable seat and handlebars
Great value for money
The Vitus Nippy Superlight is billed at the lightest balance bike on the market. This is one of the most popular balance bikes for for good reason. It is super cheap, but it is very well made and easy to put together once you get it out of the box. The solid plastic tyres mean that it is easy to push along, making riding it very easy. 
The handlebars and seat are adjustable which means that you will get lots of use out of it before needing to move on to a large bike.
This balance bike is idea for building confidence and for learning the fundamental skills needed for riding a bike.
Material: Aluminium (Frame and Fork)
Lightest balance bike on the market
Unisex colourway
12″ mag wheels with durable scuff resistant tyres
Grips with plastic end protection caps
Adjustable handlebar and seatpost
EN 71 approved
Minimum Saddle Height: 31cm
Maximum Saddle Height: 38cm
Weight: 1.9kg
Colour: Deep Pink, Silver, Black, Deep Blue, Dark Red, Pink, Purple, Green, Gold
Wheel Size: 12″
Gender: Unisex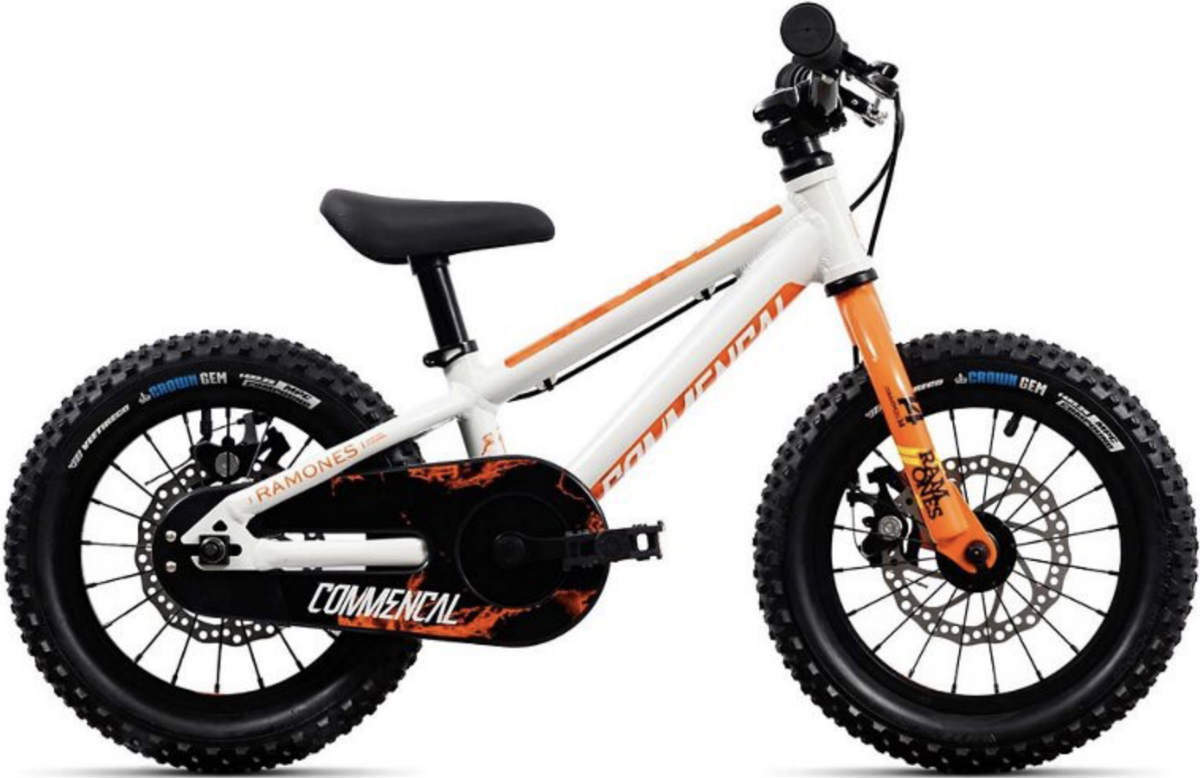 Disc brakes
Good value
Comfortable seat
Great tyres
Looks like a proper bike
There are lighter 14″ wheeled bikes 
The Commencal Ramones 14 is the kind of bike that keeps kids interested in riding. This is partly down to how it rides, but also how it looks. Kids will associate it with the bikes their parents ride. Additionally, it comes with a bell and a light. This may not seem that interesting to you, but kids love these kinds of accessories and anything that will keep them interested in going out on their bike is a good thing.
Once they are riding the bike they will have the luxury of mechanical disc brakes for good stopping power. These are V brakes and are easy to use and easy to maintain. The saddle The Ramones 14 comes with is super comfortable, but it is also very practical too, as it has an inbuilt handle so you can help out when they are putting in those first few pedal strokes. The comfort this saddle gives will keep your child coming back to the bike. Bikes with poor saddles won't have this effect.
This bike has a single speed 28 tooth chainring up front and an 18 tooth gear at the back. This is covered up to with a plastic guard to protect it and to stop trouser legs getting oily. This can be easily removed with a coupe of screws. The gearing is pretty good for off-road riding, but particularly fit kids will find that they will run out of pedalling power when they are going fast on tarmac. However, this bike will be fine on single track and semi rough terrain.
Stabilisers come as an extra with the Commencal Ramones 14, but try to avoid using them if you can as it starts bad habits.
The tyres have quite an aggressive tread pattern, but they have a low rolling resistance. They are also wide and add comfort and stability to the bike.
Frame: Alloy 6061, disc brake ready
Fork: CrMo straight rigid
Headset: 1 1/8″ loose ball
Stem: Commencal Alloy 0°, 30mm length, 25.4mm diameter
Handlebars: Ride Alpha, 480mm wide, 1″ rise, 19mm diameter on the grip area (kids hand specific)
Grips: Commencal Kids, BMX flange, 19mm internal diameter (kids hand specific)
Brakes: Mechanical disc brakes with kids specific Tektro levers and Jagwire cables
Shifters: n/a
Rear Derailleur: n/a
Chainset: Kids 89mm Steel, 28T chainring with cover
Bottom Bracket: BSA 68mm ball retainer
Cassette: 18T freewheel
Chain: C-410 singlespeed
Hubs: 20H, rear hub disc ready
Rims: Commencal 14″ Alloy 6063
Spokes: 2mm Steel
Tyres: Vee Tire Co. Crown Gem 14×2.25″
Seatpost: Commencal Alloy, 27.2mm, integrated with saddle
Saddle: Kids with handle
Accessories: Bell, lights
Pedals: Included
Colour: White – Red, White – Orange
Wheel Size: 14″
Gender: Unisex
Age Group: Kids
Speed: Single Speed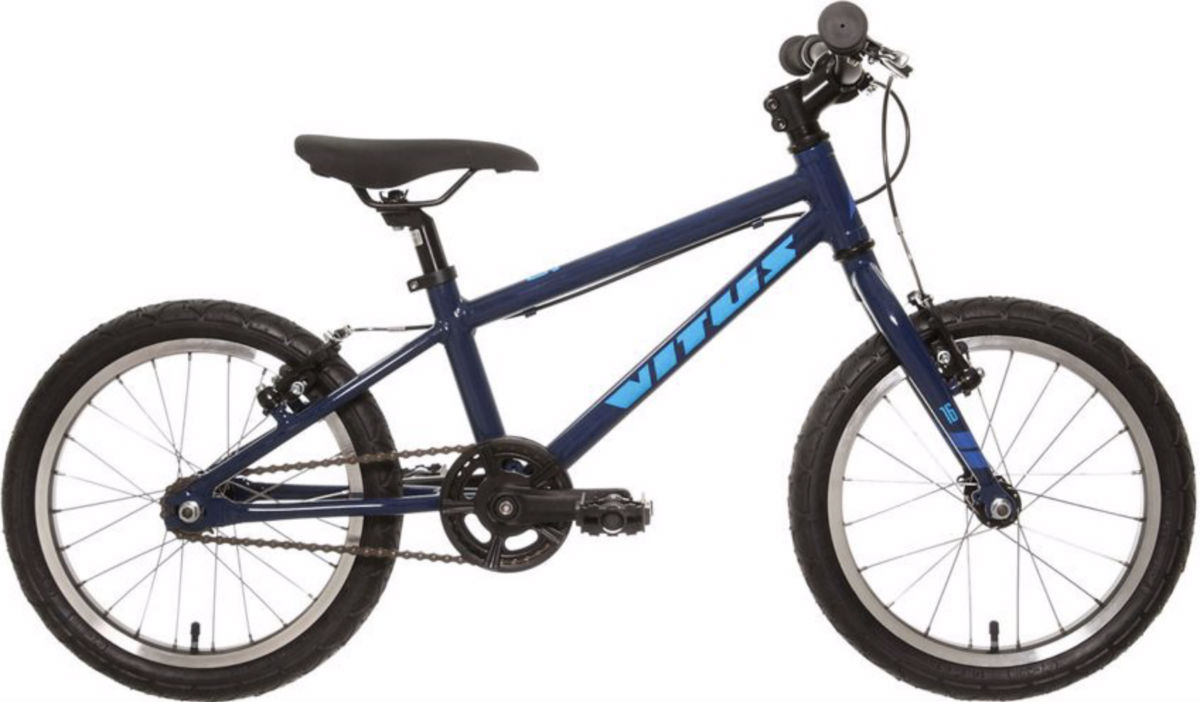 Lightweight
Stable
Easy to assemble
Brakes are easy to operate
Fantastic value for money
Great geometry to instil confidence
As with their adult bikes, Vitus offer great quality bikes with components you would find on more expensive bikes. They are great value for money and their adult bikes are multiple award winners.
The 16 is an ideal starter bike, as it is very lightweight, but sturdy. These bikes come with a 2 year warranty on the frame and 12 months on the components.
This bike doesn't come with disc brakes, but the Tektro V brakes have levers designed to be operated with small hands with a short reach. They may not be as powerful as disc brakes, but they still provide a good level of control.
The geometry of the Vitus 16 kids bike is the main feature here. It is quite aggressive, with a good standover height and slack head angle. The slack head angle gives the bike great stability when riding down hill. It is perfectly proportioned for the smaller rider making their first moves in to proper mountain biking.
Material: Lightweight 6061-alloy frame
Brakes: Tektro V brakes with adjustable brake levers for small hands
Wheel Size: 16″ wheels
Tyres: Kenda
Gears: 1-Speed with thumb shift gearing
Chainguard: Included
Weight: 7.2kg/15.9lbs
Colour: Silver, Dark Blue
Wheel Size: 16″
Gender: Unisex
Age Group: Kids
Speed: Single Speed
Material: Alloy
Fork Travel: Rigid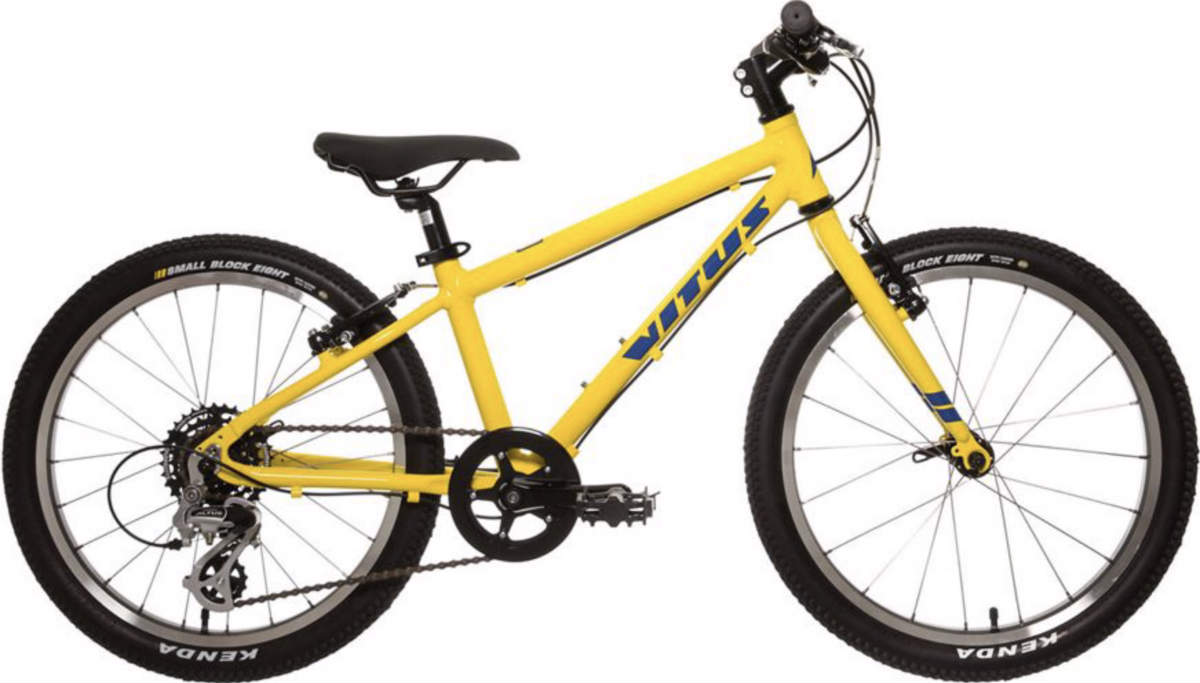 Lightweight
Great geometry to instil confidence
Great value for money
Good intro to bikes with gears
The Vitus 20 is a great bike to progress up to from a 16er. In true Vitus style, the 20 gives you great geometry and quality components for a fraction of the cost of other bikes. This bike is designed for fun and to build up kid's skills and confidence.
It comes with a lightweight frame and a rigid for, but it also has a 7 speed drivetrain. This is simple to use and is a great introduction to bikes with gears. The gears will allow your child to ride for longer and give them access to more tech ical terrain, as they will be able to get up those hills easier. This is a 1x system with a 32 tooth chainring at the front. Gear changes are done with the right thumb on an easy to operate shifter.
The wide Kenda tyres have a large contact patch to give great grips and confident handling, while providing a more comfortable ride.
The geometry of the 20 has been well thought out. It makes the bike very stable and less twitchy on both climbs and descents.
The Tektro V brakes are cable activated and they have adjustable brake levers to ensure that they are in the perfect position for small hands.
The weight of the Vitus 20 is significantly lower than other 20″ wheeled bikes. This is thanks to its aluminium frame and its lack of suspension. But, as I said earlier a bike with suspension for kids isn't necessary until they are riding really technical terrain. It is a no nonsense bike, void of gimmicks. Which means that all the effort has been put in to creating a proper bike that will be easy and fun to ride.
Material: Lightweight 6061-alloy frame
Brakes: Tektro V brakes with adjustable brake levers for small hands
Wheel Size: 20″ wheels
Tyres: Kenda
Drivetrain: 7-Speed Drivetrain
Cassette Ratio: 12-32t Cassette Ratio
Chainring Teeth Count: 32t
Weight: 9.4kg / 20.9lbs
Colour: Yellow, Red
Wheel Size: 20″
Gender: Unisex
Age Group: Kids
Speed: 7 Speed
Material: Alloy
Fork Travel: Rigid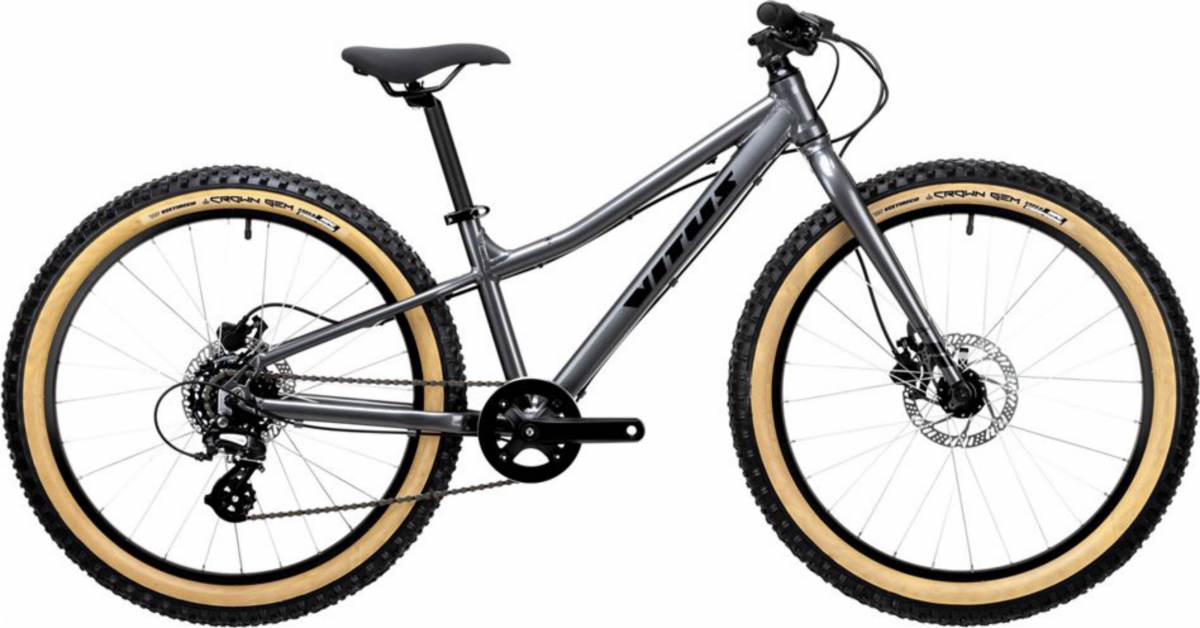 Lightweight
Stable
Good grip
Looks fantastic
OK, I'm sorry that this is the third Vitus bike in a row, but you can't deny that they are great value for money for what you get.
The frame is made from the same 6061-T6 aluminium as you get on the Vitus adult bikes. This makes it very stiff and responsive and tough. It also comes with the same quality components as you would find on the adult bikes. This means that the 24 plus is perfect preparation for when your kid graduates to an adult bike.
The 7 speed drivetrain is quipped with an Shimano Altus derailleur. This is a reliable and smooth shifting component operated via an easy to use thumb shifter.
When it comes to stopping, the Tektra hydraulic disc brakes are nice and powerful. The levers are designed to be easy to modulate for small hands in order to increase control on descents. For me this is one of the biggest selling points of the Vitus 24 plus kids bike.
You will notice that the distinctive skin wall tyres. These look really cool, but they are also 2.6″ wide. This extra width increases the contact patch with the ground and helps soak up the bumps with increased volume.
Frame: 6061-T6 Aluminium , IS disc mount, external cable routing – full outer, QR
Fork: 6061-T6 Aluminium , QR, IS disc mount
Stem: 6061 Aluminium, 3D forged, 31.8mm clamp diameter, 50mm Extension
Handlebar: 6061 Aluminium, 31.8mm diameter, 9° backsweep, 15mm rise, 560mm width
Crankset: Vitus 32T, double chainguard, 140mm crank length
Shifters: Shimano SL-M310 with optical gear display
Chain: KMC Z7, 1/8×3/32″, 110 links
Cassette: Shimano 12-32T, CS-HG200 7 Speed
Front Derailleur: N/A
Rear Derailleur: Shimano Altus, RD-M310
Brakes: Tektro hydraulic disc, HD-M282, 160mm rotor, IS mount
Seatpost: Vitus 6061 Aluminium, 27.2x250mm
Saddle: Vitus Junior
Wheels: Vitus 28 hole, double wall
Hubs: Front: Joytech D341DSE, 6-bolt, 100mm QR; Rear: Joytech D341DSE, 6-bolt, 135mm QR
Tyres: Vee Crown Gem, 24×2.6″, skinwall
Weight: 10.5kg
Colour: Brushed Alloy
Wheel Size: 24″
Gender: Unisex
Age Group: Youth
Speed: 7 Speed
Material: Alloy
Fork Travel: Rigid
Best Mountain Bike For Kids - Which one will you buy?
Are you thinking about buying one of these for your nipper? Do you have experience with any of them? Please let me know in the comments section below.