Bell Super DH MIPS Adult MTB Bike Helmet
Bell Super DH MIPS Adult MTB Bike Helmet
The Bell Super DH MIPS adult MTB bike helmet is a more hardcore version of the Bell 3R. It looks more like a motocross style helmet though, rather than a helmet with an added chin bar. It essentially works as two helmets in one, as the chin bar is removable. With just a few clicks, it converts from a full face helmet for gnarly terrain, to an open face one for less technical rides or hot days.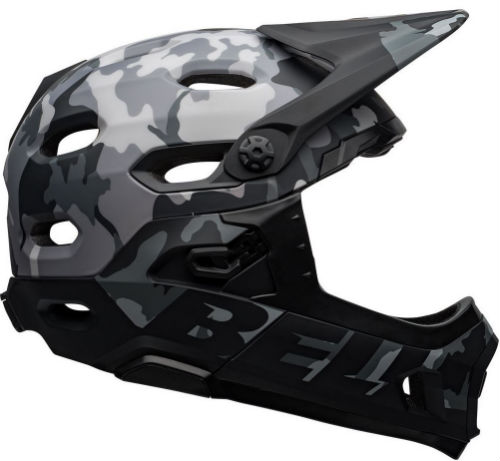 This helmet is downhill and BMX rated, but it is best suited to enduro riders, who want a helmet that is comfortable for climbing and that offers enough protection for technical downhills. But it is also great for people that ride singletrack and in the bike park.
Float Fit DH™ w/ Fidlock Buckle
Fusion In-Mold Polycarbonate Shell
Goggleguide™ Adjustable Visor System
Integrated Breakaway Camera Mount
MIPS Spherical & No-Twist Tri-Glides™
Overbrow Ventilation™
Progressive Layering™
Sweat Guide™ Padding
Wraparound Protection™
X-Static® and XT-2® Padding
What makes the Bell Super DH MIPS Adult MTB bike helmet appealing to me, is that suits different types of mountain biking. I live in Morzine in the French Alps, so during the summer, we do a lot of lift assisted riding and enduro rides. But, during the inter season, actually have to pedal to the top of the mountains (I know, imagine having to do that). Also when it comes to building back up the bike fitness in preparation for the summer, I do a lot of riding that doesn't really call for a full face helmet. Therefore, I would normally have to have two helmets.
The shell is made form Polycarbonate. This gives the Super DH a lighter feel than a traditional fibreglass or carbon full-face helmet. However, if you only ride trails, the DH may not be the best choice for you. This is because, it isn't as well ventilated as a trail helmet. Therefore, you may want to opt for the Bell Super 3R instead.
The Super DH is for riders who want a full-face helmet, but want to wear it as an open face helmet from time to time. The chin bar takes about 30 seconds to take off or put on and the clips are a little bit stiffer than the ones you get on the Bell Super 3R, but this is no hardship. The only thing is, if you are planning on removing the chin bar mid-ride, you will need somewhere to put it. I usually just attach it to the outside of my backpack. But riders that don't have backpacks or like to wear bum bags, my struggle to find a suitable way of carrying it.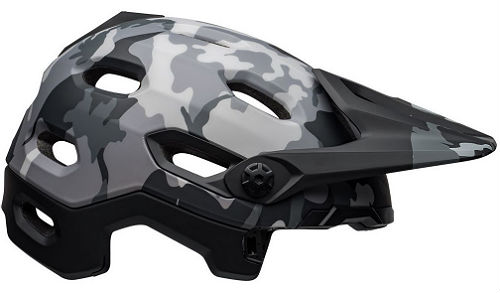 However, as a downhill helmets go, the ventilation at the front works well, even with the chin bar attached.  Cool air enters the helmet from the top of the forehead and flows to the back of your head, doing a good job of regulating your temperature.
The Super DH is made to be super comfortable, thanks to thick padding. This coupled with the lightness, makes you forget that you are wearing it even on long rides.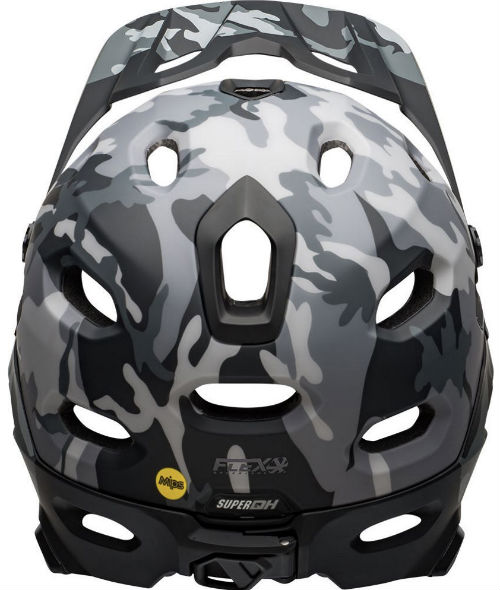 The padding around your cheeks is pretty plush. You also get extra sets of pads of different thicknesses, so you can get the fit of your helmet dialled in. These simply snap in and out for when you want to wash them too.
Other features I like are the adjustable visor, that lifts up to allow room for you to place your googles when you aren't wearing the. There is also a place to stash your glasses too. You also get a snap on camera mount, so you can film all the gnarly stuff you are getting up to.
The Bell Super DH MIPS Adult MTB Bike Helmet uses the MIPS Spherical system. This is a massive improvement on the regular MIPS system for this kind of helmet. The difference is, that instead of the plastic yellow sheet that sits between the rider's head and outer shell, the MIPS Spherical system has a thin, foam liner, making the rotation smoother than regular MIPS.
The Bell Super DH MIPS Adult MTB Bike Helmet is a downhill helmet that can be converted to a lighter half shell for those rides where a full face is a bit overkill. However, if you want great protection and only want to buy one helmet, the Super DH is a very comfortable option. If you only ride trails and don't do much downhill riding, you will probably want to buy the Bell Super 3R instead.