Mountain Bike Hip Pack
Some mountain bikers love to ride with a full on backpack. It means that they have loads of room for extra clothing layers, tools, spares, camera equipment, water and snack etc. But they can get a bit sweaty and some riders feel that they are quite restrictive. Therefore, they wither go without and hope for the best, or they ride with a mountain bike hip pack.
Mountain bike hip packs are becoming more popular, and are no longer associated with bum bags used by tourists for their travellers cheques and packets of mints. You still may not be sold on the idea, but for those rides that are reasonably short, bike park sessions or enduro races, they are a very good solution to carrying the essentials.
In this post I am going to go through some of the best mountain bike hip packs you can buy right now.
Camelbak Podium Flow Belt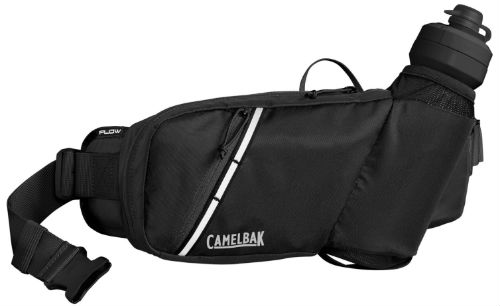 The Camelbak Podium Flow Belt is quite a small mountain bike hip pack, weighing in at just 181g. This makes it ideal for riders that don't like to take too much with them on the trails.
The front of the pack has a slim pocket that is perfect for stashing snacks or a multi-tool that has a secure zip. The main pocket is considerably larger. It has a key hook and two internal mesh pockets to keep your belongings organised. It is plenty big enough to carry a pump, spare inner tube, and a packable jacket. Officially Camelbak says the pack offers 2L of gear storage.
The pack has a sleeve that securely holds the included 600ml water bottle. It is positioned at an angle which makes it easy to grab when you need to take sip. The bottle has a cap covering the nozzle to make sure you don't get a mouthful of mud when you need to guzzle some water.
The easily adjustable belt is designed to be very secure and stable, measuring 1.5-inches wide. The pack is well padded and the padding wraps around your hips to ensure that it is as comfortable as possible.
The white stipe you can see on the picture above, is a reflective strip . This helps with your visibility when riding at night. Also there is a loop for hanging the pack to dry or when you are not using it.
Features
Breathable Air Mesh: Stay cool and comfortable
Adjustable Waist Buckle: For a customized, secure fit
Secure, Easy Access Bottle Pocket: Drink and stow with ease over any terrain
Includes 600mm water bottle with mud cap
Integrated tool organisation
Secure zipped pocket
Reflective detail for low light visibility
Verdict
The Camelbak Podium Flow Belt is small and stable. It is ideal for riders that don't want or need to carry too much stuff, but has enough storage for most people's summer rides. It is s good option for traveling too, as you never know if rental bikes will have a bottle cage available.
You will find that the Camelback Podium Flow Belt to be versatile, lightweight, and convenient for most rides.

Click here to buy from Amazon UK


Click here to buy from Amazon USA

EVOC Hip Pack Race 3L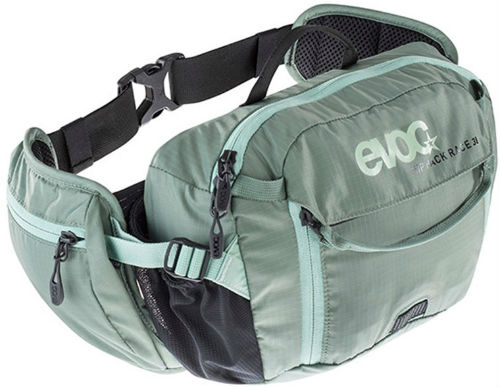 The EVOC Hip Pack Race 3L gets its name from its 3l of storage space. It's main pocket is well well organised that contains a water bladder and enough space for larger clothing or a pump.
The front flap unzips to reveal additional compartments, perfect for spate inner tubes and a multitool. The waist strap has two additional pockets either side of the pack (one mesh and one nylon). All of this means that you have lots room to carry stuff, even on pretty long ride.
If you intend on carrying heavy stuff, you will still find this mountain Tain bike hip pack comfortable. This is because it has the three foam panels to keep the bag isolated from the lower spine. These pads sit under a mesh outer layer allowing good air flow, to reduce the sweatiness you get on hot days.
Comfort comes from the wide hip wings. They wrap around your waist nicely and use an elasticated 'Aero Flex' connecting cradle. This has a stretchy design to make it very snug and comfortable. Some people may find the waist band difficult to get the perfect fit, as it pulls backwards and is quite awkward to adjust.
Features
Material: [body] PU Coated Nylon 210 D ripstop, [straps] 3D Air Mesh, [back padding] EVA
Volume: 3l
Pockets: tool, 2 hip belt, cell-phone
Closure: zipper
Dimensions: 11 x 7 x 3in
2l water bladder
Verdict
Overall, the organisation, fabric and retention materials are extremely good. This mountain bike hip pack can hold a lot of gear. But, if you ride particularly rough terrain, the contents have a tendency to dance around a bit more than in other hip packs.

Click here to buy from Amazon UK


Click here to buy from Amazon USA

Osprey Savu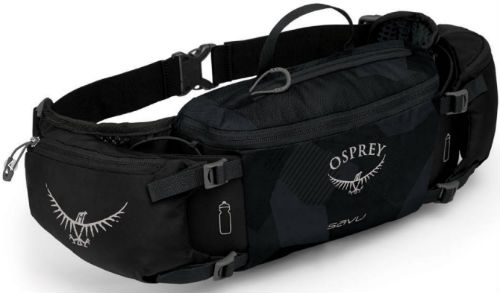 The Osprey Savu is a bit bigger than the mountain bike hip packs I have talked about so far. It is a better option for mountain bikers than their Tempest or Talon packs.
It has 4 litres of storage space and it can hold 2 water bottles externally. The bottles are attached with a couple of circular holders. These are secure, but make it easy to get the bottles in and out of.
The Savu has room for a tool, tire levers, tire repair kit, a tube, a mini-pump, water, and a snack. It stores them in an organised way and has room left over for a few extra bit and pieces, such as, a packable jacket and your keys.
Venting on the back panel is especially good on this mountain bike hip pack. It has excellent airflow, and the angled straps make the pack comfortable for all-day wear.
Features
Airmesh ventilated hipbelt
AirScape™ extra-thick ridged-foam lumbar panel
Angled padded bottle sleeves with retaining bungees
Bottle-pockets snap in place or tuck away when not in use
Dual zipped hipbelt pockets; Scratch-free sunglasses and electronics pockets
Internal tool organisation and mesh pocket with key clip
LED light attachment point; Reflective graphics
Side compression straps
Bottles not included
Capacity: 4L; Weight: 0.37kg
Verdict
You will be very happy with riding with the Osprey Savu. It is a very comfortable alternative to wearing a full pack, while still being able to carry everything you need for big rides.

Click here to buy from Chain Reaction UK from £45


Click here to buy from Amazon USA

Dakine Hot Laps 5L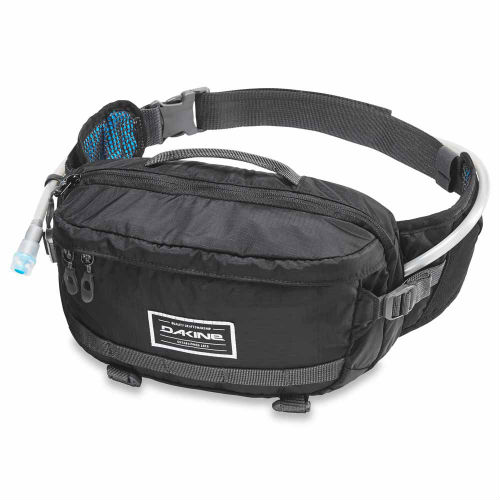 The Dakine Hot Laps 5L is a very well priced mountain bike hip pack, that has a surprising amount of storage space, even with the 2 litre bladder inserted. The front pocket has space for a pump, a spare inner tube, your phone and the usual small stuff you may like to carry. You can even attach your jacket to the straps on the bottom of the pack.
As I said before, the rear pocket is designed for the Hydrapak water bladder. This holds up to two litres of water and is included in the price.
The front pocket has a few well positioned dividers and the smartphone pouch is lined with a thin fleece layer. There is a small pocket on the right hip fin. This is. made from a stretchy mesh and is ideal for stashing a mid-ride snack. The left hip fin has a a magnetic hose holder, to keep it out of the way and to stop it flapping about.
Compared to the other mountain bike hip packs on this page, the Dakine Hot Laps 5L is quite a budget item. Therefore, you will have to settle for cheaper materials and more basic zips. However, even with its simple construction, the Dakine Hot Laps 5L sits around your waist comfortably and is stable.
The one-sided buckle allows you to put it on quickly and its simplicity means there is less faffing and makes for a cleaner hip strap, with less stuff dangling around.
It has foam padding and mesh on the back, stopping it from absorbing sweat, but it isn't particularly well ventilated.
Features
2L / 70oz Hydrapak bladder
Phaser bite valve
Breathable Air Flow backpanel
Internal organizer pockets
Side compression
Verdict
The Dakine Hot Laps 5L is a mountain bike hip pack with lots of storage space and a well organised compartment layout. It sits securely and comfortably on your hips too. However, when it is packed to capacity it doesn't provide the same level of comfort and stable fit as some of the more expensive options. But, if you are looking for maximum storage space for not a lot of money and are willing to compromise slightly on comfort and stability, the Dakin Hot Laps 5L is a great option.

Click here to buy from Amazon UK


Click here to buy from Amazon USA

Which Mountain Bike Hip Pack Are You Going To buy?
All of the packs on this page are great options. Your choice just depends on your budget and personal preference. If you have any questions or thoughts on these items, please leave them in the comments section below.