The 6 Best Mountain Bike Saddles: And buyers guide
Where you put your bum is very important, therefore I thought I would put together a guide to the best mountain bike saddles. I have also found the best ones on the market for you to put on your bike. Hopefully this article will help you decide why you may be uncomfortable on your rides and help you choose a new one.
What type of Mountain Bike Saddle do I Need?
As with most mountain bike components, it depends on what type of riding you do.
Mountain bike saddles vary a lot, but in a nutshell, if you go on a lot of long enduro rides, you will want something with a crease down the middle. This is designed to give you a bit of relief. However, if you ride a lot of cross-country, you will want something with a shallow profile with less padding.
The parts of Mountain Bike Saddles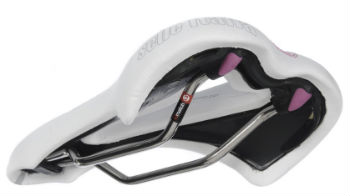 Mountain bike saddles are made up of four components:
The Chassis – This part makes up the shape of the saddle, and this really impacts on how comfortable it is. They are usually made from plastic or carbon fibre, which also has an effect on comfort. This is because the different materials flex and absorb shock differently. These properties determine how much padding is needed.
The Padding – You would be forgiven for thinking that loads of padding will be more comfortable. But, more padding can be the cause of chafing. Buying soft squidgy saddles means that you have more contact points to be uncomfortable, therefore you should go more minimalist. The best mountain bike saddles use padding made from polyurethane and ethylene vinyl acetate. This is because these durable materials are great at absorbing shock, and can take a lot of weight.
The Covering – This is the part of the saddle that wears out the quickest, for obvious reasons. A synthetic covering will last longer than a leather one. So if you ride a lot, it will last longer.
The Rails – These attach your saddle to your seat post, and are usually made from carbon fibre, titanium or steel. These different materials make a big difference to the price. Steel rails are cheaper than titanium or carbon, but they are heavier and don't have the same flex.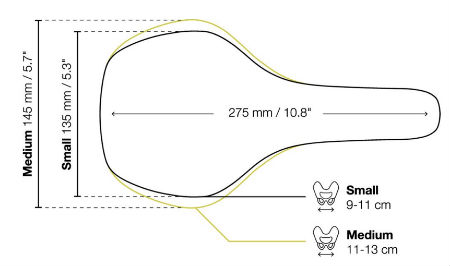 When choosing the best mountain bike saddles, you need to consider a few things with regard to the shape and size of it. Here are a few things to look in to find the sweet spot.
Width – If you choose a saddle that is too narrow, you won't have the necessary support and will put lots of pressure on your sit bones. If you choose one that is too wide, it may get in the way or rub.
Length – Long mountain bike saddles allow you to shift your weight forwards and backwards easier. Therefore, when you are climbing, you can sit further forward to keep the front wheel down. Short saddles are more for commuting or less technical riding, and they are usually well padded.
Cut outs – You will notice that some saddles have cut-outs. The idea behind this is to reduce the amount of pressure on those parts of your bum. Choosing a mountain bike saddle with a cut out, is really just down to personal preference.
Cross Section – This is looking at the side profile of the saddle. The best mountain bike saddles for racing are usually very flat with a cut out running from the middle to the front. However, they do range from flat, to convex and to rounded.
Mountain bike saddles for women are designed differently as, you may or may not know, their anatomy "down there" is a bit different to men's. The cut out on a woman's mountain bike saddle is usually wider and deeper and tend to have a bit more padding.
Unfortunately, there is no definitive answer. I would love to say "buy this one" and it would be perfect for every rider's bum. However, it isn't that simple. What is perfect for me, could be arse hell for you.
Therefore, you need to think about what is bugging you about your current saddle. Is it too wide? Is it chafing? It is hindering my riding because…..etc.
The other thing is, is that you get what you pay for. If you, buy a good saddle to start with, you won't want to change it too soon. Therefore, doing this is much better value for money, and you won't get annoyed with a cheap and nasty one on your rides.
Hopefully, this post will highlight why you are unhappy with what you have, and help you choose the best mountain bike saddle for you.
The Best Mountain Bike Saddles you should consider
Selle Italia SLR Superflow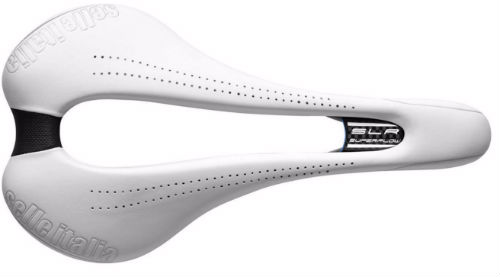 The Selle Italia SLR Superflow is one of the most recommended saddles around right now. It is one of the most popular upgrades riders are putting on their bikes too.
The large cut out down the centre is the main reason people love this saddle so much. As it improves the enjoyment of their rides. It prevents any numbness, even on the longest of rides.
It is also a very light saddle at just 190g, thanks to that hole, its carbon shell and titanium rails.
Shell: 30% Carbon Composite
Padding: EVA
Cover: Fibra-Tek Leather
Saddle Rails: Titanium 316
Weight: 190-200g
This is possibly the best saddle you can buy. If you are really struggling to find one that suits your needs, this could be your answer!
Fizik Antares R1 Carbon Saddle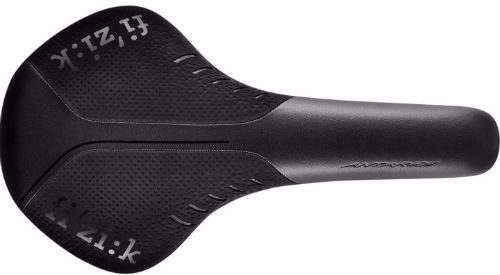 The Fizik Antares R1 Carbon Saddle is designed to be forgiving, especially for riders that don't have a particularly flexible spine. This is thanks to its curved profile.
This is also a very durable and light weight saddle, due to its carbon shell and rails. The design allows it to flex where your thighs touch it for comfort. It is super light at just 160g, so it is perfect for riders wanting to shed a few more grams of their bike.
Shell: Composite Carbon co-injected Nylon WingFlex
Rail: Carbon Braided 7x9mm
Cover: Black Gummy Microtex
Thigh Glides: Black Microtex
Dimensions: 274x140mm
Integrated Clip System compatible
Weight: 160g
The Fizik Antares R1 Carbon is an excellent saddle for racing. It is one of the lightest ones available on the market. But, it is also made from very durable materials.
Nukeproof Vector DH Pro Ti-Alloy Saddle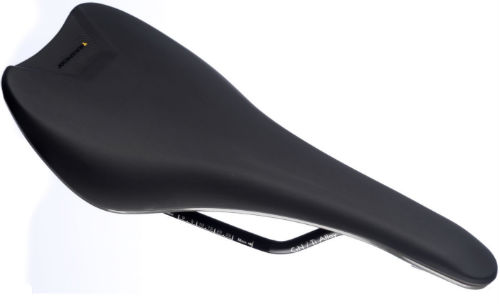 I am a big fan of Nukeproof products (as you will see from this post), and the Vector AM Comp saddle is at the cheaper end of the market. It goes with Nukeproof's enduro racing theme. It has a flat profile and a cut away area down the centre. This is to be easier on your bum. However, it is not flexible, so you may find it a bit unforgiving on long rides.
Tough microfabric cover
Rails: CrN-Ti
Size: 255mm x 135mm
Weight: 228g
A great mountain bike saddle for the price range. It is very durable, especially the cover. This is quite smooth, which makes it easy to slide off it when you need to.
Selle SMP Dynamic Black Saddle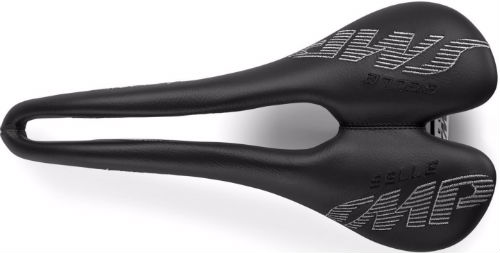 The shape SMP saddle is a bit interesting and goes against the norm. It features a deep channel the whole length of the saddle. It also has a high, kicked-up tail and a beak-like drop to the nose. I've seen reports that it takes a bit of adjustment to get it in the perfect position, but when you do, it is super comfortable. It also gives you an excellent platform to push against when climbing.
Dimensions: 274 x 138mm
Padding: Foamed elastomer
Body: Nylon 12 filled with carbon fibre
Covering: Real leather
Frame: AISI 304 stainless steel tube
Recommended For: Road or Mountain Bikes
Weight: 260g
If you don't have much luck with choosing a traditional style saddle, you may benefit from trying one of these out. Many riders have converted to this unorthodox shaped saddle and never gone back to a traditional one.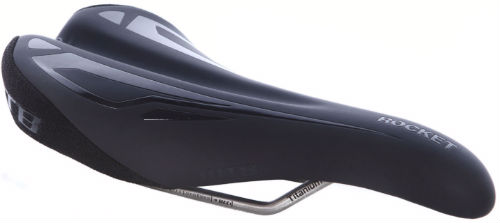 The WTB Rocket Team saddle is a very versatile one. Good for downhill and enduro mountain biking, as well as road bikes. This is the long term choice of Sant Cruz rider Steve Peat. It has a pretty swoopy shape, which may divide opinion. However, the deep channel along the centre will be something everyone will like.
It may look quite bulky, but thanks to its titanium rails brings its weight down considerably.
Usage: Mountain/Road
Sizing: Narrow and x Mid-length (130mm x 255mm)
Rail: Titanium
Weight: 
Details: Microfiber Cover, Flex-tuned Shell, DNA Paddin, Comfort Zone & Kevlar Corners.
At a reasonable price the WTB Rocket Team saddle is comfortable and lightweight. There are cheaper versions, but this is a good option, if you don't want to spend too much on something to sit on.
Selle Italia Lady Gel Flow

This saddle is not a men's saddle that has been adapted for women, it has been designed around female requirements from the start. The gel has different thickness throughout, to ensure it is anatomically correct for a ladies' anatomy.
Cover: Leather
 
Padding: Dense foam padding with gel inserts
 
Shell: Nylon with 10% carbon fibre
 
Rails: Manganese tubes, 7x7mm
 
Use: Road/Offroad
   
Weight: 255g
Super-comfortable all-round ladies saddle. If you're going to be on your bike all day, this is the saddle you need. This goes for road and mountain bikes too.
These are 6 of best mountain bike saddles around right now. Which one will you put on your bike? Please leave your thoughts and questions in the comments section below.