Mountain Bike Pedals: Everything you need to know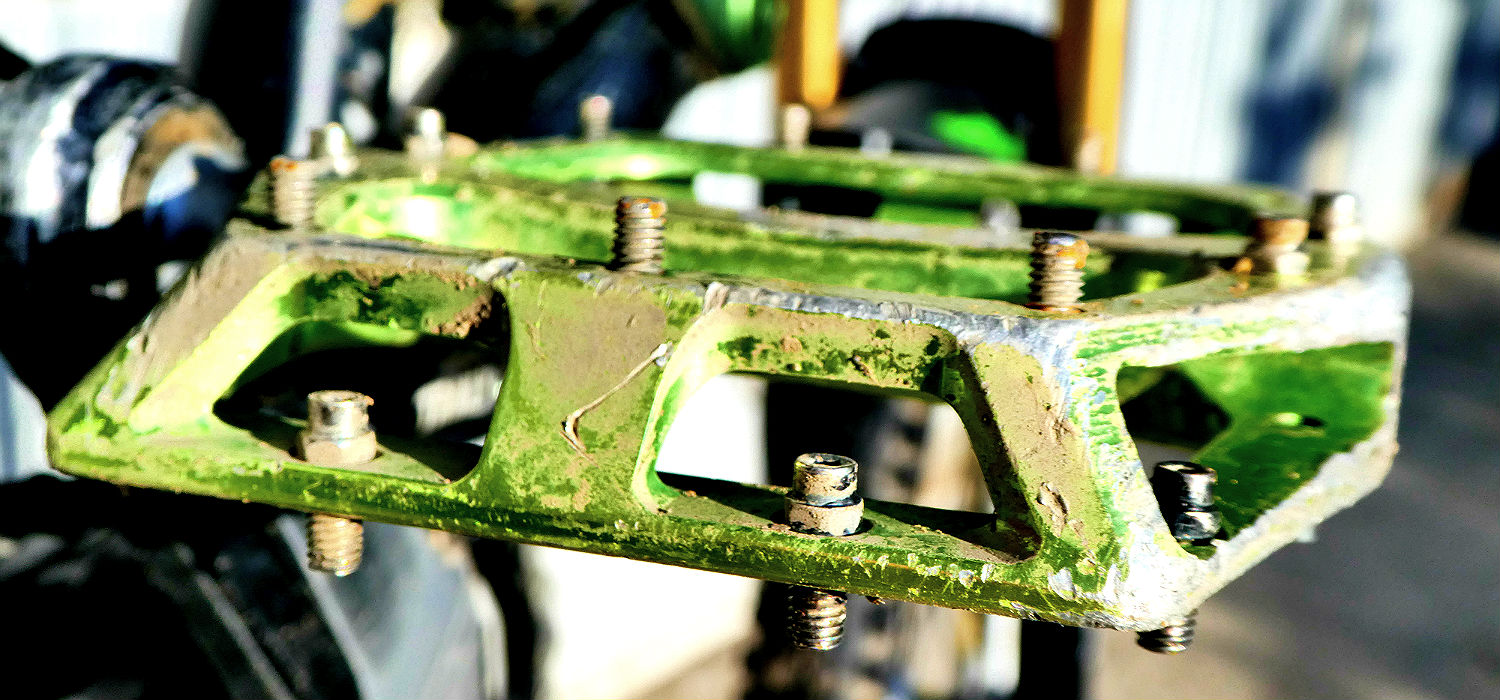 As with your saddle and handlebar grips, your mountain bike pedals are points of contact with your bike. They are not just for powering along. Your choice of mountain bike pedals can have a huge difference to how your bike feels and rides.
Here is my guide to the types of mountain bike pedals and what the advantages and disadvantages of each are.
Clipless Mountain Bike pedals
To use clipless mountain bike pedals you need specific mountain bike shoes. This is because the shoe has a cleat that clips on to the pedal (yes, clipless pedals clip in). Being attached to the bike gives the rider a great connection with the bike. The advantages of this are:
Increased pedal efficiency – Being able to push with one foot and pull with the other makes pedaling easier.
Handling – When you are riding a technical section, your feet don't bounce or slip off the pedals. This gives you lots more control and makes it easier to jump over roots and rocks.
Size – You will notice that clipless mountain bike pedals are much smaller than other types. This means you will get less pedal strikes on rocks and roots.
The disadvantage of this type of pedal, is that it can take some getting used to. When I first started using them, I had lots of slow speed falls, resulting in sore hips.
If you decide to go down the clipless route, make sure that the shoes and pedals are compatible. This is because there are different systems on the market that won't work together.
Flat Mountain Bike Pedals
Currently I prefer to ride with flat mountain bike pedals. This is because it is easier to jump off or dab a foot down if necessary. Flat pedals are surprisingly grippy, especially when they are coupled with some proper mountain bike shoes such as Five Tens. There are alternatives though, have a look at the link below to see.
Mountain Bike Shoes: 4 of the best pairs available now
Flat mountain bike pedals are great for beginners. This is because they do give you the option to jump off, they are cheaper and you don't have to buy the necessary shoes straight away. You can just wear some good flat trainers that you don't mind getting chewed up a bit by the pegs.
Combination Mountain Bike Pedals
These pedals allow you to ride either clipped in or not. There are two different versions. You can buy ones with a clip on one side, while the other side is flat. I used to have these, but I found them a bit annoying. This is because the clip tends to spin the pedal so it is facing down, making it awkward to clip in. The other type has clips on both sides.
The advantage of combination pedals is that if you like to ride the trails clipped in, but want to use your bike to go to the shop or to work on, you don't need to change pedals or shoes.
Other Considerations Before you buy
How adjustable are the pedals? – The amount of tension you get in a clipless pedal determines how easy it is to clip in and out. As does the float, which is the amount you can move your foot without becoming unclipped.
How tough are they? – Pedal strikes on rocks etc are not uncommon, so they need to be able to withstand some punishment.
How easy are they to maintain? – If you spend a lot of money on your new pedals, you will want them to last. You can increase their longevity by servicing them.
How much do they weigh? – Light is good, but don't compromise durability for weight reduction. If you bend or crack a pedal on a ride, you will wish you got something a bit tougher.
The Best Clipless Mountain Bike Pedals to Buy
Shimano XTR M9000
The Shimano XTR M9000 Clipless Mountain Bike Pedals are available from Chainreaction for £79.99
Shimano have really done their homework on these pedals. They have been developed over the years to be lighter and clear mud quickly. It is very adjustable, so you can tweak it to suit your own preference.
Features:
Ultimate power transfer
Durable
Lightweight compact design
Low profile
8mm Allen key mounting system
Teflon coated and oval shape means mud doesn't stick
Low maintenance
Very adjustable and secure
Dual Sided
SM-SH51 cleat
310g (pair)
2 year warranty
Also see the Shimano XT M8000 XC Race Pedal
Crank Brothers Mallet E
The Crank Brothers Mallet E Mountain Bike Pedals are available from Chainreaction for £76.99
These pedals have a concave shape to hold your foot securely. They are designed for enduro riding and racing with a low profile, to reduce pedal strikes. One of the good things about these, is how easy they are to clip in to, due to their size.
Features:
Concave platform for secure foothold
6 adjustable pins per side for grip
Traction pad technology
Ribbed body for better traction when unclipped
Chamfered edges to reduce rock-strikes
52mm q-factor for maneuverability on tight trails
Superior mud shedding
Customisable float & release angle
Premium bearings & double seal system
Nukeproof Horizon CL CrMo DH
The Nukeproof Horizon CL CrMo DH pedal is available from Chainreaction for £64.99
These pedals are the SPD version of the Horizon Pro flat mountain bike pedal. They are strong and light and their design has been heavily influenced by Nukeproof's pro riders.
They feature the all new Nukeproof SPD system, but they do work with all brands of SPD shoes.
Features:
Tough and lightweight CrMo axle
Low profile contoured chassis with optimised leading edge
Side Support Platform
Dual Engagement Mechanism
SPD
Weight: 526g
Shimano Saint MX80 Flat Mountain Bike Pedals
The Shimano Saint MX80 pedals are available from Wiggle for £52.99
These have had an update. They are now extra wide with a stronger axle and a concave platform. All these characteristics give the rider extra control. Their design is specifically for downhill mountain biking, therefore they are very durable and ergonomically suited for the job in hand.
Features:
Unique shape with concave platform for better control and efficiency
Wide with a low profile
Longer, replaceable pins, screwed in from the back for easy maintenance
Extra strong axle
Weight: 500g (Pair)
2 year warranty
DMR Vault
The DMR Vault pedals are available from Chainreaction for £74.99
These are the pedals I ride with, although mine are pretty old now. They are very durable and have survived many strikes on rocks and roots. They are made from aluminum, so they are light and tough, while the pins hold on to my Five Tens very well. I ride a Canyon Torque on varied terrain around the Portes du Soleil in France. So, they are good for enduro rides and bike park riding.
Features:
Material: Extruded 6061 Aluminium with 4140 CrMo Steel Axles
Size: 105x105mm with 17mm concave foot bed
Tuneable: 11 'flipPin' per pedal can be fitted 'short' or 'long' to fine tune the grip available
Serviceable: High load DU bush and cartridge bearing
Weight: 420g (Pair)
Shimano M324 Combination
The Shimano M324 Combination pedals are available from Wiggle for £33.49
These are a good intro to riding clipless. The adjustable cleat tension allows you to start off loose and tighten them up as you get better.
Features:
Aluminum
SPD on one side
Spindle Thread: BC 9/16″ x 20 T.P.
Cleat Retention Indicato
Cleat Retention Adjuster
Serviceable cup and cone bearings add durability
Adjustable cleat tension
A sealed mechanism and serviceable cup & cone bearings
Weight: 533g (pair)
Please follow and like us: