If you don't use proper flat pedal mountain bike shoes, you are missing a trick. They offer so much more grip than your normal trainers ever will. Their soles are made for the job of keeping your feet firmly on the pedals, even when the trail gets a bit bouncy. When I first got mine, I was very impressed and shocked at the amount of grip they give you. Here are some of the best flat pedal mountain bike shoes.
To really get the most out of riding without committing to clipping yourself to the pedals, a pair of paper flat pedal mountain bike shoes are a must. Flat pedal mountain bike shoes started to gain popularity in the early 2000s, thanks to the development of super sticky rubber soles. The shape and material of the sole gives you maximum contact with the pedals. Also, they became more popular when pro riders such as Sam Hill wore them for competition. This type of mountain bike shoe is usually quite flexible, this makes them more comfortable to walk in. The design of proper flat pedal mountain bike shoes, give your feet protection from stray rocks and impact protection for jumps. However, they don't provide amazing cycling efficiency, as opposed to shoes that clip to the pedals, as you can't pull up with the one foot while pressing down with the other. Also they are not as secure and are also generally heavier.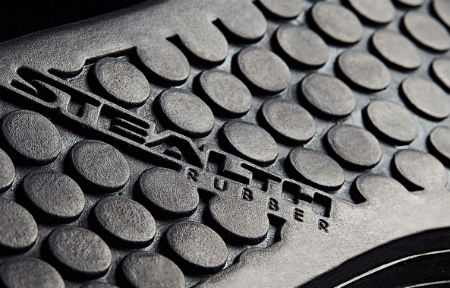 The soles of many of the best flat pedal mountain bike shoes are take their technology from climbing shoes. These developments give incredible amounts of grip. This gives you the security of being able to quickly dab a foot down if you need to too.
The Best Flat Pedal Mountain Bike Shoes
Super comfy
Grippy
Look good
You can wear them off the bike with no problems
Can take a while to dry out. I have heard that some people have had quality issues (I have never had a problem).
These are my personal favourites. They are the comfiest trainers I have ever had and the grip is fantastic. Five Ten's background is in climbing shoes, and they have brought their Stealth Rubber soles to the mountain bike world. Not only does it give the grip we all need, it absorbs a lot more shock than your standard trainers ever would.
The Five Ten freerider is an all mountain shoe, meaning that it isn't too bulky and stiff, so it is suitable for all kinds of riding. It's construction allows you to walk around and ride in comfort. I have two pairs, one for riding and another for day to day wear.
There are different options available from Five Ten to cater for different riders needs. 
These shoes are not waterproof, but that has never bothered me. You are bound to get wet feet while mountain biking at some point. You can buy waterproof socks if you really want to stay dry. I recommend Sealskinz.
Easy to clean
Comfy
Lots of protection
It is not all about Five Ten though, there are a few alternative flat pedal mountain bike shoes. The Shimano GR7 is definitely one to check out. They offer superb grip, build quality and stiff soles. This will allow you to get the power down on to those pedals a bit more efficiently.
There is a good amount of protection too. This shoe has a neoprene ankle collar, which stops the majority of soil and grit getting in the top. The leather upper is designed to reduce water ingress, while the thicker molded toe will protect you from those nasty rock strikes.
I would recommend these to anyone that wants an all round flat pedal mountain bike shoe. They look pretty good and come in four cool colour ways.
Water resistant
High quality
Good grip
Sizing may not be perfect. If you are in between sizes, go for the larger option.
It's not a jacket….it's a shoe, and a very good one. The Giro Jacket II is a high quality shoe, that offers great comfort, grip and pedal feel. The upper is breathable to reduce sweaty foot syndrome, but it is also water resistant. It isn't completely waterproof, but water only gets in when it is super wet (but they do dry out pretty quickly
These flat pedal mountain bike shoes also have really good shock absorbing properties, thanks to the EVA cushioning in the mid sole and the Poron XRD (an open cell material) heel pad.
These shoes are built to last too, Giro have excellent build quality, so they should last you a long time.
Great comfort
Good on and off the bike
A bit different to the norm
If you fancy a change from the more common brands, Afton are worth a look. They won the design and innovation award in 2018 with the Keegan. It has something called a mono-directional shank, allowing extra stiffness to you pedaling, reduced vibration and enhanced power transfer. The sole offers excellent grip and it has a reinforced toe box, this obviously useful on the bike, but it also helps you walk around on the trails and climb up steep slopes.
They are super comfortable, with a snug fit. The venting means they are breathable, and the Anti-Microbial inner soles keep them fresh for longer.
Choose The Best Flat Pedal Mountain Bike Shoes!
These are all great products ranging from the old faithful (Five Tens) to the new kid on the block. To be honest you can't go wrong with any of these, so it is all down to personal taste.
Are there any alternatives you believe should be on this list? If so let me know in the comments below. Also, if you have any feedback for the site, you can email me at tom@mtb-threads.com.
Thanks for reading!