Mountain Biking Knee Pads
Mountain Biking Knee Pads
When you want to push your limits some extra protection can help you. Knee pads not only protect you when you have a fall, but they give you a bit more confidence, which allows you to ride a little more aggressively, or take on features that fill you with dread. Therefore, mountain biking knee pads are a great investment.

Many riders now wear mountain biking knee pads, and there are lots of options for you to choose from. There are plenty of mountain biking knee pads on the market, so you will be able to find something that will suit your needs. But being informed before you start looking will make the whole process easier. So, in this post, I am going to go through the things you need to look out for and give you some options of great mountain biking knee pads.
Why Wear Mountain Biking Knee Pads?
Mountain biking is a dangerous sport. We do our best to stay on our bikes, but from time to time it isn't always possible. The skin on your knees, isn't particularly durable, especially when it comes in to contact with gravel at high speed and neither are your kneecaps. A crash can happen at the most unpredicted time. Therefore some protection is a great idea.

As I mentioned before, extra protection can give you more confidence when riding. This extra confidence can help you progress better as a rider and have more fun.
Mountain Biking Knee Pad Designs
Mountain biking knee pads are basically just a tube with padding on them. The padding will be on the front, but some have it on the sides too. Knee pads are designed to be flexible, allowing them to move, as you pedal and move your legs. But, they are also made to stay on place, to give you coverage where it is needed.

Some pads are extended at the top to stop them slipping down and to make sure you don't get a gap between your shorts and your pad. This is something that some brands really focus on, while others make a point out of making it easy to put them on and remove them without having to take your shoes off. These pads are usually fastened at the side and wrap around your knee. The idea behind these pads is to maintain structural integrity in the event of a crash. Also, if you sustain a bad injury, they are easier to take off.
When choosing mountain biking knee pads, the amount of protection you want is probably you main concern. Pads that have more emphasis on security and extra padding, tend to be more bulky, hot and more difficult to pedal in. Lighter knee pads are easier to wear and ride in, but generally don't provide as much protection.
Lightweight mountain biking knee pads are usually slim fitting. These pads offer the least amount of protection, but are the least bulky. The idea behind lightweight mountain biking knee pads, is to forget that you are wearing them when riding all day. You can expect them to prevent scrapes and scrubbing your skin off during a crash.
Trail pads are the most common type of knee pads, as they fall right in the middle of what most people want. Trail knee pads are more bulky than lightweight ones, but they offer more protection, while still feeling comfortable. Riders tend to wear these pads on cross country rides and in trail centres.
If you want the most protection possible, you need to go for heavy duty knee pads. This type of pad will give you the most coverage, but are the most bulky. Bulky pads are generally more difficult to pedal in. But, they are not as bad as they used to be. I have been riding with Fox Launch pads for a few years now. These are full shin and knee guards, but I don't have any issue with them on enduro rides, even on a hot day. Heavy duty knee pads like these are mainly used for downhill riding.
Mountain Biking Knee Pad Materials
Most mountain biking knee pads have an outer section, usually made from neoprene or an equivalent. The protective parts are positioned over the vulnerable parts of your knee. You will see many pads these days that use the D30 material. D30 is soft and comfortable to wear. But, when it receives an impact, it instantly goes hard dissipating the shock. Another common material used for knee pads is kevlar. Kevlar is a very strong and durable material that protects you when you end up sliding along the trail on your knees.
Get the right size – Checking the size guide will help you get the perfect fit after measuring below you knee and above your thigh
Don't buy them because they look cool – Protection is more important than how steezy you are
Think about what kind of riding you do – If you choose heavy duty pads and all you do is cross country riding, you will feel restricted and hot.
My Recommendations Fo Mountain Biking Knee Pads
POC Joint VPD 2.0 Knee Guard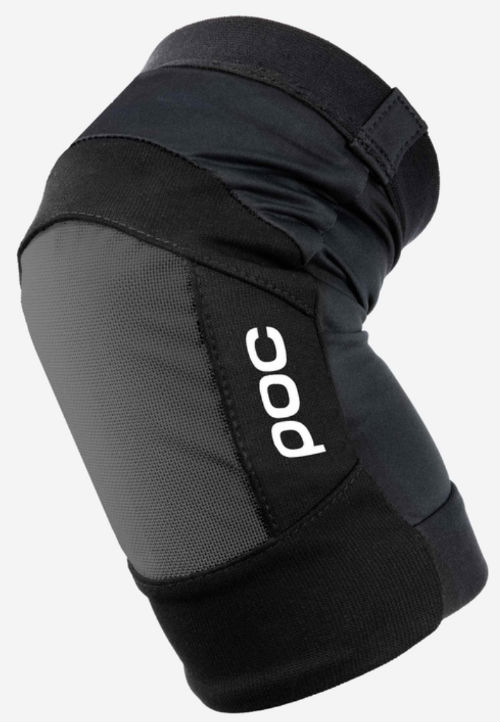 The POC Joint VPD System are excellent lightweight mountain biking knee pads. They feature a multi-layered construction making them extremely comfortable. Like all POC products, the quality of these knee pads is excellent. The gel-like material in the pads themselves is an alternative to the D30 type foam I mentioned earlier. It is formed into a honeycomb structure that protects your knees and is something we are going to see more of in the future. If I was to be picky, the ventilation could be better, but these are superb kneepads. The VPD knee pads don't use any straps, therefore choosing the correct size is essential to make sure they stay in place.
Extremely flexible and light VPD knee pad

EN 1621-1 certified shock absorption

Ventilation system constructed within each layer to optimize moisture management and comfort

Low friction, polyamide construction with high abrasion resistance
Leatt Knee Guard AirFlex Pro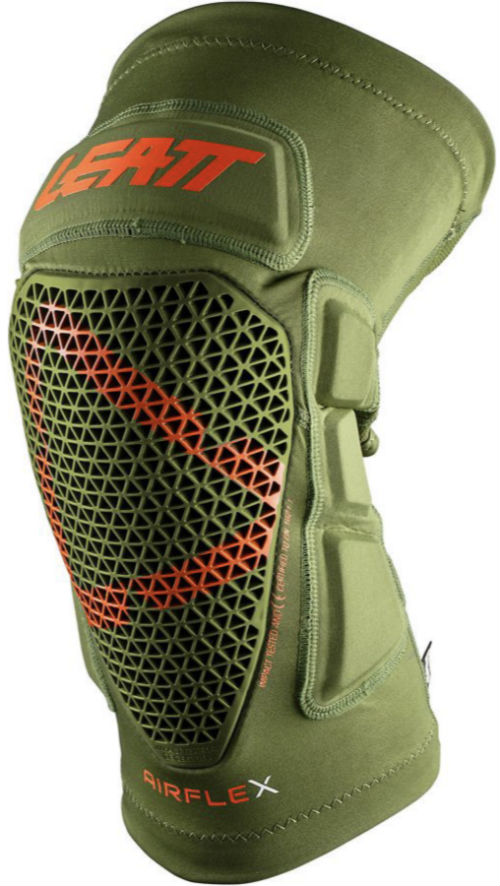 The Leatt AirFlex Pro weighs in a just 300g, making them some of the lightest mountain biking knee pads available. The AirFlex gel used in the impact protection is extremely slim and soft, making them a comfortable and snug. These pads don't offer ultimate protection, but they are still pretty good considering their low profile and lightness. Small additional pads are located at the sides of the knee to give you some extra protection from crashes while reducing the risk of scrapes. The snug fit of the AirFlex Pros pads comes from its shape and materials, as they don't use straps. For riding in hot weather, the AirFlex Pros are a good option, as they good ventilation. If you want a pair of very light knee pads, but are willing to settle for something that doesn't offer maximum protection that is good value for money, you should give the Leatt AirFlex Pro mountain biking knee pads a try.
Super slim, 3D moulded AirFlex gel impact protection
CE tested and certified as impact protection: Knee EN1621-1
Side and upper knee impact protection
Silicone printed, cupped knee grip
Single sizing for a perfect fit
Anti-odour MoistureCool and AirMesh wicking fabrics
All protection materials perforated for ventilation
Silicone printed, non-slip cuffs
Pre-curved 3D design for better fit and function
Weight: from 300g (0.66lbs) pair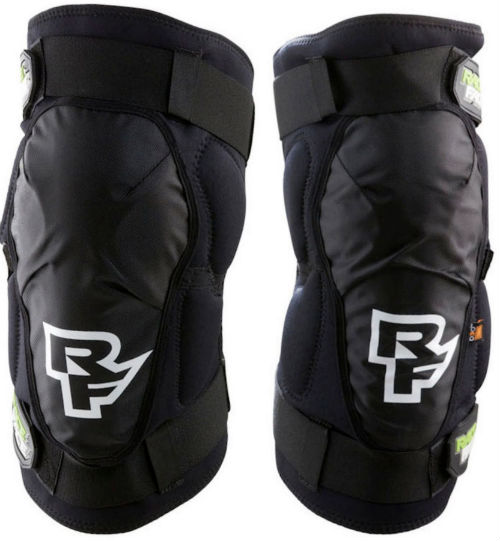 The Race Face Ambush are versatile mountain biking knee pads, meaning they are good value for money. Their design allows you to put them on and take them off without having to take your shoes off. An additional benefit of this design is that you can add an extra layer under them to get the perfect fit. Comfort is very important when you choose mountain biking knee pads, and the Ambush provides comfort in a way that you forget that you are wearing them. The Race Face Ambush pads are ideal for bike park laps, but you will also find them very comfortable to ride in during day-long pedals.
The coverage you get from the Race Face Ambush knee pads gives you more confidence, as your whole knee area is protected. Protection comes from thick D30 pads over your kneecaps and additional foam padding.
Open-back construction means no awkward shoe removal on the trail. Featuring D30™ high performance shock absorbing foam.
D30™ high performance shock absorbing foam.
Perforated Neoprene enhances venting and moisture control.
Terry lined for wicking and comfort.
Open-back construction; no shoe removal necessary.
Foam padded side walls offer additional coverage.
Branded rubber grab tabs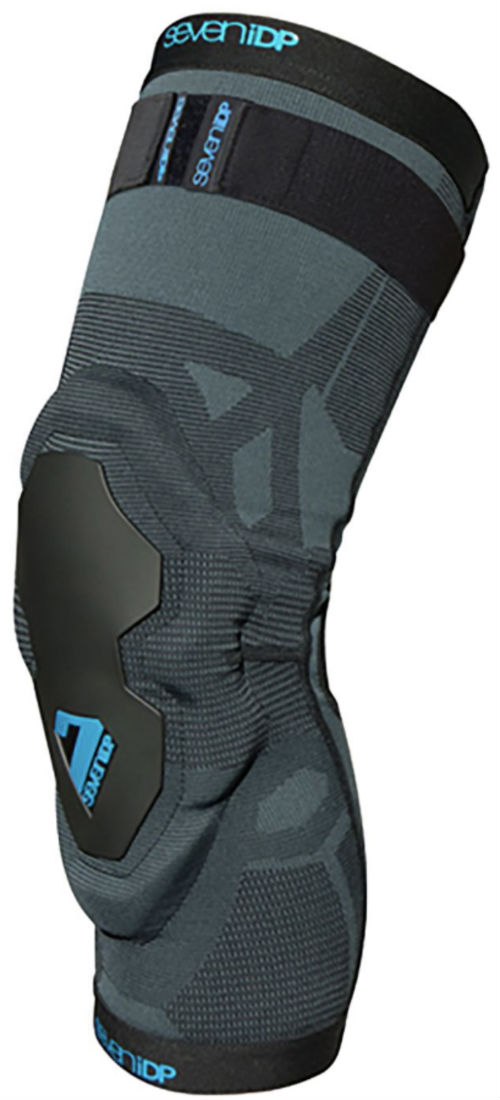 The 7idp Project knee pads have a flexible rubber panel at the front of the knee. This panel is designed to slide over gravel and bumps on the trail when you crash. They also feature a removable Sas-Tec foam pad, that helps to dissipate the shock from impacts, while extra foam padding protects the outside of your knee. The extra side padding instils confidence but isn't as robust as more downhill oriented pads, but it is still effective.
These kneepads have a tall upper cuff with a hook and loop strap wrapping around it. This strap does a great job of keeping the pad in place, on even the bumpiest terrain. A cutout around the back of the knee provides a little extra ventilation, and the entire sleeve is constructed from a breathable knit material.
The shape and design of the 7iDp Project knee pads keep them in place, which is important for comfort and safety when you crash. They also breathe quite well, especially considering the amount of coverage and protection they give you.
Flexible cap
Centre straps system
Unique pro knit chassis
Knitted construction
Superlight
DH level protection
Highly breathable
CE Approved